While there are various Android smartwatches available, the industry has also segmented their market with focusing on female consumers. For the reason being, numbers of various Android smartwatch brands and models are made for women in the market. If you are looking for one to sync with your smartphones, here are the top ten best Android smartwatches for women for your pick. Let's get start with our handy buying guide before making your purchase.
What to consider before buying an Android smartwatch
Design fashion
It is a crucial thing to get a beautiful design smartwatch on our wrist. When we get thing on any part of our body, the attraction is what we like. So, we recommend you to look carefully of which design or model of the watch fits your wrist the most.
Compatibility
Because the review is all about Android smartwatches for women, it is already expected these smartwatches are compatible with Android phones. However, many of the mentioned Android watches are compatible with iPhones as well. As a result, you could sync the dual-OS smartwatches with both your Android smartphones and iPhones. So, if you use iPhone, then make sure to check the one with that dual compatibility.
Waterproof
Quality smartwatches are not expected to have a waterproof feature because you are not supposed to wear smartwatches while swimming. Nonetheless, many of the mentioned Android smartwatches for women have a water-resistant feature. Therefore, there is no worry for ladies who wear your preferred smartwatches walking across the streets while it is raining. A few smartwatches are also swim-proofed. Please be cautious because a waterproof feature does not always mean a swim-proofed feature.
Top Amazon Best Selling Smartwatch Women
Lists of Best Female Android Smartwatches in 2022
10. Fossil Women's Sport Metal and Silicone Touchscreen Smartwatch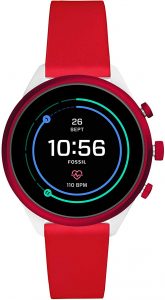 FOSSIL Android smartwatch had been designed as a sleek, modern and premium smartwatch for women. The watch's face is rounded while there are three apparent switches at the right side of the rounded touch screen for some controls. A small strap is attached with the head of this FOSSIL Android watch model's. The watch comes with 14 colors such as blue, blue transparent, blush pink, hot coral, hot pink transparent, mint green transparent, red, blush transparent, rose gold/grey, silver/green, smoke/black, soft blue, yellow as well as yellow transparent
Google Fit had been installed with FOSSIL smartwatch to track your activities as well as heart rates. Moreover, there is a GPS equipped with this android wrist-wear for distance tracking, along with 5Atm swim-proofed quality feature as well.
9.

Fossil Gen 5 Julianna Stainless Steel Touchscreen Smartwatch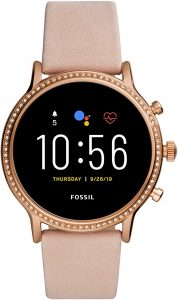 FOSSIL GEN 5 smartwatch is also an Android built for women. It has been designed elegantly with reflective rounded frame over the circle touch screen. The FOSSIL GEN 5 smartwatch comes with 5 different styles such as rose gold, rose gold & brown leather, rose gold & steel mesh, rose gold & black as well as silver + rose gold + steel mesh. It is actually compatible to pair with both Android and iOS phones. Per full single charge, FOSSIL GEN 5 could go for days.
Moreover, female users could switch on the smart battery feature to save energy as well. In addition, FOSSIL GEN 5 Android smartwatch comes with a rapid charger which could charge this watch for 80% of a full battery in less than an hour. 1GB of RAM as well as 8GB of memory storage come with FOSSIL GEN 5 Android wearing watch.
8. 3Plus Callie Hybrid SmartWatch for Women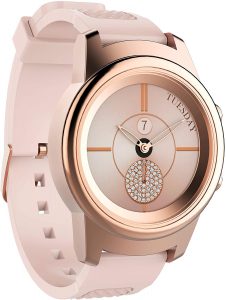 3PLUS female smartwatch is a premium Android operated watch for women with a unique and elegant design. The rounded cover of the circle touch screen had been polished till shining while the strap attached with this smartwatch is made of quality and thick rubber. The 3PLUS smartwatch could keep track on your daily activities while calculating an amount of calories burned per your exercises.
As expected in even the very basic smartwatches, the 3PLUS could also monitor heart rate. Potential customers could receive calls, get calendar alerts, check notification as well as read messages on this Android smartwatch's screen too.
7.

Michael Kors Access Gen 3 Sofie Touchscreen Smartwatch Powered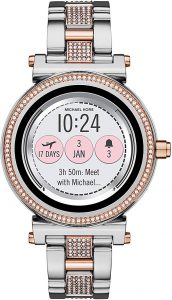 MICHAEL KORS is a highly premium Android smartwatch for female. Had been designed and crafted like an extravagant & conventional watch, this smart Android wear bring a charming to every lady's wrist. The difference between the two watches is the fact MICHAEL KORS smartwatch comes with a touch screen which female customers could connect with their smartphones. This female smartwatch comes with 5 colors such as gold tone, silver, rose gold, rose gold & blush as well as tone rose & silver.
More importantly, this MICHAEL KORS smartwatch is water-resistant with IP67 piece of technology. It is powered by a 300mAh battery, and is compatible with both iOS phones as well as Android phones.
6.

Michael Kors Access Gen 4 MKGO Smartwatch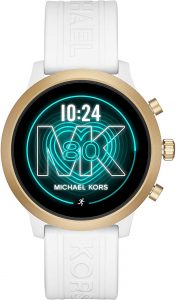 MKGO is yet another premium women Android smartwatch. Unlike the two aforementioned, MKGO women smartwatch has a very basic design. The circle-shaped touch screen is covered by a rounded cover finely polished until shining. MKGO smartwatch is attached with a thick rubber strap and comes with 6 different colors such as red, black, pink, white, crystal/black and crystal/white.
This women's Android smartwatch is also inbuilt with Google Fit and Google Assistant which is convenient for voice commanding. This wearing watch is safe for swimming and walking in the rain. While you could have all the expected functions of a smartwatch, MKGO smartwatch is powered by a battery which could last for one whole day.
5.

Fossil Women's Gen 3 Venture Stainless Steel Smartwatch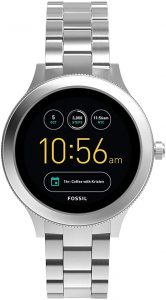 FOSSIL WOMEN Android generation 3 is another premium one which is available in 5 colors including gold, silver, rose gold, rose gold & nude and silver & brown. The women's Android smartwatch is built with with micro and music control applications, alarm clocks, activities tracking, notifications and touchscreen feature. Female users could also download other applications on this wearing device from Google Play.
With its whole-day battery life, you will wear it on your wrist confidently without worry. Moreover, this watch is water-resistant with IP67 technology. The product itself is splash and dust resistant too. Single charger is included in the package.
4.

Fossil Women's Gen 4 Venture HR Stainless Steel Touchscreen Smartwatch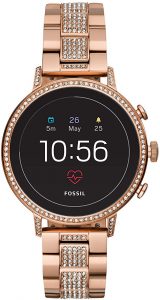 FOSSIL GEN 4 is also an upgraded form the gen 3. This watch has a strap whuch is made of metal while the middle line's metal strap is featured with artificial diamonds so as the circled line around the rounded touchscreen.
The FOSSIL GEN 4 Android smartwatch is offered, by the manufacturer, with 12 different colors such as black, gold, silver, rose gold, rose gold link 5, Glitz rose gold, Mesh rose gold, Glitz/Blush rose gold, rose gold & Blush, Grey & rose gold, silver glitz as well as brown/silver. While it has a built-in GPS, FOSSIL GEN 4 is equipped with 3ATM for swim-proofed features too.
3.

Kate Spade New York Scallop Touchscreen Smartwatch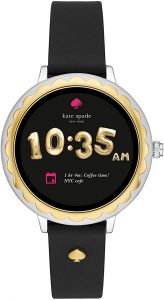 KATE SPADE is highly attractive and reflective for its smartwatch's product design. The brand is offered with four styles including 2Tone/black, gold/black, tone rose gold and tone gold/silver. The watch model features with IP67 piece of technology which makes this smart wearing device resistant to water. Both the watch's case and band are made of stainless steel, while the battery quality is one whole day, like many previously mentioned smartwatches.
KATE SPADE Android could be connected with your smartphones through a Bluetooth connectivity. Meanwhile this Android smartwatch could be accessed to the Internet through Wi-Fi enabled as well. For the latest tech inbuilt, you can charge KATE SPADE with a wireless charger conveniently.
2. Yihou Smart Watch Android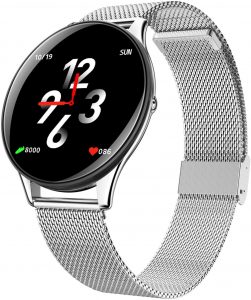 YIHOU Android female watch comes with a chain-like strap while the touchscreen is in a circle shape. This female watch comes with black as well as silver color. Interestingly, it automatically tracks your daily activities for your record. Because of the watch keep tracking and analysis for activities, it can tell you about your burnt calories, blood oxygen, blood pressure, heart rate, etc. That's very crucial for you to track your health.
Besides, the watch's head as a LCD screen is covered with alloy case so as to protect the glass touchscreen. With YIHOU smartwatch, you could receive/refuse calls as well as access to Skype/Twitter/Ins/Facebook/SMS, etc.
1.​​

Samsung Galaxy Watch Active – 40mm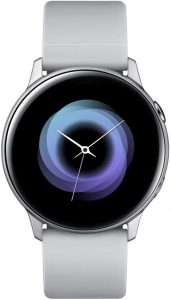 ACTIVE 40mm Android female smartwatch is a modern and sleek watch manufactured by Samsung. The watch's head is rounded while the strap is made of quality rubber. The Active 40mm is offered in four styles including black, green, silver as well as rose gold. Female customers could let this smartwatch track your daily activities and exercises automatically. Moreover, your sleeping pattern and stress could be monitored 24/7.
Furthermore, female and potential customers could sync ACTIVE 40mm watch with your Galaxy buds as well as a phone. Because this Samsung smartwatch model has been designed with a military standard, it is dust and water-resistant. Lastly, the watch is compatible with both iOS and Android smartphones.
Conclusion
Women want fashions. More often than not, women want fashions more than men. Having beautiful Android smartwatches is a way to be fashionable. All gentle ladies are encouraged to take into consideration the features such as fashion, compatibility as well as waterproof to make a judgement over a right and quality one.