Decorating our homes with furniture is an ancient trend that we still follow. Beautifully crafted wood furniture can give your home a royal look, besides being useful. And, having a fine-looking wood dining table can augment your home décor significantly, adding an embellishment to your house's allure. Apart from that, the wood tables are one of the most useful furniture. However, Selecting a good table may be a bit of time consuming with such a large number of options available in the market. So we have compiled a list of the top best wood dining tables for your kitchen to pick from.
Our 3 Top Choices of Wood Dining Tables
List of the 10 Best Wood Dining Tables in 2023
1. Best Overall – Zinus Jen Mid-Century Modern Wood Dining Table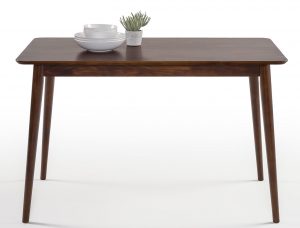 Brand: ZINUS
Measurement: 47.2 inches x 29.5 inches x 29 inches
Color: Espresso and Natural
Styled in a modern design, the ZINUS Wood Dining Table will surely enhance your kitchen appearance. Made of pure pine wood, this table is extremely sturdy and dependable. At a very reasonable price, this gorgeous-looking real-wood table is a complete bargain. It is easy to assemble, and the assembly kit provided by the company contains all the essential tools.
Zinus further provides one year of warranty with this product. This wooden table for dining is meant for long-lasting usage and great durability. It is also stain-resistant and can be cleaned easily. However, chairs are not included and can be purchased separately. This dining table from Zinus is a great option to consider.
Features:
Real Wood table
Modern design
Easily assembled and came with a toolbox
1-year warranty
Durable and long-lasting
Reasonably priced
2. Best Runner up – Signature Design by Ashley Dining Room Table, Grindleburg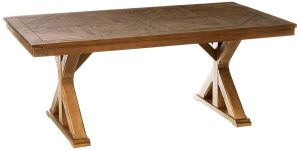 Brand: Signature Design by Ashley
Measurement: 76 x 42 x 30.2 inches
Color: White / Light Brown
The Grindleburg collection of Dining Tables is one of the most majestic looking tables of 'Signature Design by Ashley.' Its grand design is country-cottage inspired and is beautifully crafted with reclaimed pine wood. The farmhouse designed foundation trestle of the table gives it a natural look. Its rustic and natural finish, flaunting the true beauty of the wood, further amplifies that. This dining table seats six people at a time.
It is not very difficult to be assembled. The assembly kit is provided with the product for easy setup. Further, Ashley Furniture is known for its additional care in packaging and delivering the products. A matching set of chairs is also available from the company but has to be purchased separately. It is a very sturdy dining wood table, which is evident from its weight. The imperfections on the wood at the top add to its rustic look, making it such a beautiful piece of furniture.
Features:
Brilliantly crafted and rustic look
Made of reclaimed pine wood
Farmhouse inspired trestle styled base
Easy to Assemble
Seats six persons
Heavy and sturdy
3. Best for smaller places – Winsome Taylor Dining Table made of wood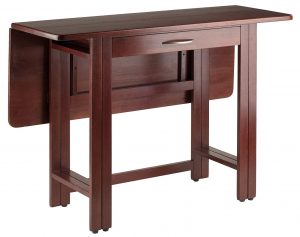 Brand: WINSOME
Measurement: 30.5 x 41.7 x 29.1 inches
Color: Walnut and Antique Walnut
Winsome's Taylor Drop leaf dining table is very versatile and adaptable one. The drop leaf can be put up to double the table surface for dining. Or, it can be put down for being used as a support in the kitchen. This wood table can also be used as an additional worktable, or for keeping stuff in your living room. Weighing just about 45 lbs, the table is not very difficult to be moved around.
It is a sturdy table with robust construction. The folding side panels support the drop leaf pretty well, and it also comes with a large drawer measuring 21.5″ x 10.8″ x 2.4″ for storage. More importantly, this wood dining table is very easy to put together. One of the best things is that it can easily be fitted into smaller places. It is greatly recommended for those needing a table for varied usage.
Features:
Drop leaf table
Putting up the drop leaf doubles the table area
Drawers for additional storage
Best for small places
Multiple-use
Folding panels support drop leaf
Table legs come with built-in floor protector
4. Best Under $150 – East West Furniture AMT-NBK-TP Antique Dining Wood Table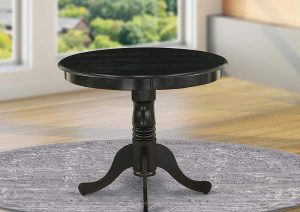 Brand: EAST WEST FURNITURE
Measurement: 36 x 36 x 29.5 inches
Color: Wood-texture tabletop and wire-brushed black finished pedestal.
Coming at a price just below 150 USD, the Antique Dining table by East and West Furniture offers a great value for money. Its tabletop is made of good quality Acacia Wood, while the black colored pedestal is of rubber wood. The round table can fit in all kinds of places, be it your office or house. It is a very good table for those with constrained dining space or studio apartments.
The table can accommodate four chairs at a time if placed closely. Antique designed chairs pair perfectly with this table. It is sturdy and durable and weighs around 55 lbs. The wood texture tabletop has a softly curved bevel at its edge and looks gorgeous with the black pedestal base. It's also quite easy to assemble. This table blends well with any type of home décor.
Features:
Built with high-quality Acacia wood
Antique design
Pedestal style base made of rubber wood
Good for small places
Budget-friendly
Durable and sturdy
Simple to assemble
5. Most Practical – Folding Dining Table by Tribesigns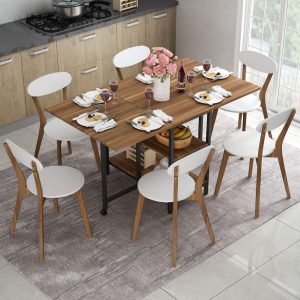 Brand: TRIBESIGNS
Measurement: 44 x 31 inches (fully expanded tabletop)
Color: Light Walnut
In case you are looking for a table to serve all your daily purpose, this one by TRIBESIGNS is the best. It comes with a double drop leaf, which increases the total table surface immensely when putting up. You can fold down one drop leaf or both, suiting your purpose. Apart from that, there are two additional shelves for extra storage. When fully extended, the table allows seating for six persons. One drop leaf folded makes room for four persons for dining, or for any other purpose. With both leaves dropped, it's a folded table perfect for small places and variable purposes.
The table is made of E1 grade particle-board and wood. That offers the table enough durability and easy cleaning. Besides, the whole structure is supported by a strong powder-coated metal frame making it even more robust. On the whole, the table looks gorgeous in the walnut color wood and fibreboard coupled with a black metal frame. It also comes with 360-degree rotating casters. This is one of the best practical tables available.
Features:
Double drop leaves
Two-tier storage shelves
E1 grade Particleboard for extra strength
Multi-purpose table
Thick and strong metal frame
Universal caster, two of them with locks.
18-month warranty for any quality issue.
6. Best value for money – DLT-ABK-TP Dublin Dining Table by East West Furniture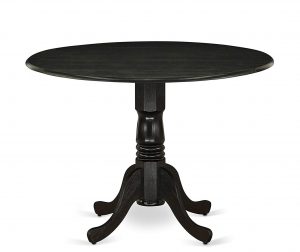 Brand: EAST WEST FURNITURE
Measurement: 42 inches x 42 inches x 29.5 inches
Color: Wire-brushed Black Finish
The Dublin Dining Table by East West Furniture is one of the bestsellers in the category. This modern-looking tabletop is made from quality rubberwood and has a pedestal base. The black finish color makes it even more elegant. Its best part is that this round table comes with two drop leaves. With the drop leafs folded down, the table can be placed in really small places. In its total extendable form, it accommodates four people.
his table is ideal for any room with lesser space. The round tabletop has a rounded soft bevel around its periphery. It is extremely versatile in its usage and can be used for dining or breakfast, keeping stuff, decorating, or as workspace. The rubberwood makes the table strong and durable. Coming at an affordable price, the Dublin Table offers great value for money.
Features:
Compact round shape
Double drop leafs
Made of rubberwood
Simple assembly
Stable and sturdy
Elegant looks
7. Cheapest Amongst All – Coavas Kitchen Dining Table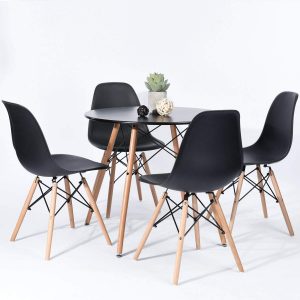 Brand: COAVAS
Measurement: 31.49 x 31.49 x 29.52 inches
Color: Black
This multi-utility round kitchen table from COAVAS is one of the most inexpensive tablets to buy. It has a stylish urban Eiffel Tower design that looks pretty fashionable. With aesthetically pleasing texture, it is a construct of beech wood. It serves a diverse purpose, like being a dining table, tea or coffee table, office leisure table, living room table, or a workstation. With its lightweight body, it is fairly easy to move.
Its assembling may be a bit difficult, though, especially if the instruction manual is not properly followed. The thick layer of paint on top helps prevent stains and scratches. It comes piano baking varnish on the top that makes it heat resistant up to 200 degrees Celsius. The legs of the table come with height adjustable foot-pads to prevent floor scratches.
Features:
Scratch and heat resistant tabletop
Modern design
Height adjustable foot-pads under the table legs
Lightweight and movable
Multifunctional
Fast delivery and good customer support.
8. Easy to Assemble – Kimonte Wood Dining Room Table by Signature Design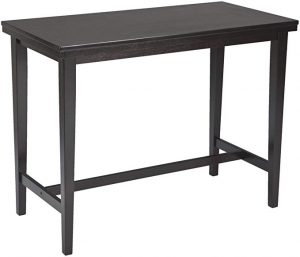 BrJXX9Wand: SIGNATURE DESIGN BY ASHLEY
Measurement: 47 x 24 x 36 inches
Color: Brown or Beige
This tall and sleek designed Kimonte dining table from Signature Design by Ashley is perfect for narrow spaces. The table has a minimalistic design and is crafted from engineered wood and wood veneers. It comes in a counter height rectangular shape and can be used as a dining or breakfast table. Alternatively, It can also be used as a counter table for drinks or coffee and as a spot for chatting.
Products from Ashley Furniture are very well packed and aptly delivered. The quality is superior, and the table is quite durable and resilient. This table is very easy to assemble, and the required toolset is provided with the table. The instruction manual is very easy to follow and can be put together effortlessly.
Features:
Ideal for narrow spaces
Solid Design
Rectangular shape, counter height
Available matching bar stools.
Easy-to-follow installation manual
Simple assembling.
9. Most Sturdy of all – VASAGLE ALINRU Dining Table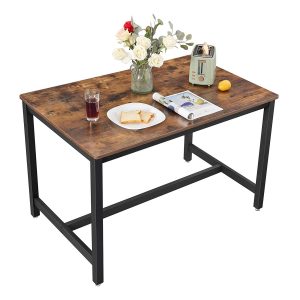 Brand: VASAGLE
Measurement: 47.2 x 29.5 x 29.5 inches
Color: Rustic Brown
The ALINRU Collection of VASAGLE is defined by strength, reliability, and stability. That is exactly what this Dining Table is. The tabletop crafted by high quality engineered wood, bonds perfectly with powder-coated iron frames to make the table even stronger. It can withstand up to 220lbs of weight. The rounded corners ensure safety while the adjustable feet brings added stability.
With its unique design, the table compliments most of the home decors. The ancient rustic style of the tabletop makes it a charming addition for your home. It is quite easy to assemble and comes with an accessory kit and instructions. The customer service provided by Vasagle is also praise-worthy.
Features:
Timeless design with rustic brown color
Strong iron frames with rust-free powder-coated
Adjustable feet
Stable and sturdy. Long-Lasting.
Easy to assemble.
10. Most Environment-friendly and Sustainable – Sauder Boone Mountain Counter Height Dining Table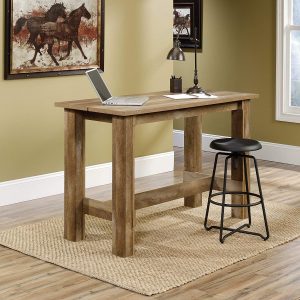 Brand: SAUDER
Measurement: 55. 12 x 25. 59 x 35. 39 inches
Color: Craftsman Oak Finish
The Boone Mountain collection Dining table by Sauder is a counter height table perfect for both indoor or outdoor use. It is strong and robust and can be used for various purposes. The Craftsman Oak finish with smooth texture looks stunning. The table accommodates four persons to sit comfortably.
It is made of engineered wooden materials in one of the most sustainable methods. SAUDER ensures that its products require minimal use of trees. Accordingly, this table is crafted from post-milling leftovers and high-quality trimmings. The manufacturing process maximum usage and minimum wastage of natural resources. This Table comes with a 5-year limited warranty. Assembling, it is easy, and in case of a problem, the customer care service is dependable.
Features:
1-inch thick split top
Counter height table with rectangle shape
5-year warranty
Crafted from recycled materials
Made in a sustainable process
Sturdy and durable
FAQs: (Frequently Asked Questions)
Ques 1: Is a solid hardwood table better than an engineered wood table?
Ans: A solid wood table is created from a single piece of solid wood. An engineered wood table is also made of pure wood but has solid hardwood in its core and wood veneer at the top. Both these types have ecstatic design and look. Both provide good stability and durability. Solid wood tables are inherently durable and sturdy, no doubt. But the engineered woods now also match solid wood in quality. What mainly distinguishes the two is a price difference. In general, solid wood tables are more expensive than engineered wood tables. So, it is basically your budget that will define which one you can buy. Neither of them can be said to be superior to the other.
Ques 2: What to look out for a while buying a wooden table?
Ans: The important things to determine before buying a wooden table for your home or office are:
Your budget
The material of the table
Colour of the table
The purpose of your use
The table's shape and size
The space in your room where you will keep it
Ques 3: How to assemble a wooden table?
Ans: Most of the wooden tables need assembling. But that should not worry you much. Assembling a wooden table has been made quite easy these days. The manufacturer almost always includes an instruction manual and necessary installation tools with the products. The tables can be assembled by following the stepwise instructions from the manuals quite effortlessly. In case you face any issue with the assembling, the manufacturers are adept at answering such issues efficiently. If you purchase the table from Amazon, there is also an option for expert assembly support that you can opt for.
Conclusion
A well-designed wooden table is a perfect addition to your home or office. Wooden tables give your room a premium appeal. That is why choosing the most appropriate table for your room is essential. Dining tables come in varying shapes and sizes. Measure your space properly to analyze what shape or size you need. Choosing an extendable table may also be beneficial if you plan to have occasional guests. The above list will hopefully guide you to get a perfect table for your kitchen, office, or living room.