A portable air compressor is an essential equipment for tire vehicles. For the long-distance drive or to the drive to isolated destinations, it is inevitable that our car tire will deflate; thus, this is where portable tire inflator serves its duty to be the hero of the day. On daily basis, owning this tool will save your time from passing by the gas station and allows you to monitor attentively the air pressure inside your tires from over-inflating or under inflating. The right balance air pressure of car tires can ensure safety during the drive, operating more efficiently and less frequency for tire replacement.  
With these couple of reasons being mentioned, we believe you may now want to look for a reliable portable tire inflator for yourself. In this article, we will navigate you through the top 10 best portable air compressors from a wide range of most trusted brands and efficient performance with a compact design. Let's check it out together.
List of Top 10 Best Portable Air Compressors in 2023
10. TACKLIFE 80PSI 12V DC Car Tire Inflator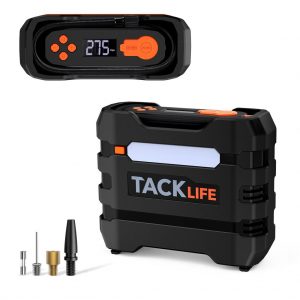 Tacklife offers a portable yet compact air compressor which can inflate car tire types such as a195, 55, and R15 in two-minute with air pressure 20 to 30 PSI. This fast-pumping speed air compressor can performance continuously under 80 PSI thanks to its high-torque motor. Additionally, it has a preset tire pressure function saving your time from repeatedly set up the required pressure when in use, and the machine will stop itself when it reaches the desired preset pressure. 
There are several special features of this tire inflator worth to mention. The product package includes three extra nozzle adapters allowing you to use this air compressor for other inflatable products and an additional backup fuse for future replacement. On top of that, it has a long cord_10 feet of power cable and 2 feet of air hose making it possible to reach all four wheels without struggle. Last but not least, it is equipped with a LED light that has 3 modes setting which is helpful during an emergency.
What we like
Fast pumping speed

Accuracy reading with digital pressure gauge 

Equip with a LED Emergency light

Have preset pressure function and stop automatically
What we don't like
Does not support large size tires like a truck or road bike
9. Energizer Portable Air Compressor with 120 Max PSI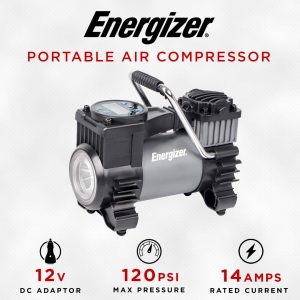 Energizer portable air inflator is a multipurpose tool that suitable to use with small and medium-size tires like a sedan, SUV, motorbike, and other inflatable products. This compact design air compressor dimension is 8 x 4 x 6 inches and 4.3 Pounds allowing you to carry on the go and convenient for storage without occupying large space in your car's trunk. Furthermore, it is a powerful compressor that runs fast with minimal noise emission.
Regarding the technical detail of the product, it can perform up to 120 PSI and airflow records at 35L per minute. This portable tire inflator is a 12VC option that is compatible with the car cigarette lighter outlet. It also comes with a long cord in which 9ft 10" is DC cord and 3ft 9" is air hose enabling you to reach all four tires of the car easily. Additionally, its preset function bringing a variety of convenience to users, and the compressor will shut off itself once the pre-set pressure is attained.
What we like
Lightweight and small size 

High-speed inflation

Low noise emission

A heavy-duty which can be used in extreme weather
What we don't like
The pressure reading gauge is slightly inaccurate
8. VacLife Auto Portable Air Compressor 12V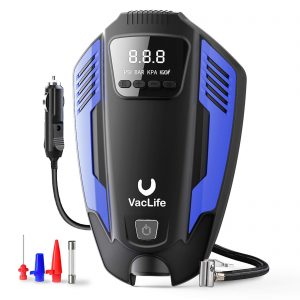 Available in three colors as blue, red, and yellow, the Vaclife portable tire inflator has a powerful motor that boosts speedy inflating and completes its duty in seconds.  This motor design with the latest technology that is quick to cool down, so it saves you time from the long wait to perform another task when the machine pauses from overheating. Besides, it has an auto-shutoff function which the machine will turn off once the required pressure is reached; thus, an overinflated or underinflated tire shouldn't be on your worry list. 
This portable air compressor has a digital gauge display that reads in four units such as BAR, KG/CM2, KPA & PSI allowing users to see the progress of machine performance easily and clearly. Furthermore, it also comes with an LED light that has 3 modes setting which is essential to serve different purposes such as SOS light, night light, and warning light. On top of that, three additional nozzles also come along in the package, so it provides the ease to inflate with other inflatables such as a ball, air bed, bicycles, and so on. 
What we like
Durable and powerful motor

Auto shut off function 

Quickly cooling 

Long power cord 
What we don't like
Emit slightly loud noise when in use
7. TEROMAS Tire Inflator Air Compressor with Portable DC/AC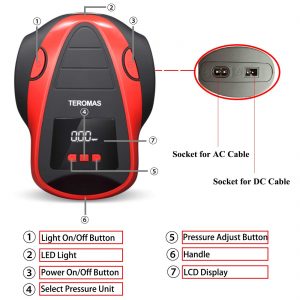 This air compressor pump from Teromas brand is an ideal product that you should have at home. It is designed with both DC & AC portable which are compatible with both car cigarette lighter plug and home socket. Moreover, three extra adaptors are included in the package, it allows users to utilize this tire inflator not only for car tires but also other household inflatable items with medium size such as air mattress, bike, inflatable boats, etc.
Have a compact portable feature, this particular product requires a small space for storage and light enough to keep in your mobile vehicle. Besides, this air compressor pump has maximum air pressure of up to 150 PSI and has the capability to refilling car tire type P195 & 65R15 within 4 mins under 35 PSI. It also has LED lighting at the head which provides ample illumination when you perform the task in the dark.
What we like
Can be used both indoor and on the road

Preset pressure function and automatically turn off 

Quick inflating 

LCD Digital Screen
What we don't like
Cannot use continuously over 15 mins 
6. Kensun AC/DC Tire Inflator Portable Air Compressor Pump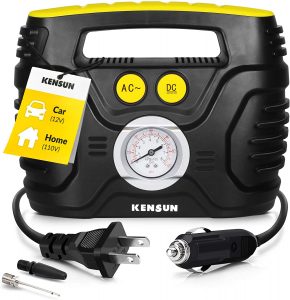 Kensun produces a simple design portable tire inflator that is easy to use with efficient performance. This model is operated by dual metal motors which have a strong capability to fill the air to any inflatable items in a short period. The maximum air pressure it can release is up to 100 PSI, and users can know its measurement on the classic gauge displaying right at the middle of the product.
This particular item is applicable to use both at home or on the road. It is possible to switch between AC and DC portable, and it is important to know that each power function is run by a separate motor making it durable and powerful. On the other hand, other accessory nozzles which capable to use for a bike tire, inflatable sports product, balloon, etc, are also included except for the Schrader Valve adaptor requires additional purchase.
What we like
Efficient and fast inflating 

Accurate pressure gauge

Applicable to use at home and outdoor

Premium quality compartment
What we don't like
Cannot use continuously over 15 mins 
5. P.I. AUTO STORE Premium Portable Tire Pumper 38L/Min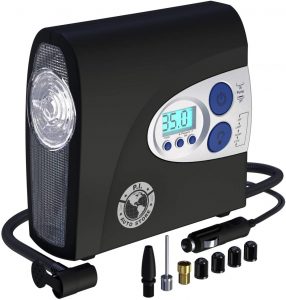 With carefully considered design and have multiple use options, PI Auto store provides the best-in-class air compressors that one should miss out on.  Weighing approximately 2 pounds and with an over-dimension of 7.1 x 6.7 x 2.9 inches, it is a functional compact product making it convenient to store in your car's trunk. This premium air compressor pump has a speedy airflow rate at 38L per min as it can inflate standard in three mins with 30PSI. Besides, it is a neighbor-friendly product which quiet noise emission can be expected from it. 
P.I Auto store upgrades the power cable cord of this model to 13 feet long allowing the user to reach all four tires of longer cars. The tip hose is designed as a Snap-on connector preventing the loss of air and more efficient than a screw thread. Claimed to be more than just a tire inflator, this product package includes many essential accessories for serving a different pumping purpose. There is a Presta valve adaptor which is used for pumping the air for bicycles and a variety of nozzles for sports equipment.
What we like
Speedy airflow rate

Compact and Lightweight 

Snap-on connector

Integrated power cable cord and hose cord
What we don't like
Getting overheating a bit quickly
4. HAUSBELL Portable Air Compressor for Car Tires 12V DC & 150 PSI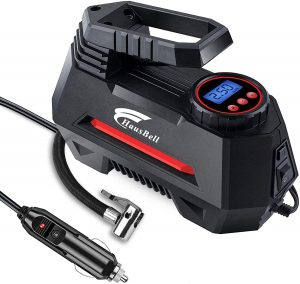 This compact rabbit shape portable tire inflator belongs to the Hausbell brand. Run by the best quality motor made from pure copper, it has robust performance that capable to fill 195/55/R15 tire under 5 minutes with an airflow rate from zero to 35 PSI while it takes only around 10 seconds to inflate the bike tire and 30 seconds for basketball. Moreover, an automatic shut-off function is also equipped in this model when the pre-set pressure is achieved.
It is a tire inflator type that has a built-in LED light that can illuminate bright light providing convenience when in use during a dark place and preventing exposure to danger. Furthermore, the digital gauge shows on precise pressure reading at the topper part, and the pressure unit can be changed to PSI, KPA, BAR, and KG/CM with just one press. To maintain high performance and longevity usage, it is recommended to operate the machine for no more than 8-min then stop let it cool down for 5 mins before the next use.
What we like
35L/min air flow rate

Compact yet provide satisfactory performance

Simple and easy to operate
What we don't like
3. VacLife Air Compressor Tire Inflator DC 12V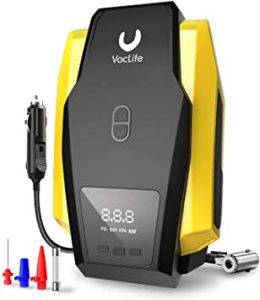 If you are looking for an air compressor that does not only do its job but also has exquisite exterior design, this model from Vaclife should be on your favorite list. With its multipurpose nozzles, it can be used to inflate and deflate your tire in seconds, and you just need to follow three steps for smooth operation. It is also equipped with a smart inflator function which automatic machine shut off will activities once the preset air pressure is achieved.
This air pumper supports any tire that requires an airflow rate of less than 50 PSI or tire with a width smaller than 245MM. In the case the additional converter is required, users should select any converter that compatible with 120 W and 10 A specifications to avoid unexpected risk exposure. This product also has an LED light allowing a user to perform the job in a low light environment whereas the 11.9 feet range power is long enough to reach both front and behind the tire, so it saves you time from the repeated plugin and out the cord when changing from one tire to another
What we like
Simple and easy to use 

Include a wide range of extra nozzles

Good quality construction both internally and externally

Efficient inflating and deflating time
What we don't like
May experience slight loud noise
2. AstroAI 100 PSI 12V Portable Air Compressor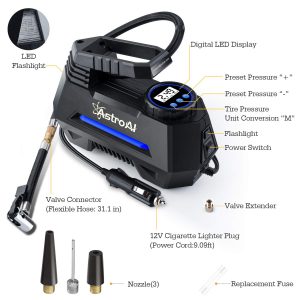 This digital air compressor pump of AstroAI brand can pump up the airflow rate at 35L/min meaning it takes around 2 mins to fill in car tire 195/55/R15 and approximately 4 to 6 mins for mediums size car tire. In addition to the flash inflating capability, it can support a wide range of inflatable applications owing to the three additional nozzles included in the package which can be used to satisfy your different needed. Also, there is an extra valve extender and a replaceable fuse.
The noticeable special feature of this product is the 2-ways nozzle connectors which users can either choose to use the quick connector or attach screw rotation according to different conditions require when in use. Smart preset and automatically shut off function is obviously cannot be missed out for this second-best tire inflator. Users can easily notice the airflow rate on the large LCD screen available in four different units. It also releases minimal noise during operation.
What we like
Durable and high-speed airflow rate

Convenient usage method and beginner-friendly 

Two-way air nozzle attachment and low noise emission

Three-year warranty
What we don't like
Have to pause from using after continuously use within 10 to 15 minute
1. EPAuto 12V DC Portable Air Compressor Pump, Digital Tire Inflator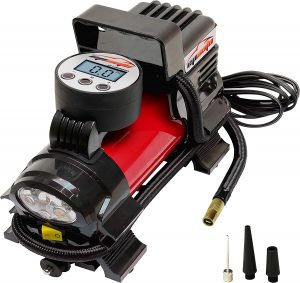 This digital tire inflator is the best portable air compressor pump on this review list, and it is a model from the EPAuto brand. Having maximum working pressure of 70PSI, this air compressor is designed to inflate tires of the small and medium-size car-like sedan and SUVs while it also supports other inflatable products such as bike, ball, air mattress, etc. It comes with a universal vale connector and extra adapters such needle valve, short and long cone adaptor to serve the different needs of users.
Concerning the technical detail, the inflating speed is 1.06CFM whereas the minimum AMP  is 10 and the maximum is 15. It is designed with a digital gauge display of four different units of airflow rates in KPA, PSI, BAR, KG/CM which users can adjust accordingly. This air compressor has to overheat protector feature that will be activated once the machine exceeds 167oF heat; thus it prevents the machine from unexpected damage. Automatically shut off with preset pressure function is also equipped in this model.
What we like
Easy to use with just a few steps to follow

Working fast and efficient in silent mode

Auto pressure function

Long and neat arrangement power cord
What we don't like
Does not compatible to use the for the large size tire 
---
Buying Guides to Choose The Best Portable Air Compressor 
We have reviewed a range of the best portable air compressor in 2023 for you, and we hope some of you have already found the best option to take home. However, for those who are still in dilemma to make a decision, you can check our buying guide for further assistance.
Inflating Time
Time consumed for inflating depends on the airflow rate that the air compressor can release. When the tire inflator releases approximately 35L to 38L per min airflow rate, it will take around 2 to 4 mins to fulfill the entire small or medium size tire. Thus, you can use this ratio as a reference to look for your desired air compressor. It is obvious that the lesser time inflator operates, the better it is.
Duty cycle
It refers to the amount of time the inflator can work and have to stop from exceeding heating during operation. This information is available for most of the product description and it will inform you how long the machine can operate and how much time does it need to cool down before the next usage. It is another obvious aspect that most users need a longer duty cycle but for compact and portable air compressor, users usually can use continuous within the period of 10 to 15 mins continuously.
Size and Weight
Portable air compressors are usually lightweight and compact, yet it serves its duty. We always look for the air pumper that small in size which is easy for storage either in your car trunk or boat; while lightweight gives you the ease to carry around. However, we also suggest to do not overlook the slightly heavier air compressor which reflects its durability and capability.
---
We have shown you How To Use a Portable Air Compressor Here
---
Frequently Asked Questions
How long does a portable air compressor last?
Generally, the air compressor is a heavy-duty tool; thus, it is quite durable. However, the life cycle of the product is varied from one user to another. If you follow accordingly to user guide from the brand and do regular maintenance, the product will last longer and vice versa.
What are the three types of air compressors?
Here are the three basic types of air compressor which include reciprocating, rotatory screw, and centrifugal, and each type serves different purposes.
---
Conclusion
A portable air compressor is an essential tool that does not just use for inflating car tires but also capable to fulfill duties with other inflatable products such as sports balls, air mattresses, bike tires, and so on.  It is the best companion that you should carry with you when you go on a road trip, camping, or beach day as it is a versatile tool. Some portable tire inflators we review above are also compatible to use at home; thus, you can enjoy the maximum utilization from this compact, yet multifunctionality product at your own need. Lastly, we hope that our review has provided you sufficient and vital information to be able to choose the best portable air compressor.