Cozy cave dog beds have a design that looks just like a cave or a tent which can offer ultimate comfort for your pet during their snoozing or sleeping time. The heat-retention, soft foam mattress, and warm decoration are the main features that attract a lot of pet lovers to get them to enhance their dog's comfort. But, we all admit that finding the best pet bed that is cozy and safe is a bit of challenging work and not to mention the bed that is suitable for each season. These 10 choices of our top 10 best cozy cave dog beds in 2023 can be helpful to you and your time in making a decision that you will not regret. Be warned: these pet beds are not suitable for pets that have destructive behavior unless they have been trained.
List of Top 10 Best Cozy Cave Dog Beds in 2023
10. Tofern Colorful Dots Patterns Striped Cute Cozy Cave Dog Beds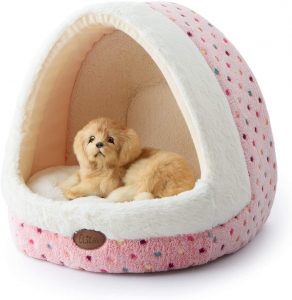 The colorful pet bed of Tofern comes in 2 polka dot patterns of blue and pink, and 3 patterns of Green-Bohemia, Purple-Bohemia, and Hamburger. It has a size of 13.8 x 15.4 x 14.6 inches and it has the shape of an igloo. It has bedding and a blanket. For the bedding, it is made of PV fleece and 7D PP cotton as padding as it is soft, warm, and washable. Moreover, the Tofern pet bed used cotton fabric to create a comfortable feeling to touch and sleep on for your pet. At the bottom, there is an anti-skid pad and waterproof oxford fabric that allows your pet to feel secure in their sleep because it will not move around.
This Tofern pet bed comes in a vacuum air seal so it will deform and compress at first; however, this product is using memory foam without a steel frame to prevent accidents for your pet so the foam will return its form in about a week after removing it from the package. If you are looking something that is suitable for beginner, you could try this or buy as a gift as it is easy to clean because you can put it in the washing machine for the removable inner pad, and for the part that cannot wash, you can hand wash it or put it out in the sun every week to prevent skin disease for your pet.
What We Like:
Different colors
Eco-friendly
Comfortable material
Animal security
What We Don't Like:
9. Furhaven Pet – Plush Ergonomic Orthopedic Foam Mattress Dog And Cat Bed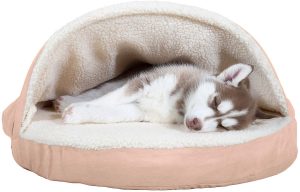 The Furhaven dog bed comes with different sizes of the base that suit the size of your pet from 18″ Base: 18″ x 18″ x 3″ to 44″ Base: 44″ x 44″ x 3″. Moreover, it has 8 different colors of micro-velvet and Sherpa & Suede, 3 different colors of bed surface, and 6 colors of insulation pet mat. The bed has a soft hood that can be used as a blanket, burrowing, and snuggling to give your pet a sense of security. At the base, it is made of micro-velvet sleep surface followed by orthopedic support form to comfort the sleep and go easy on the joint.
It is lightweight so it is ideal for you and your pet outdoor activity. In addition, cleaning is a breeze for this bed as the bed cover is removable and can be washed in a machine. However, it is not recommended for a pet that has destructive behavior of chewing excessively. Now, you have saved yourself some time as you don't have to worry about getting fur everywhere in your bedroom except their own beds.
What We Like:
Different color
Comfortable material
Animal security
Easy to clean
What We Don't Like:
8. Long Rich Durable Oxford to Sherpa Pet Cave and Round Pet Bed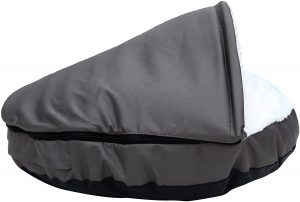 Here comes our number 8 of the top 10 cozy pet beds is the Long Rich pet bed. It has a round shape base of polyester fiber. The cover is made of oxford fabric that is soft, comfortable, and durable. The cover of the bed has a plastic pole to keep it in shape from collapsing. At the base, it has an anti-slip pad to prevent the bed from moving around when the pet goes snuggling, burrowing, and sleeping in the bed. At the same time, it provides security to your pet because of the cave design of the bed.
You can wash it easily with the removable cover and inserted cushion, and it can be washed by machine. Moreover, the hood is detachable just by unzipping it. The zipper is made of nylon material. This pet bed has received so many reviews about the soft and comfortable material it is to touch, and if you are looking for a detachable hood, this bed is one of the suitable choices.
What We Like:
Comfortable material
Easy to clean
Animal security
Detachable hood
What We Don't Like:
7. PAWZY New Calming Dog Bed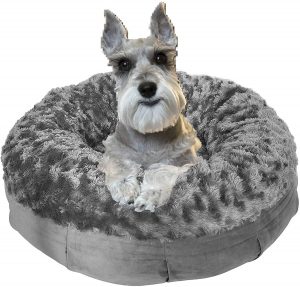 For pets that don't like hoods or blankets, this PAWZY pet bed has a round and donut shape of cushion. It is made of orthopedic which is a firm material that supports joints and muscle. Moreover, it has raised rims that fill with polyester fiber that is soft, durable. The rims give support to your pet's neck and spine when sleeping for a long time, and it gives security to your pet because of how it surrounded the bed itself. At the same time, this pet bed is filled with non-toxic material that is safe for your pet, and it imitates the fur of their mom to relieve the stress and anxiety of your pet which are suitable for relieving while traveling, going to the vet, and the separation as a newborn from their parents.
If you are looking for a donut pet bed or a calming chair for your pet indoors, it is recommended for the animal with anxiety especially in the cold season as it is self-warming. At the bottom, it has an anti-skid pad which is water-resistant so it is suitable to carry for traveling. It is lightweight and easy to clean. You can remove the cover and clean it in the washing machine.
What We Like:
Comfortable material
Self-warming
Animal security
Easy to clean
What We Don't Like:
6. AmazonBasics Medium Pet Cave Bed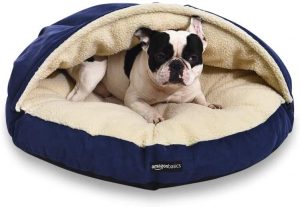 The 4 sizes of pet cave bed from AmazonBasics have 2 colors, tan and blue, and the dimensions of 25L x 25W x 12H inches to 45L x 45W x 14H inches. It has a round cave shape with a hood cover like a pocket over the top of the cushion. The cushion is stuffed with suede-like microfiber fabric and sherpa fleece to warm up the cushion. The cover is removable and the hood has a hard plastic tube that allows your pet to go under easily.
The cleaning will be convenient for the pet owner just by removing the cover and washing it. The exterior of the bed is able to blend in with any decoration in your home. The interior of the bed is covered with durable material that allows your pet to burrow and snuggle with the self-warm material to get the feeling of security and relieve their anxiety. Moreover, the hood also plays the part of relieving anxiety besides protecting from the cold.
What We Like:
Easy to clean
Self-warming
Comfortable material
Animal security
What We Don't Like:
5. Best Friends by Sheri Cozy Cuddler, Tidepool Pet Bed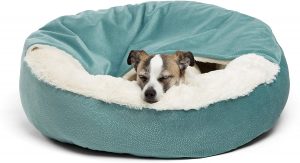 The Best Friends by Sheri Cozy pet bed has a pool shape with a blanket-like cover at the top. The interior is made of soft faux fur to create a warm temperature in the blanket. Under the hood, it has a surrounding cushion wall to support your pet sleeping poster promoting comfortable sleep. The bottom of this pet bed has used a material that is resistant to dirt and water which mud and slobber will not be much of a mess.
Besides the pet-friendly material, it can be washed and dry with a machine that could make your cleaning become even easier than the usual pet bed. The polyester material is suitable for your dog or cat to sleep or sit on even in or on the hood. What best about this product is it allows your pets to choose to burrow or sit on it whenever they want.
What We Like:
Self-warming
Easy to clean and dry
Comfortable material
Burrowing or sitting on it
What We Don't Like:
Can be wear and tear easily if not taking care of properly
4.StyleV Pet Bed For Cat And Small Dog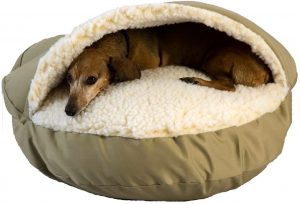 At first glance, this StyleV pet bed looks like a baby cradle that has a firm standing hood in half the mid-section of the bed. It comes in 2 colors and sizes and it has a fur ball dangling with the attached hood at the top. This will give your pet something to play with. The pet bed is filled with cotton to give its fluffiness and comfortability. At the bottom, it has the anti-skid pad and the water-resistant material to assist both the pet and the owner. It is warm-retention that provides comfort to your pet in the winter.
What We Like:
Self-warming
Comfortable material
Animal security
Firm hood frame
What We Don't Like:
3. Tordes Shark Bed Covered Cave House for Small Pets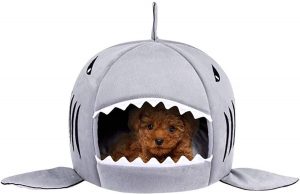 The sharp cave design bed for small pets is from Tordes has a dimension of 16.5″L x16.5″W x15.5″H. Both in and outside material are durable nylon and plush to create a safe and comfortable place for your pet and its sleeping. The sealing effect makes your dog bed durable and comfortable with the cotton mat. At the bottom, it has a waterproof material and non-skid pad to help assist your pet in getting in and out without having it moving around.
The best quality of this product is how to multi-purpose the bed by having it used as a sofa and bed for your pets with a little bit of folding. Moreover, your pet can use it as a cave to hide when they are scared or just being playful with their friends. For the pet owner, cleaning this will be easier than the usual pet bed as it is washable and dryable with a machine.
What We Like:
Comfortable material
Easy to clean and dry
Multi-use bed and sofa
Animal security
Durable
What We Don't Like:
Flimsy without structure support
2. Best Pet Supplies Pet Tent & Cozy Cave Dog Beds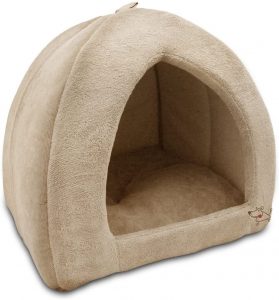 The variety of the exterior design has up to 9 colors from the Best Pet Supplies pet tent, and it has 3 different sizes for your pet from 16″ x 16″ x H:14″ to 19″ x 19″ x H:19″. Thus, you don't have to worry about it not being able to blend in with your home decoration and not big enough for your favorite pet. To ensure it is safe and comfortable for pets, the pet tent uses faux suede, linen or corduroy, and poly-foam as they are one of the best materials to use for pet beds. It has an anti-skid pad to stop it from sliding on a smooth surface.
It is portable with its lightweight and is easy to clean with a machine on a gentle mode without the worry of its stretching or out of shape. Also, it can be disassembled so you don't have to worry about its durability. This pet tent gives a sense of security and privacy to your pets which allows them to enjoy their sleep and snuggling in the most pleasant way.
What We Like:
Animal security
Easy to clean
Portable
Comfortable material
What We Don't Like:
Snitching is not as durable as the material
1. Snoozer Cozy Cave Dog Beds – Wag Collection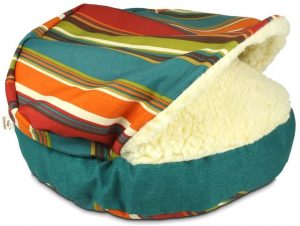 This luxury cave pet bed is in the wag collection of Snoozer has a water-resistance exterior. To give a sense of security, the bed has a hood or blanket that allows your pets to wrap themselves in the bed and enjoys its coziness and warm interior throughout the year. Your pet could be snuggling completely inside of it if they are in need of privacy. It is poly-filled and Sherpa fabric for the softness and comfortable experience that could make any humans jealous of its restful feeling.
The cushion is also filled with orthopedic foam to alleviate the weight from hurting the joint and spine of your pet. It has a thin plastic rod to keep the hood up but it can be removed for cleaning. For cleaning, it is washable in a machine by removing the filling from the base using the zipper at the back. For your big pet, the Snoozer cave pet bed comes in 3 sizes and over 40 colors and fabric of your choice.
What We Like:
Easy to clean
Animal security
Comfortable material
Self-warming
What We Don't Like:
---
Buying Guides To Choosing The Best Cozy Cave Dog Beds
Even as a beginner owner or an expert in taking care of pets, these buying guides will be helpful to you in choosing the best pet beds as they are important factors to consider.
Washable material
Unlike humans, pets can easily get their things dirty with most of their time, and their things need to be clean as they might get skin diseases. Choosing the washable pet beds allows you to save time and energy to get the cleanliness, fragrance, and no allergy reaction. However, you have to make sure to read the washing instruction as all materials have different ways and levels to clean.
Pet friendly
Some materials are used to help your pet alleviate their joint and spine pain. As some pet owners might already know, pets tend to have those problems. On the other hand, some pet beds try to reduce the dangerous material from accidentally hurting your pet friends such as a metal frame.
Size and color
Making sure that the bed is the right size for your pet because you would not want the annoying experience of returning the beds after waiting for them just to return them. Color is an additional thing to consider how it suits the decoration of your house.
---
Conclusion
We are hoping you are satisfied with our review of the top 10 list of pet beds. Cave pet bed allows your pet to feel a sense of security with their privacy and the best material to touch. Sometimes, the pet bed can actually imitate the mother fur aiming to help relieve the anxiety of the stressed animals. These pet beds are suitable for any season as they are warm-retention, and they are water-resistance which makes any mess will be easy to clean. You could consider these pet beds without worry.