Are you looking for a new mug that is not only efficient in storing your drink, but also creates an enchanting magic? Well, with a magic mug, it adds a touch of magic to your everyday life. When you make a cup of coffee or tea in the morning, or have a drink after work in the evening, you will be captured by the magical print appearing on your mug. Even better, if you are interested in art and wish for one of your art to be magical, you can have a customizable magic mug.
However, with so many available brands and models in the world today, it may be difficult to choose. To make it a little bit easier for you to choose, we present to you ten magic mugs that have previously received high ratings from consumers.
Here are the 10 Best Magic Mugs in 2023
10. The Unemployed Philosophers Guild Disappearing Dino Mug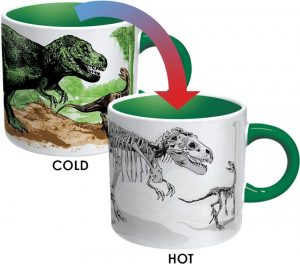 The Unemployed Philosophers Guild magic mug produces an eye-opening display. When the cup is cold, it shows living dinosaurs in the dinosaur era, however, when you pour hot liquid into the mug, the display will change into two dinosaurs' fossils. This appears as though you have travelled in time between the dinosaur era and the extinction of dinosaurs. For those who are interested in the history of dinosaurs, this mug will capture your attention.
Furthermore, besides the amazing display, it is also an efficient mug. It can hold 12 oz. of liquid whether the temperature is high or low. Moreover, the mug is designed to be microwaveable, which is a convenient feature when in need of reheating. However, please note that it must not be washed using a dishwasher.
9. Custom Personalized Heat Sensitive Color Magic Mug | by Hot Ass Tees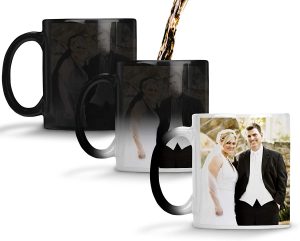 Hot Ass Tees magic mug provides consumers with the option of customizing their own personal unique mug. Simply enter an image or text or logo of your choice and add the item to your cart. What's more is that different from some mug, the design of your choice will be printed on both sides of the mug instead of being plain black on one side. So, when the mug is low in temperature, it appears to be an ordinary black mug, but when hot liquid is poured in, your personal design will magically appear, making it one of a kind.
Do note that this mug is not to be microwaved or washed in a dishwasher. This magic mug is not only nice for your personal use, but it also acts as an amazing gift for your loved ones.
8. EXPRESS 11oz Black Color Changing personalized Mug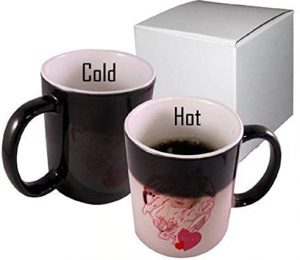 Marvelous Printing magic mug has a customizable design, which makes it unique. With your one of a kind design, you will not find a second alike design, which is perfect if you want to express your creativity. This would especially be a great gift for your loved ones on any occasions or events such as birthdays or anniversaries. The mug would look ordinary at first glance, however, after pouring hot liquid into it, the magic will appear.
Furthermore, the materials of this mug are of superior quality, which means users would not have to worry about it breaking easily, especially from the heat of your beverages. Moreover, the size of the mug is not too big or too small as it can contain 11 oz of liquid. Now, with your entrancing mug, you can enjoy a cup of coffee, tea, atc. any time, any day, any season.
Also check: Top 10 Best Porcelain Cups for Tea & Coffee in 2023
7. Good Morning Love of My Life #169 | by Middle of the Road
Middle of the Road magic mug is made from ceramic. Ceramic has many beneficial factors such as being highly resistant to heat, pressure, chemical attack, and is light in weight. With this material, users would not have to sweat about pouring hot beverages into the mug. For the magical print of the mug to appear, simply pour in any drinks that are high in temperature. It will transform from only a general black mug that you would see on a daily basis to an eye-opening heat sensitive mug.
Middle of the Road magic mug is designed for 11 oz of drinks. Although the mug was made using high quality and durable materials, there are still some factors that users must keep in mind. This mug is not to be washed by a dishwasher, neither is it to be microwaved.
6. Custom Magic Mug | by Personalization Lab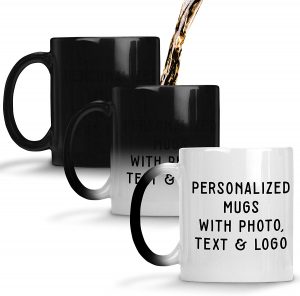 Personalization Lab magic mug is customizable, so you can let your creative and artistic mind flow out. Furthermore, unlike some photo changing mug which has the print appearing only on one side, Personalization Lab mug has your unique design appearing on both sides. So, regardless of the angle you are looking from, you will see the art. This ceramic magic mug can store 11 oz of drinks. Although ceramic is a high-pressure resistant material, you must note that it is not dishwasher safe.
5. Bob Ross Heat Magic Mug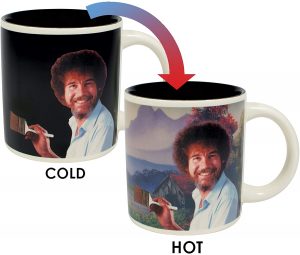 For any Bob Ross lovers, this Bob Ross magic mug would be an amazing gift to receive. It is a 12 oz ceramic mug. Upon purchase, it will be wrapped nicely in a colorful package, which is perfect if you are planning to give it to your friends or loved ones. Bob Ross heat sensitive mug is microwavable, which is great for people who often reheat their drinks. However, please note that it is not dishwasher safe.
4. Magic Custom Photo Magic Mug | by Moonlove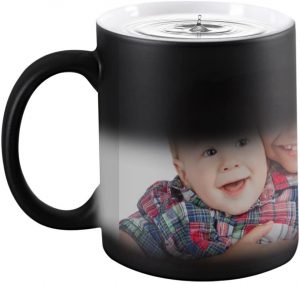 Moonlove magic mug comes in many different designs, different colors, and different handle shapes. With so many available options, users can have more fun choosing. Furthermore, if you would like to make the mug unique, you can customize your own design with any image, any logo, any text that you want. Moreover, it is made of superior quality and environmentally friendly material, ceramic. The only drawback would be that it cannot be washed using a dishwasher.
Also check: Why These 10 Best Collapsible Travel Cups Should Be Your Pick in 2023
3. Heat Reveal Changing Color Cup | by InterestPrint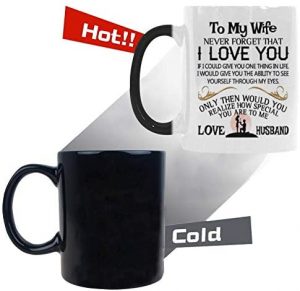 InterestPrint magic mug is an 11 oz mug that is great as a gift regardless of gender and age. It is made entirely out of ceramic which is a material that has highly resistant to heat and pressure. The print of this magic mug will magically appear when the mug is high in temperature. Once the print appears, it does not appear on only one side, but on both sides to make it easily visible to the naked eyes from any angles. Plus, there is a C shaped holder on the side for an easy and comfortable hold.
2. Heat Changing Magic Coffee Mug | by Buyneed
Buyneed magic mug is an 11.5 oz mug made of ceramic. It is Bisphenol A free. With this magic mug, you can enjoy your beverages such as coffee, tea, milk and many more. The cute aquarium will appear once the mug comes into contact with high temperature beverages.
If there is anyone who you know loves aquariums, then this mug is the best gift that will surely capture their attention. Please beware that Buyneed heat changing mug is not microwavable nor dishwasher safe.
1. The Unemployed Philosophers Guild Heat Changing Constellation Mug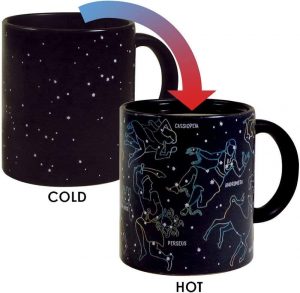 The Unemployed Philosophers magic mug is a great mug for those who are interested in philosophy. It was made using ceramic and it can hold 10 oz of drinks such as espresso, tea, and many more. Although it is made of ceramic, which is resistant to high pressure, please note that this magic mug is not dishwasher safe.
High temperature beverages will activate the eye-catching constellations including zodiac signs, big dipper, little dipper, etc. Either it is for your own usage or as a gift for your ones, this is an amazing gift, especially those who have interests in philosophy or constellations.
Buying Guide
For any product, without proper consideration of several factors, chances are, we might be disappointed with the purchase. So as to avoid having this problem with your magic mug, we highly suggest that you take into account a few factors.
Customizable or Not: Depending on your references, you may want to create your own design, or you may want an already made design. This is an important factor especially if you want to make it special, you want to give it to someone special as a present.
Materials: Another extremely important factor is the material. Although the print will only appear once high temperature drinks are poured into the mug, the materials of some mugs are not the best heat resistant materials, which can result in the mug breaking easily. Whether you want to use it yourself or give it to someone, you would definitely not want the mug to break after a while of usage.
Size: The same as normal mugs, magic mugs also come in various sizes. If you are fine with any mug size, then it would be no problem, however, if you are particularly interested in small size mug or big size mug, you ought to carefully check the size of the mug in order to avoid disappointment later on.
Microwavable: Whether or not the mug is microwavable is important because some people like reheating their drinks in the microwave. If you are one of these people, please make sure to check if the mug can be microwaved as some models do not offer this feature.
Dishwasher Safe: The same as the microwavable feature, some models don't offer a dishwasher safe feature either. If you are a person who does not have much time to do dishes or if you are simply a person who despises doing dishes, then it would most suitable if you check ones that are dishwashers safe.
Conclusion
Now that you have read through both the products' description and the buying guide, we hope that we were able to help you narrow down your available options of magic mug. It would be even better if you have found one among these ten products to be attention catching. If you have found one, do not forget to consider the factors mentioned above in the buying guide to minimize the chance of disappointment with the purchase. Enjoy your drinks with your magic mug.