Are you planning for a trip or a picnic over the weekend? There might be lots of things you may want to bring, but one of the most important things you need is a portable electric cooler, which is also known as an iceless cooler or thermoelectric cooler. Why is it necessary to bring this one along? It is simply because not only is it a lightweight fridge which provides easy access to carry wherever you want, but also it could keep your drinks fresh and cool.
Therefore, in this article, we would like to recommend ten movable electric coolers which have unique features and receive good feedback from many customers. At the end of the article, there is a buying guide that will provide you an insight of what to look for in an ideal electric cooler.
List of the 10 Best Portable Electric Coolers in 2023:
10. Igloo Iceless Thermoelectric Cooler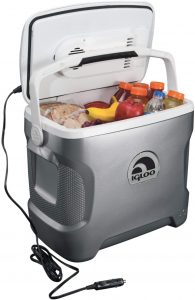 The first product we want to introduce is this Igloo thermoelectric cooler. This electric cooler comes with an eight-inch power cord that is used to plug into direct current (DC) outlets such as cigarette lighter in the car. For this reason, this cooler is easy to use and more importantly, can bring anywhere you want. There are comfortable side handles used for lifting or carrying.
It could cool your food and drinks down without ice to 36 degrees Fahrenheit or around 2 degree Celsius. This cooler comes with two different colors including silver and white. Get one now and make it your travel buddy.
9. Coleman Cooler| 40-Quart Portable Cooler | Iceless Electric Cooler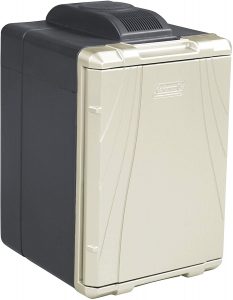 Coleman thermoelectric cooler is a perfect cooler for picnics, camping, and other outdoor activities. This cooler has an eight-foot power cord that could be powered with your car outlet. It is capable of keeping food and beverages up to 40 degrees Fahrenheit colder than its surrounding temperature. So even though it is a hot sunny day, you can still find a cold drink that will freshen you up.
Although this cooler is lightweight, it has the capacity of holding up to more than 40 beer cans. You will definitely enjoy your experience with Coleman.
8. AstroAI Mini Fridge 4 Liter/6 Can Portable AC/DC Powered Thermoelectric System Cooler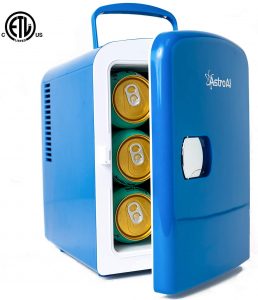 AstrolAl provides an affordable yet high-quality transportable cooler that can be powered by both AC and DC. However, if you plug it into a 12V outlet in your vehicle, please make sure you only use it when the engine is on or else your vehicle's battery will be drained. It can either be used to cool down and keep up the warm. The coldest temperature is 32-degree Fahrenheit or zero degree Celsius, while the warm temperature can be up to 86-degree Fahrenheit or 30 degree Celsius.
It has the capacity of four liters. There is an adjustable shelf for you to separate your food. It is an eco-friendly product that is incorporated with quiet technology. You will get a three-year warranty provided by AstroAl when you purchase this one.
Also check: Top 10 Best Electric Vegetable Slicer & Choppers in 2023
7. Cooluli Mini Fridge Electric Cooler and Warmer (4 Liter / 6 Can)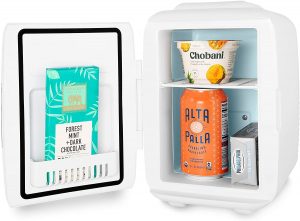 Next, Cooluli offers a cool and durable design of electric coolers. Its cooler comes with seven different styles and colors including black, white, pink, fuchsia, red, blue, and cow. It can switch easily from heating to cooling system. Its coldest temperature range is from 40-45-degree Fahrenheit, whereas its warming capacity could be up to 144-degree Fahrenheit. However, in order to switch from cold to warm, you may need to wait at least 30 minutes.
It is a small travelling thermoelectric cooler that can hold up to six beer cans. Cooluli's cooler can be used with alternative current and direct current. Moreover, it can also be used with USB adapters as well. This allows the cooler to be powered with a 2A power bank.
6. F40C4TMP Portable Refrigerator 20 Quart Car Fridge Freezer 18L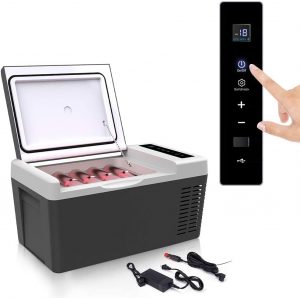 Coming up next is F40C4TMP which is a fast cooling and portable refrigerator. This travel cooler has the capacity of 18 liters. Due to its small size and lightweight, it is preferred by many users as it could fit easily in your car trunk or behind your car seat. It is designed with lots of functions such as low voltage protection and memory function in which most coolers do not have. In addition to this, there is also a shockproof function, allowing it to withstand any harsh conditions.
With these functions tested and guaranteed, you will have a peace of mind while using this cooler. Besides being powered by both AC and DC, it also comes with a USB connector that will allow you to recharge your electronic gadget. What's more special is that it has a LED display and control.
5. Wagan EL6224 24 Liter Electric Car Cooler and Warmer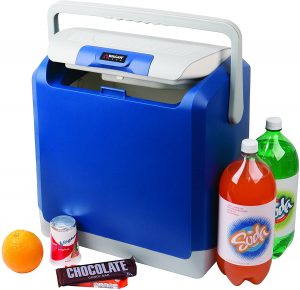 Wagan is another brand we would recommend since it can be used as both a warmer and a cooler. It cools your food and drinks up to 20 degree Celsius below the surrounding temperature. It can also heat up to around 60 degree Celsius. It has a 7.5-feet power cord and can be only used with 12V direct current. Its capacity is 27 beer cans or 24 liters.
There is a switch control that also has a light indicating whether it is hot, cold, or off. The cooler has a removable lid providing easy access for you to clean the interior. This cooler comes with a beautiful blue color and is perfect for family trips.
4. ROCKPALS Car Fridge Electric Cooler and Warmer for Car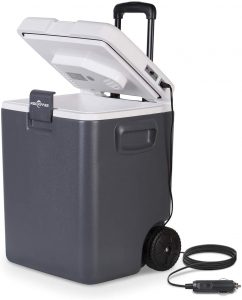 This gray electric cooler is a convenient fridge that adds value to your experience in traveling. It could both keep your drink warm and cold. Its interior capacity is big enough to put 5 two-liter-soda, equivalent to 40 beer cans. Designed for portability, it has a sturdy handle and wheels so that you do not need any help carrying the cooler. You can just roll it easily now.
Furthermore, it has a 9.2-feet cord that is connected to 12V DC. The lid has a locking mechanism, making it seal tightly in order to maintain the temperature inside. It uses energy efficiently and produces low noise during its operation.
3. Igloo Iceless 40-Quart with 110-volt Converter Coolers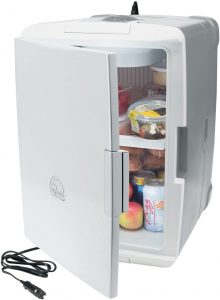 Made of polypropylene, this is another product from Igloo. It is capable of cooling down 38-degree Fahrenheit below the ambient temperature. It has the brushless motor which makes the cooler operate in the quiet noise. In order to use this, you need to plug it into any 12V direct current by using plug adapter. You will also get a 110V converter along the package too. Moreover, it also comes with an adjustable shelf that allows you to divide the food in the cooler.
Also check: Top 10 Best Ice Shaver and Snow Cone Maker in 2023
2. Alpicool C15 Portable Refrigerator 16 Quart(15 Liter)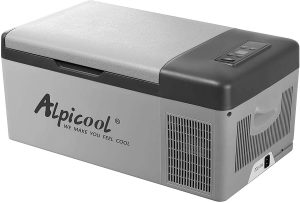 Alpicool comes in different sizes and capacities including 16-quart, 21-quart, 23-quart, 42-quart, and 53-quart. Each of them can chill down your drinks to -20 degree Celsius without ice. Alpicool has designed a temperature memory function along with three levels for battery protection. It could save your energy efficiently. Therefore, there is no doubt that this is one of the most reliable movable cooler/freezers. It is made from a plastic material that is lightweight yet very durable.
When you purchase this one, it will come along with a DC power cord used with either 12 or 24V battery and a useful guidebook which you will find many more hidden features!
1. K-box Electric Cooler and Warmer with Wheels for Car and Home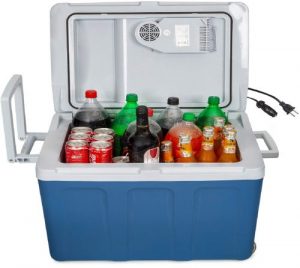 The last one on this list is an electric cooler from Koozam. There are three choices of colors – blue, white, and red. Used as both a cooler and a warmer, it could keep the drinks cold to 40-degree Fahrenheit, while also keep it warm to 130-degree Fahrenheit. There is an adjustable divider and two handles on the surface of the cooler. Plus, there are also wheels for easy transport. This cooler can store up to 60 cans or up to 6 two-liter bottles. This is a COMBO, indeed so there is no point of not having this one for your car.
Buying Guide:
This buying guide will give you an insight as you will learn about the characteristics of an ideal transportable thermoelectric cooler.
Portability: The first thing you need to check is its portability. If not, then what's the point of buying a "portable" cooler? You need to consider if it is easy to carry or move or not. Does the cooler have handles or wheels? Is it too heavy?
Power: Some coolers can be powered by only direct current, while some can be powered by both AC and DC. Please look for the one that will work for your convenience. We recommend you buy the one that can be powered by both currents since it can be used for both indoor and outdoor activities.
Function: We recommend you look for a cooler that can either keep your food and drinks warm or cold, so you will be able to enjoy your experience more.
Temperature: Please also check its operation temperature before you purchase.
Additional features: This is a bonus. Not many coolers have additional features like battery protection or memory function that could ensure your safety.
Conclusion
In conclusion, we have gone through each product by looking at its amazing features. All of these portable coolers are best choices selected narrowly by our team based on customers' feedback. Not only are they perfect for vacations, but they are also excellent use for truck drivers and those who have small offices or dorms.
Therefore, we hope that you have found your ideal cooler in this list. However, if you still hesitate to buy a good one, probably consider reading the following part below to get some ideas of what to look for in an ideal movable electric cooler.