Christmas, the most beautiful time of the year, is approaching around the corner. One item that cannot be missed out on this favorite holiday is the Christmas tree. Large Christmas trees have always been an ideal type for decoration; nevertheless, small Christmas trees also look stunning and outshine the big one in multiple ways. It is a perfect option for a small apartment and office owner since it is space-saving and is simultaneously bringing seasonal flair to your vicinity. Its unconventional size will make you less stressed and consume minimal time to set up and disassemble for storage.
With the various advantages of a small Christmas tree being mentioned, you would probably consider owning one this year. Nonetheless, there is a wide range selection of small Christmas trees available in the market, and we are pretty sure that you are overwhelmed by the information and do not know which one to choose. In this article, we select only the top 10 best small Christmas trees in 2023 and make a brief review for you. We hope you will find the best tree that will bring happiness and infuse a festive vibe for your Christmas this year.
List of Top 10 Best Small Christmas Trees in 2023
---
10. SHareconn Tabletop Christmas Tree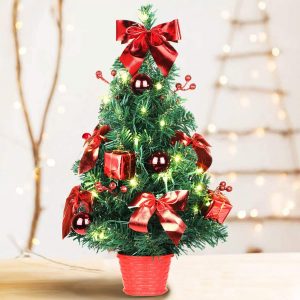 This small Christmas tree comes in a natural shade of green and highlights with plenty of metallic red ornaments pre-attached on the branches. It is a perfect fit for the tabletop, countertop, or chimneypiece décor. Stand at 20 inches tall, this artificial tree is supported by a sturdy red flowerpot at the bottom which guarantees its steadiness placement. 
The significant feature of this Christmas tree is its bright light. There are 30 clear string lights are wrapped around the tree and it is powered by a 3 AA battery.  There are two lights modes option for you to change based on your mood. You can turn on a steady light state by just switching the button from OFF to the middle while moving the button from the middle to the ON for a light flashing state. 
What we like  
Firm base stand

Pre-attached various Christmas ornaments

Clear bright lights
What we don't like
Does not include batteries when you buy
9. NOMA Small Pink Christmas Tree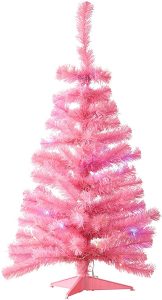 Who says a good Christmas tree has to always be in green color? This baby pink small Xmas tree presences its glamourous look with minimalist design which is a good choice indoor space decoration. This 3-foot tall Christmas tree's frame is made from fiberglass whereas its stand is produced from plastic. These composition materials indicate its durability, so you can reuse it during the Christmas season year after year. There is also a one-year limited warranty for this product. 
Moreover, this tiny tree is effortlessly easy to set up and take down to store during the off-season because it is designed with pre-lit light. Additionally, you will never get bored having this small Christmas tree at your place as it comes with pre-lit 40 color-changing LED lights. If someday you do not feel like having a festive vibe, it also comes with pure white light for you to switch to. It is good to know that LED light requires low power which helps you in saving energy expending cost.
What we like:
Vibrant multi-color light

Easy to assemble and disassemble

1-year warranty

Using Energy saving light 
What we don't like: 
Does not come with any decoration ornaments 

Have to plug in and off the cord to turn on/off the light
8. GEX Multi-Color Small Christmas Tree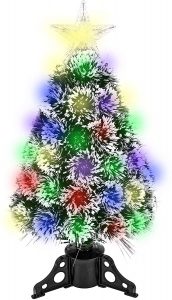 If you find the previous 3-foot Christmas Tree is still not small enough for you, then this one may be what you are seeking. It is designed with only 2 feet in height. Interestingly, you will spend less than 5 minutes to install this cute little Charismas tree. It comes with a ready-integrated tree and pre-attached 6 pre-lit lights; hence, you just need to set up the stand and connect it. And Voila! Your mini Christmas tree is ready to sparkle for your entire home.
All the lights of optical fiber are low in voltage and light up only when you connect to the source of power; hence, it is both energy-saving and long-lasting. Apart from this, it's two different appearances making it worthwhile for you to own one. When you turn off the light, you will have a beautiful snow-frosted look-alike pine tree during the snowy day. Then, when you connect it to the power, the 6 colors light make this Christmas tree look differently in cheerful feeling.
What we like
Small cute size

Quick and easy to install
What we don't like: 
Does not include any decoration items

Its stand looks a bit not stable
7. Amagoing Wooden Base Mini Unlit Christmas Tree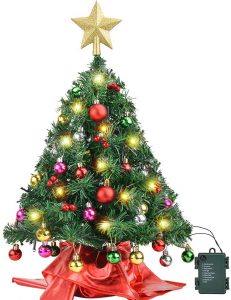 If DIY is your type of thing, this little Christmas tree is made for you. When you order this Christmas tree, its package includes an approximately 24" height green pine tree, 28 Christmas ball ornaments with a mixture of 20 colors, and a led string light. Setting up this little faux Christmas tree will be the best part of all. Customize your own Christmas tree by hanging ready-made Christmas ornaments on the tip of the cascading branches of the pine tree then wrap it with led string lights in whatever style you ever imagine around the tree. It sounds fun to you, isn't it?
This product is made with durable and realistic plastic branches that keep it from breakage. Furthermore, it has a unique stand design which is made from wood that gives the tree good stability. Nevertheless, you do have to worry that this wood base makes this tree looks weird because it also comes along with a satin red Christmas skirt for you to cover it up and create an additional sparky look to your Christmas tree. 
What we like
Customizable

Sturdy wooden stand

Dazzling color
What we don't like 
Take little time to set up
6. Victostar Mini Christmas Pine Tree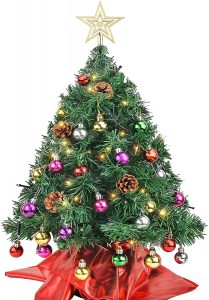 Crafted from more than 75 branches, its branch density makes this small Xmas tree look as realistic as the natural pine tree. Apart from this, its darkest green shade will remind you of the authentic winter wonderland whereas its colorful ornaments and natural pinecones decoration will further light up the jolly vibe of Christmas. On the other hand, 50 warm yellow LED lights powered by 3 AA batteries also include in this package. The unlit type will allow you the freedom to creatively design your beloved Christmas tree.
Regarding the quality, no doubt should be given. This Christmas pine tree's branches are made from PVC that give a more realistic structure and texture to the branches. Meanwhile, its stand is produced from metal material keeping it stand upright and resistant to damage. In the basement part, it is supported by a red skirt base made from wood providing the stability and durability for a long lifespan
What we like
Have a realistic look and feel

Customizable 
What we don't like
Come with one color light 
5. National Tree Company Kingswood Fir Pencil Christmas Tree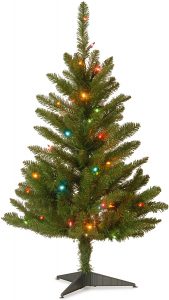 When you find a pine tree is too mainstream as your Christmas tree this year, we can introduce you to another option. This faux kingwood fir tree comes with 50 UL white lights string pre-attached to branches; hence, it's free from the tangled strand and remains lit if one burnt out.  You can feel safe having this mini tree decor within your space because it is made from fire-resistant and non-allergenic material.
This particular tree's appearance is crafted in detail of 167 branches make it look dense and mimic life-like nature's design. Moreover, when you pull out the branches tip to its full side, it makes this artificial Christmas tree look even ultra-realistic.  Lastly, you just need to light it up, 
this 3-foot tall and 21 inches in diameter at the base tree will shine its charm throughout your home.
What we like
Made from Fire-resistance and non-allergenic material making, 

Have ultra-realistic look

Pre-lit light

Clear and bright light
What we don't like
4. National Tree Company Kincaid Spruce Small Christmas Tree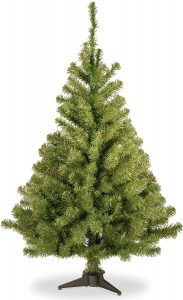 We recommend this artificial Kincaid Spruce Christmas tree for those who favor in classic cone shape tree. It is a slip-on tree stand type in which you just need to fluff out the branches and hinge any of your beloved ornaments decorations on the branches making its complete looks.
In terms of quality of material, it is the same as the previous item we review for you since they are the product of the same company. However, lights, decorations, and ornaments are not included for this one. Therefore, for those who like to shop for their favorite ornaments and lights, this product type is exclusively designed for you.
What we like
Looks classic

Easy to set up with its slip-on design tree
What we don't like 
Too plain design for those who love the extra vivid feeling
3. Vickerman Carmel Pine Small Christmas Tree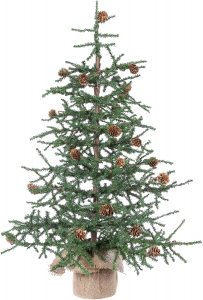 This faux Christmas tree is extra classic and minimalistic comparing to all other products we have reviewed for you so far. This farmhouse design style of this Christmas tree would be marked as its unique feature. It stands upright at 36'' height and wrapped around with burlap at the bottom creating a rustic vibe.
This shrunken in size Christmas tree has a very simple decoration but the various tiny conifer cone attaches to the pine tree make it incredibly stunning and natural. Wherever you are going to put this one at your patio, counterpart, or fireplace mantel, it will perfectly blend in with any surrounding atmosphere thanks to its simplistic presence.
What we like
The pleasant feeling of farmhouse design

Natural tree shape and ornament

Minimalist but elegant look
What we don't like
2. National Tree Company Pre-lit Majestic Fir Mini Christmas Tree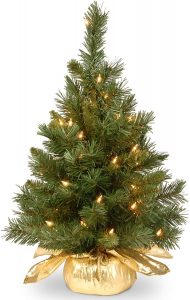 It is another best alternative option for those who fond of fir Christmas tree. This gorgeous solid golden color faux Christmas tree should be your cup of tea. This mini decorative tree displays its glamours look owing to the metallic golden fabric wrap at the base and the 35 warm-yellow twinkle lights.
It is composed of an ideal size of 2 feet tall and 18 inches in diameter at the base in its maximum full form. This Christmas tree gains its praise for the components used for producing it as they are high quality, fire-resistant and non-allergenic. Another significant aspect of this Christmas tree is its natural lifelike appeal of every branch of it and embedded with various pre-lit light that will not disappoint you even a bulb is burnt out.
What we like
Sparkle elegant color 

Unique base 

Look realistic with dense branches

Well-arranged pre-lit light
What we don't like
No extra ornament included
1. National Tree Company Kingswood Fir Pencil Small Christmas Tree 
Here comes the best of the best for our review on the best small Christmas Tree. Consider taking this slim and pencil shape kingwood fir Christmas tree with you if you have limited space available. A sturdy metal base supports this 4-foot-tall tree composed of strong steel and foldable for storage proofing its robustness standard of quality.
Despite its charming realistic exterior design, it happens to be convenient and less time consuming for you to assemble and disassemble. It was embedded with a hinge system at the pole center where 269 tree branches were pre-attached. This best small Christmas Tree in 2023 is not only equipped with a captivating design but is known for its constitution of lustiness materials that are fire-resistant and non-allergenic.
What we like
Have ultra-realistic look

Good quality 

Simple and classic design

Easy to assemble and disassemble
What we don't like
Not suitable for placing on a tabletop
---
Buying Guides to Choose Top 10 Best Small Christmas Trees in 2023
We have reviewed a range of the best small Christmas trees in 2023 for you, and we hope some of you have already found the best option to take home with. However, for those who are still in dilemma to make a decision, we have taken a step ahead by preparing a list of tips for you on how to choose the best small Christmas tree fit to your preference.
Foliage Realism: PE /PVC Needles or Tinsel Needles
Most artificial Christmas tree foliage is generally produced from PE/ PVC or tinsel material. PE/PVC needles imitate the realist structure, texture, and color of the natural Christmas Tree at its goodness. Choose PE/PVC needle, if opt-in artificial Christmas Tree while you don't have to miss out on the natural look and feel of your favorite tree. In contrast, if you are looking for a Christmas tree that brings a vibrant feeling, you probably will love the Christmas tree leave made from tinsel material. Nothing can compare to the shiny and fluffy looking bring by the tinsel needles.
Lights: Pre-lit or unlit Christmas tree 
Having a pre-lit Christmas tree is convenient as you will spend time and effort to set up. The lights are already pre-attached to the tree branches, and you just need to plug into a power source to light up your beautiful Christmas tree. On the other hand, an unlit Christmas tree is perfect for DIY lovers since it allows you to unleash your creativity through the traditional Christmas tree decorating experience.
Color: Natural Gre"en or other Color 
Natural green is the traditional and classic color of the Christmas tree. It also reminds you of the warm and wonderful feeling of the time of the year.  For some of you who love to keep it traditional and reminisce the good old day, green color is certainly should be your choice.
However, you never know how other colors of the Christmas tree will make you feel. Choose other colors, if you want to make new different vibe for your home or office decoration for this year.
---
Frequently Asked Questions – Top 10 Best Small Christmas Trees in 2023
How do you make an artificial Christmas tree look fuller?
The secret to making your faux Christmas tree look fuller is to fluff out the branches by running your finger through the grain to make it full form. Making it look extra fuller is to curve the tip of the branches upward and arrange it as unsymmetric to create a more realistic presence. 
How do you make a small Christmas tree look good?
The fundamental of your Christmas tree design, regardless of size, is the light. The more lights are attached to your Christmas tree, the more amazing look it becomes. Additionally, ornament decoration also matters. You should consider using a mixture of both natural and artificial ornaments by placing the largest first follow by smaller ones to create an extraordinary look.
---
Conclusion 
In overall, Christmas trees is a necessary piece to have during Christmas celebration as it plays a crucial part to stir up the light-hearted mode and spark joy at wherever we place it. It is important to pick the Christmas tree that does not only have a good appearance but also a good sizing that your place can accommodate. In this case, small Christmas trees are a decent choice as it equips with various best features including space-saving, adorable looking, and easy to set up.
Lastly, we believe that our review has provided you sufficient and vital information to be able to choose the best small Christmas tree and let it sprinkle its glory for your entire vicinity. We hope you have found the most preferable small Christmas tree from our top 10 list in this 2023.