It's easy for an adult to protect themselves from sunburn, but it's not easy for children to do so as they don't know how to take good care of themselves. To protect them from getting a sunburn while let them enjoy a vacation, parents should equip them with a high-quality baby sun hat that is both cute and functional. Nevertheless, the problem is which sun hat is the best to fully protect the baby from sunburn and UV-caused cancer rays?
However, it is not a problem anymore since we have already compiled for you the list of the top 10 best baby sun hats for daily use, the beach day, boating, fishing, water play, trekking, and travelling as shown below.
List of the 10 best baby sun hats in 2023
10. DANMY Baseball Cap Striped Sun hat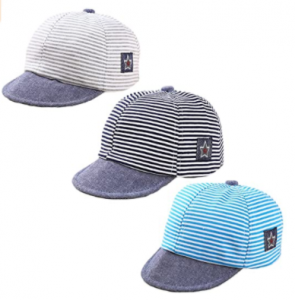 This DANMY Baby Sun Hat is made of soft cotton. It is the hat recommended for boys, but it can be worn by girls as well. It is an 18 to 19.29 inches hat with an adjustable function that is perfect for 8 months to 2 years old children. Since it is made of high-quality cotton, the hat is breathable, easy, and comfortable to wear.
In addition, it has the front cap that protects your baby and his eyes from sunlight and has the soft part in the head area that can absorb sweat from the baby's head too. With this hat, you don't have to worry about the sunlight and bother by dirty sweat anymore. Moreover, it looks cute on your baby too. When your baby boy wears it, it looks like he is wearing a baseball cap.
What We Like:
Adjustable around the head
Soft and comfy for children
Absorb sweat
Looks like a fancy baseball cap
Come in a pack of 3 with different colors to choose from
9. JAN & JUL GRO Girls' Sun Hat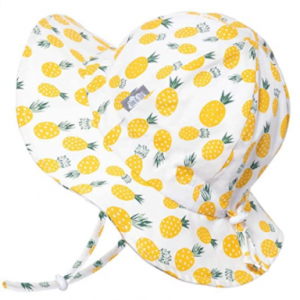 This Baby Sun Hat from JAN & JUL is a beautiful and popular girl hat made from 100% cotton. It is soft and can be easily folded to fit into a pocket. It comes with smart design for newborn one-year-old baby, where you can adjust the size to fit the baby's head. Furthermore, the hat is made of quality material that can protect the baby from 50+ UPF, has an anti-sweat and breathable function, and comes with a chin strip that is persistent to strong wind. It's the best summer sunhat for baby girls as it comes with water repellent fabric that ensures quick dry after an active water play.
What We Like:
50+ UPF protection for eyes, neck, and head
Come with chin strip that persistent to strong wind
Adjustable to fit with almost all types of hat
Foldable to fit into small pockets
Summer fashionable look
Water repellent fabric
8. Carter's Girls' Hat and Mitten Set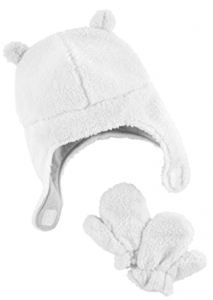 This baby sun hat from Carter's Girl comes with a set of soft gloves for the baby so they can be fully protected from the sum beam. The hat is made of 68% Polyester and 32% Cotton that can be machine wash as you wish without getting damage. This hat has two sizes to choose from, one is for baby age 0 to 9 months and another one is for the baby age 12 to 24 months.
Furthermore, what makes it unique is it has two ears on top along with hook and loop closure to protect around the baby's neck. This set is perfect for your babies if you want them to look cute and fashionable while staying safe from sunlight.
What We Like:
Cute for little kids
Can be machine wash
Protect both head and neck
Soft and durable
Inexpensive but good quality
7. Exemaba Summer Hat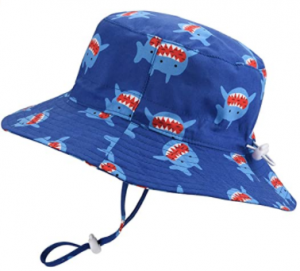 Exemaba Baby Sun Hat is a super lightweight sun hat perfect for baby. It comes with many different colors and sizes to choose from. The hat has two adjustable straps, one is the head strap and another one is the chin strap that allows it to fit almost all babies, age from 3 months to 5 years old. Moreover, it has a 2.5-inch brim to protect the baby from the sunlight, along with a quality polyester fabric that has 50+ UPF protection and breathable function to let the babies stay cool even under the hot summer sun.
What We Like:
Many colors and size to choose from
Small, lightweight, and foldable to fit into the pocket
50+ UPF protection and 2.5-inch brim to fully protect the baby
Breathable and cool for the baby
Cute, perfect fit for travelling, fishing, camping, and on the beach.
6. Sunday Afternoons Kids' Play Hat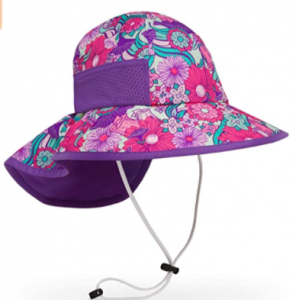 This Sunday Afternoon Kids' Play Hat is one of the best baby sun hats. Unlike many hats, this hat comes with a unique look. It not only looks beautiful but also fully protects the baby with its front and behind brim. It comes with 2.5 to 4 inches down sloping brim with floatable foam core and 5.5 inches neck veil for protecting the back of the baby's neck. With this function along with 50+ UPF protection, you don't have to worry about your babies getting sunburn anymore.
Most importantly, what makes this hat extra special is its waterproof ability to prevent the hat from getting soak during water play. Moreover, it also comes with an extra chin and head strap to let you tighten and loosen the hat as you like. With these functions, the hat is suitable for any vacation season.
What We Like:
Foldable and size adjustable
Thin chin strap: comfortable to wear and protect strong wind
Airflow in and out that keeps the head cool under a hot sunny day
Water repellant that is perfect for a beach day
Avoid sunburn on the child's neck
Many colors to choose from
5. SwimZip Baby Summer Hat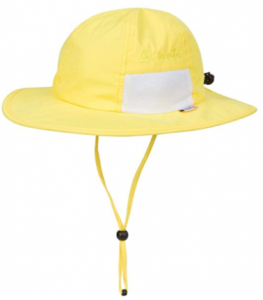 This Baby Sun Hat from SwimZip is the best for your baby if you are looking for a hat that can protect the baby from 98% of all UVA and UVB cancer-causing rays. With this UV protection function along with its strong and wide brim, your 6 to 24 months child is getting optimal protection from the sun and strong wind. Besides its UV protection ability, it has the head and chin strap that can be adjustable to best fit along with a breakaway chin strap to prevent a choking incident. It is built for both protection and convenience.
Moreover, what makes it unique from the rest of the hats is its floating ability. You don't have to worry about losing the hat during water play anymore because this hat comes with a floating function. Moreover, it dries quickly as well. It also comes with corrosion-resistant eyelets that make this hat an ideal hat to take to the beach.
What We Like:
Comes with venting to keep the head cool
Perfect fit with swimsuit and sunsuit for the beach day
The brim is sturdy that resists to strong wind and doesn't flip
Easy to adjust even by the kids themselves
Has a mesh ventilation panel
4. SNW KidSummer Hat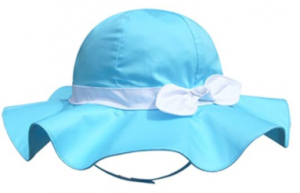 Unlike many other hats, this baby sun hat from SNW can fit children age from 3 months to 7 years old. If the hat is larger than the baby's head, you can adjust it easily and quickly with the adjustable tool at the back of the hat. The brim of the hat is huge, strong, sturdy, and not floppy. With its huge brim, your baby's eyes, neck, and face are completely protected from the sunbeam and wind.
Most certainly, what makes it unique is that it perfectly remains in shape even when it is wet or under strong wind. You can also machine wash it and it is still flawlessly in shape.
What We Like:
Affordable price
Adjustable and easy to adjust
Made of soft cotton and is a great design for baby girls
Best for everyday use, hiking, beach day, and fishing
Comes with a wide and strong brim that can fully protect the baby
Can be machine wash and remain in shape even wet
3. Durio Bowknot Kid Sun Hat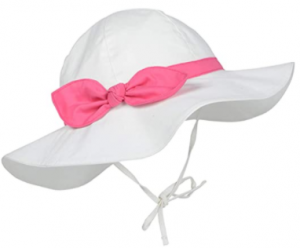 Similar to many other hats on the list, this baby sun hat is made of soft high-quality cotton, comfortable to wear, lightweight, easy to fold, and comes with 50+ UPF UV protection. However, what makes it more unique than the others is it has many colors and sizes to choose from. Unlike other hats, it has the size for a 6 months old baby up to 8 years old child. It is really hard to find the hat that can be worn by an 8 years old kid but here you can find the best one.
Above all, the hat comes with many colors and two styles. The hat with a cute bowknot is for baby girls and the one without a bowknot is for baby boys.
What We Like:
Affordable price
Have 4 sizes to choose from
Cute design with bowknot, perfect for baby girl and without the bow for baby boys
Machine washable and dryable
50+ UPF protection
Lightweight, soft and foldable
2. i play. by Green Sprouts Girls' Sun Hat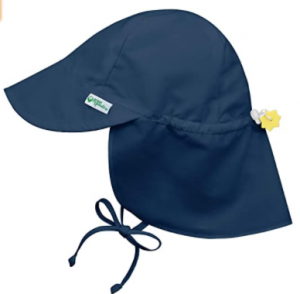 This baby sun hat from i play. by Green Sprouts is made of 100% Polyester. For this reason, this hat is light, packable, and made of quick-dry material. If your baby is an active player, this hat is a perfect fit for them because it is not only dry quick but also comes with an extra cool function to keep the baby's head cool all the time. To maximize protection for the baby, the hat is made with long neck coverage to protect the back and neck from the sunbeam. In the front, the baby's eyes are fully protected with a wide brim. Even though the front brim is wide, it doesn't block the babies' eyes so they can enjoy the view while being protected.
Moreover, it comes with lifetime 50+ UPF material to ensure the baby is safe from all kinds of UV-caused cancer. Not so different from the rest of the hats, it has pull-on closure to adjust both for the chin and head area. The ties are tight that keeps the hat in place.
What We Like:
Durable and support machine wash
Support active play
Long neck brim and wide front brim to avoid sunburn
Have a variety of colors to choose from
Adjustable and lets the baby grow to it
Doesn't contain harmful chemical
Can be folded without misshapen the hat
1. Durio Baby Sun Hat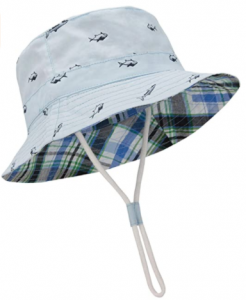 Not so different from the rest of the hats here, this hat from Durio is made of high-quality cotton that makes the fabric soft and comfy for the baby's head. It also has a wide brim to shield the baby's eyes, neck, and face from the sun. The manufacturer creates the hat with so many colors, sizes, and styles to choose from. Not only they look cute with different colors and animal shapes on the head, it has adjustable toggle at the back to fit with babies from 6 months to 8 years old too.
However, what makes it unique from the rest of the baby sun hats is that it has double sides available for you to flip and change the style. The hat is designed with the outside and inside wearable fabric, so you can flip it and it seems like you have two hats while spending money for only one. Whenever one side is dirty and gets used to the eyes, one more side can help.
What We Like:
Inexpensive and has many styles to choose from
4 sizes to choose from
Durable strap, lightweight, foldable and breathable
50+ UPF protection
Can be machine wash because it is made of high-quality material
Double side available
Conclusion
In conclusion, choosing the best baby sun hat is an important task for the parents because it is an essential tool to protect their beloved baby from getting sunburn or affecting from UV-cause cancer rays. Choosing a cute hat is easy but choosing a functional hat is hard. At the end of the day, a cute hat with functional ability, as shown above, should be chosen to make sure the babies are enjoying their days and be healthy.