Over the years, sewing machines have evolved gradually as technology has been moving forward. You may recall your memory back to the time when your grandmother used a mechanical sewing machine. Nowadays, electronic or computerized sewing machines are becoming popular and mostly preferred not only in clothing companies, but also in many households as well. This is simply because they are more advanced and could offer lots of unique features than mechanical sewing machines.
This article is a product-review article in which you will find ten electronic sewing machines that have been specially selected by our team. These products are all great choices; however, if you still have concern after reading the review, you will also find a buying guide at the end of the article that will be useful in the future.
Here are the 10 Best Computerized Sewing Machines in 2023
Other related machines you may need: Electronic Die Cutting Machines, Spiral Binding Machines, Laminator Machines, & Embroidery Machines
10. Brother Quilting Machine | XR9550PRW | 165 Built-in Stitches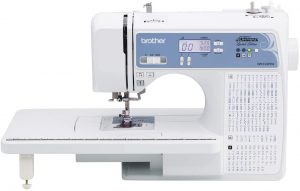 Brother has been one of the leading electrical equipment companies around the world for many years. This first product we would like to introduce is Brother's computerized sewing machine known as the "Project Runway Limited Edition". It is a special model that comes with 165 utility. This sewing machine comes with a wide table and a hard case that are designed for durability and large projects. The package also includes other additional items such as bobbins, spool caps, spool pin, power cord with pedal, needles, accessory pouch, cleaning brush, eyelet punch, and seam ripper. Eight sewing feet are also included.
The LCD display is large and clear to see. Another special feature is that by just touching a lever, it can push the thread into the needle automatically. There are many other unique features that you could not find in normal mechanical sewing machines; however, it is not as complicated as you think. In fact, it is actually easy to use after you learn about its features from the manuals or DVDs. For this model, a 25-year limited warranty is offered to ensure the life of the product.
9. Brother Sewing and Quilting Machine | CS6000i | 60 Built-in Stitches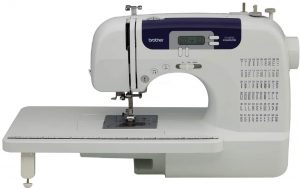 This is another model from Brother which also comes with an oversized table, protective case, and eight additional sewing feet. However, this one has an adjustable control for sewing speed. The maximum speed is 850 stitches per minute. This sewing and quilting machine does not only have good-looking appearance, but it also helps you produce high-quality works too. It also includes an auto needle threader which will save your time in pushing thread into the eye of the needle.
Moreover, you can also illuminate some light at the sewing area when you work late at night. With this model at home, you will have no worries in making quilts or having nothing new to wear as you can fill up your own closet anytime.
8. Bernette 38 Swiss Design Computerized Sewing Machine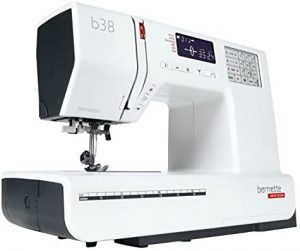 Another brand we would like to introduce to you is Bernette. This computerized sewing machine is Bernette 38 which is the most current model amongst Bernette's products. You may not find any sewing machines that are guaranteed with both price and quality like this one. It is not only an affordable machine, but also a high-quality one which could perform a variety of functions. Almost 400 different stitches are offered.
This model has 8 one-step buttonholes and 3 alphabets. There is also a speed control which could be adjusted on the display screen. You will also find additional items in the package too, including a rolling trolley, bobbins, needles, and foot set.
Also check: Top 7 Best Electronic Die Cutting Machines in 2023
7. Janome 4120QDC Computerized Sewing Machine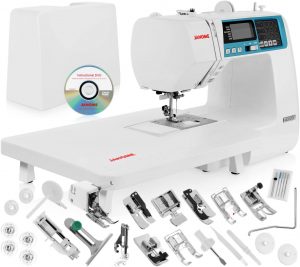 Next, we want to also recommend Janome's computerized sewing machine which also comes along with a hard case and an extension table. Similar to others, you will find an automatic needle threader in this one too. There are 120 sewing stitches which enables you to work on large projects. What's more special is that this one has a jam proof bobbin system which makes the process of changing bobbins much easier.
There are also useful function buttons like thread cutter button, reverse stitch button, lock stitch button, the needle up/down button, etc. Additional accessories will be provided in the package. You will also find a user manual and instructional DVD in the package too.
6. Brother Project Runway CS5055PRW Electric Sewing Machine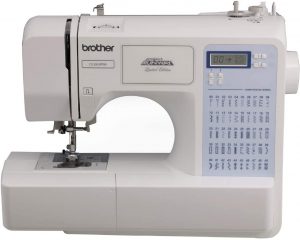 Another Brother's affordable computerized sewing machine is the CS5055PRW model. This model offers 50 stitches and 5 one-step buttonholes. It also has an automatic needle threader which is designed to lessen the strain of your eyes and to save time. The machine could perform at an adjustable speed. The maximum speed is up to 850 stitches per minute. 6 feet and extra needles are included in the package. The weight of the machine is light and could be moved easily.
There is also an LED which gives you some light in the sewing area. It is a great sewing machine, indeed. However, it is also important to note that this machine does not support 120V AC even if you use a voltage adapter.
5. Brother Machine | ST150HDH | 50 Built-in Stitches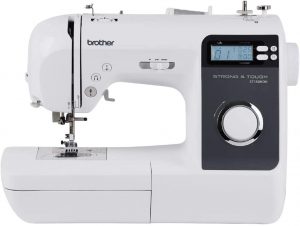 Brother ST150HDH offers 50 built-in stitches. It also has seven-point feed dogs that assist smooth fabric feeding. With its durable case and metal frame, it is designed for a longer lifespan. The LCD screen is big enough to display a clear view of the settings. The LCD display screen can also recommend you the sewing foot too.
Moreover, this model also has advanced features such as needle threader and automatic bobbin winding system. With all of these features, ST150HDH is commonly used for sewing thick fabric. Brother will give a 25-year warranty along with free technical support.
Also check: The 10 Best Leather Couch Repair Kits in 2023 | Repairer's Best Choices
4. Brother Quilting Machine | HC1850 | 185 Built-in Stitches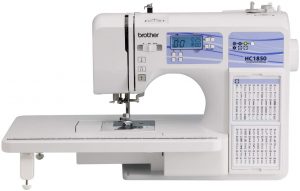 Coming up next in our list is HC1850 computerized sewing machine from Brother, which features 185 beautiful built-in stitches. A slide control for sewing speed can be found on the strong case of the sewing machine. It comes with a wide table which is ideal for large projects like sewing quilts. The bobbin system and needle threader are advanced, allowing you to work faster. Additionally, you don't have to worry about the details of your project. No matter how complicated it is, this sewing machine can make it much easier than it looks.
There is a LED-lit area that brightens the sewing area in order to give you a clearer visibility. This model is lightweight and portable, so it is popular amongst students as they could carry it to classes. The instructional DVD is provided.
3. Brother Quilting Machine | RSQ9185 (Refurbished) | 185 Built-in Stitches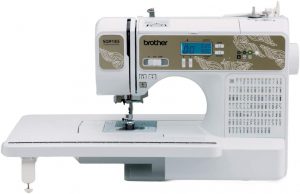 Our top three is Brother RSQ9185 computerized sewing machine, known as "Brother Factory Remanufactured", which comes with 130 built-in stitches. In addition to this, it also comes with 55 alphanumeric stitches as well as eight styles of buttonholes. The drop-in top bobbin features as a jam resistant, while there is also an automatic needle threader. Similar to others, it also comes with additional accessories such as sewing feet, a large table, and DVD manual. A 25-year-limited warranty is provided.
2. SINGER | Quantum Stylist 9960 Computerized Portable Sewing Machine | 600-Stitches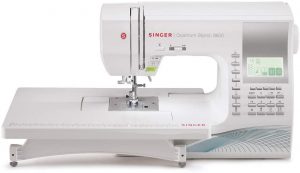 SINGER's computerized sewing machine is a portable machine that features 600 unique built-in stitches and 13 buttonhole styles. Made of heavy-duty metal, the machine itself is quite durable and lasts for many years. The top drop-in bobbin system is built to provide easy access to insert the bobbin. Plus, in just a blink of an eye, you can have your needle threaded.
There is an extensive table for those who need a large working area. Another benefit of having this product is that it has twin needle settings which are commonly used for stitches besides straight stitch. LED light is included, and you will get a 25-year warranty once you purchase this.
Also check: 10 Best Portable Elliptical Machines & Stepper Machines in 2023
1. Brother XM2701 Lightweight Sewing Machine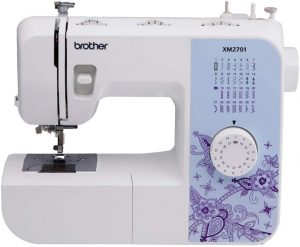 XM2701 is an affordable sewing machine that includes 27 decorative built-in stitches. Besides the automatic needle threader, there is also a drop-in bobbin system. You can also find many useful accessories that are provided for free when you buy. This model is both perfect for those who have just learned how to sew and those who are skilled in sewing. A free customer technical support will be granted.
Conclusion
Overall, we have looked at ten outstanding computerized sewing machines. We hope you enjoy the review and make the right decision. However, we believe some of you may find that buying a self-sewing machine could be stressful like choosing a restaurant. Therefore, our team is here to assist you by providing a buying guide that could help you make a better decision.
There are several things you should take notes when you look for an ideal sewing machine. Usually, a computerized sewing serger offers a wide range of stitches. Some computerized sewing machines could be pricey but worth your money, depending on its quality as well as its range of functions. However, we would like to recommend you invest in a machine depending on your budget and how you will use it instead. Are you running large projects or just using them for personal purposes?
If you have large projects, then you may want a machine that offers more than 100 built-in stitches. This could cost you more; however, it will be worth it in the long run. Extra accessories that come along with the product is a bonus that you may need to consider! In addition to this, please look for a machine that is guaranteed and warranted by the manufacturers.