Whether you're a student, designer or artist who loves crafting and sewing, owning a die cutting machine is very beneficial. It saves your time, provides more design options and reduces your struggles.
There are two types of die-cut machines on the market which are the manual ones and the electronic ones. However, this article will only review the top 7 electronic die-cutting machines. If you are looking to purchase one, this article is for you. The article will reduce your burden by eliminating most models and brands of low quality on the market for you. Now, let's have a look at these 7 top quality electronic die cutting machines.
List of the 7 Best Electronic Die Cutting Machines in 2023
Other related machines you may need: Spiral Binding Machines, Laminator Machines, Computerized Sewing Machines & Embroidery Machines
7. Brother ScanNCut SDX125E Electronic DIY Cutting Machine with Scanner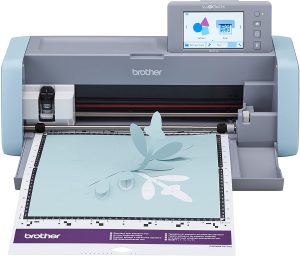 Starting at the top of the list, we have one of the best electronic die-cutting machines on the market from Brother. This product is known as the Brother SDX125E. Other than being used as an electronic cutting machine, this product also can be used as a scanner that you can use to scan your drawings. The ScanNCut feature within the scanner allows you to scan the drawing or material then use cut file and print the stickers or drawings in cutting form. It makes the process smoother than usual by just placing the pattern on the place you want to cut.
Moreover, this product is equipped with an auto blade that can detect the different types of materials and thickness. So, you don't have to worry about any adjustment and material selection at all when using it. Furthermore, the sharpness of the blade can cut many materials like vinyl, balsa, wood, foam, chipboard, paper and fabric within a thickness range of 3 mm or 0.1 inches.
Adding to that, this machine display is equipped with an LCD touchscreen, and it can also be connected to PCs and electronic devices to ensure the ease and speed of design and editing. It also comes with a license that allows you to use many free files, designs, letter fonts and quilt patterns. Lastly, it operates with SVG file and wireless network which you can transfer data through the Brother Workspace application with PC and electronic device.
6. Brother CM350 Cutting Machine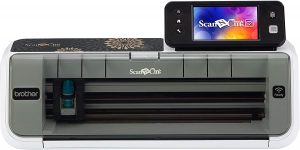 Next up, we have another electronic die cutting machine from Brother brand known as Brother CM350. This product is very similar to the last one. It is built with 300 DPI that allow the ScanNCut2 to cut unique patterns and designs from your scanned drawings or images. Moreover, it is also equipped with a huge 4.85 inches color LCD touchscreen which ensures you are able to select functions with ease. Adding to that it is also built with wireless network features which allow you to connect to multiple options like standalone connectivity, wireless network connectivity and PC connectivity.
Another noticeable special feature of this Brother machine is the cutting and scanning area. You can use it to cut or create a wide range of designs within the size of 12×12 inches. Furthermore, with LCD touchscreen you can easily edit and design your materials on it that are compatible with many operating systems such as Microsoft Windows 7, Windows Vista, Windows 8 and Windows 10. It has an ability to transfer the data through ScanNCutCanvas and use SVG files.
Additionally, there is a welding feature that allows you to combine hand drawings, shapes and fonts directly on the LCD touchscreen. In just a few seconds, you will be able to combine those details into one masterpiece cutting. If you purchase this product, it will come with a year warranty and a lifetime technical support.
5. Brother ScanNCut DX SDX125E Home Electronic Cut Machine Scanner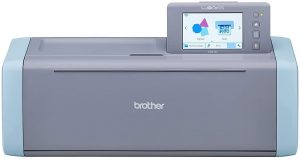 Another electronic die cutting machine from Brother that is known as one of the best products on the market is Brother ScanNCut DX. This Brother cut machine is nearly identical with Brother SDX125E. A large portion of this product is grey and a small portion is blue. It is built with a huge LCD touchscreen that makes the process smoother than usual by just placing the pattern on the place you want to cut. Moreover, this product is equipped with an auto blade that can detect the different types of materials and thickness.
Adding to that, it also comes with a wide range of designs with many files, borders, letter fonts and quilt patterns. Furthermore, inside the front cover of this ScanNCut machine, there is also a spacious storage which you can put a touch pen, blades and other tools. Additionally, this Brother machine is ideal for a small office due to its noiseless mechanism and lots of abilities. If you purchase this product, it also comes with a set of CAPEN2 Erasable and Standard Blade Holder.
4. Cricut Explore Air Wireless Electronic Cutting-Machine Bundle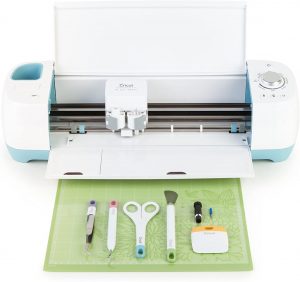 One of the best electronic die cutting machines from Cricut that you should consider is Cricut Explore Air. This product has two styles such as tools bundles. This Cricut machine is ideal for DIY projects and crafts. This Circuit machine can replace most of the things that you need for your DIY crafts like weeder, scraper, scissors, spatula and tweezers. It is built with a cut blade that is able to cut thick tools like canvas, felt, poster board and leather.
Moreover, you can upload or cut your personal images and design it anywhere because this Circuit machine is wireless and is able to connect through many electronics devices like PC and mobile phone with application. Adding to that there also many images, fonts and projects that you can use for free to add on your personal one.
3. Brother ScanNCut2 Home and Hobby Cutting Machine + Scan Cut Brayer + Cut Blade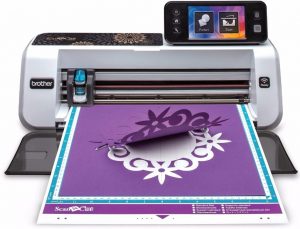 The last electronic die cutting machine from Brother on this list is Brother ScanNCut2. This product is one of the latest Brother machines on the market that you should consider purchasing. This machine is an ideal product for your crafts and media projects. Moreover, it is equipped with a wireless scanner that ensures you can scan and cut the area within the range of 12×24 inches with perfect designs and patterns. Adding to that, it is very easy to cut fabric with sewing patterns. It also has an ability to identify FCM files when cutting applique.
Furthermore, ScanNCut Canvas application allows you to store the cloud data which you can easily design and edit your cut data. You can also convert those data from SVG to FCM files when using ScanNCut2 as well. If you purchase this Brother machine, it will also come with a cut blade, sewing mat, scraper tool and 4-inch brayer. Lastly, the combination of LCD touchscreen and ScanNCut allow you to use many designs, patterns, fonts, borders and shapes to edit and cut your personal images with ease.
2. Gemini Multi Media Die Cutting Embossing Crafters Companion Machine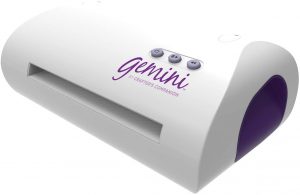 Coming in the second place on the list is Gemini. This purple and white electronic die cutting machine is one of the fastest and soundless products on the market. It has ordinary design with a sleek look. It supports periphery cutting of AND A4 US letter. Moreover, it can cut the materials up to the size of 8.5 inches x 11 inches. Furthermore, these Gemini machines can cut many dies at a time and can also compatible dies with embossing folders as well. You can also use it to cut many other materials like vinyl, cardstock, fabric and foil.
Adding to that, it is very stress-free to use because it can easily pause, reverse, and resume by just pressing the buttons. If you purchase this product, it also comes with many plates, a 3D embossing, a multimedia die, three papercraft die, power cord and user guide.
1. Cricut Maker Cut Machine

The first place on our list is another electronic die cutting machine from Cricut known as the Circut Maker. This product is the only one that offers many choices of colors like champagne, blue, lilac, mint and rose. It is ideal for sewing projects, balsa models, leather crafts, iron ons, vinyl decals and paper crafts. Moreover, it is built with expandable and powerful tools like blades, scoring tools and pens. Furthermore, a rotary blade or knife blade combined with rolling action and gliding allow the blade to cut through many materials with ease.
Adding to that, this product offers many quilting and sewing projects, patterns and fonts when cutting. Additionally, you can design crafts or projects easily by using electronic devices or computers. You can also use or upload your personal images that support many different types of file formats. Lastly, it is built with a docking slot which you can put your electronic devices and charging spot by using a USB port. If you purchase this Cricut machine, it also includes point pen, premium point blade, housings and rotary blade.
Buying Guide
Here are some the important factors that you should consider before deciding to purchase a electronic die cutting machine:
Versatility: Your die cut machine should be able to perform many tasks and has many functions.
Portability: If you like to move your die cutting-machine around, you should consider the one that is easy to move.
Reliability and Durability: Your die cut machine should have a good performance as well as a long-life span.
Ease of use: Your die cutting-machine should have a simple command and is easy to understand. Moreover, if it can be connected to other devices or applications, it will help you in many ways.