Paper shredding is becoming more and more common for domestic and professional use. There are different types of paper shredders that are convenient for different purposes. If you are considering getting a paper for legal compliance, just to get rid of papers, as a good action for mother nature or other reasons, this list will provide you with the best paper shredders of the year as well as a buying guide at the end of the article.
Here are 10 Best Paper Shredders for Office and Home Use in 2022
10. AmazonBasics 8-Sheet Paper Shredder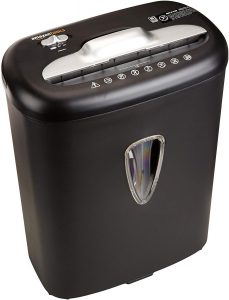 This AmazonBasics shredder is appropriate for home and office use. It is appreciated by users as it also allows the cutting of credit cards. The shredder cuts papers (8-sheet capacity) in strips of 3/16″x 1-27/32″, adhering to the security level P3 standards. Convenient and practical for daily use, it has a 3-minute continuous run time with a half-hour cooling cycle equipped with an LED display indicator for overheating. It is appropriate for light use and fits very well under desks or other workstations.
The shredder also features a see-through 4.1 gallon bin letting the users know when it is full. To top all this amazing paper and credit card shredder, it is backed up with a 1-year limited warranty.
9. AmazonBasics 6-Sheet Paper Shredder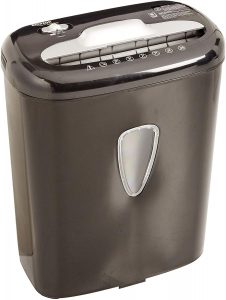 This AmazonBasics shredder offers high-security and great shredding capacity (up to 6 pages). It is very famous for its micro-cutting( 5/32 by 15/32 inches) with a security level of P-4. It is very quiet, compact and fits very well under desks. Like many other AmazonBasics, this paper shredder features 3-minute continuous run time with a half-hour cool down time. Interestingly, it also includes 'auto-start' and 'manual reverse' functions to clear jammed paper.
It is also backed up with a AmazonBasics 1-year limited warranty. You do not have to worry about getting rid of papers with personal and confidential information, as well as credit cards (1 at a time), with this amazing AmazonBasics shredder.
8. AmazonBasics 15-Sheet Cross-Cut Paper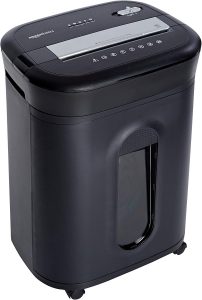 This AmazonBasics shredder is a powerful shredder that can cut 15-sheet cross-cut paper as well as credit cards. It can also be used to destroy small paper clips, staples and CD/DVD. With a security level of P-4, it shreds size of 5/32″ x 1-7/32″ (4 x 31mm). It has been designed for high safety. It features a handy LED indicator that displays the shredder status at a glance ; overheat, overload, opened door, bin full and power status. It has a 20-minute continuous run time with a 4-mode switch (Auto/Off/Forward/Reverse). Equipped with a 6-gallon pullout basket, there is also a window for seeing easily when the bin is full.
7. Fellowes Powershred Paper Shredder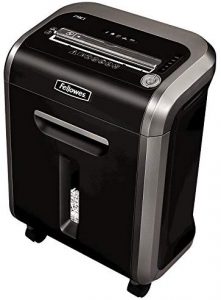 Available in black or dark silver color, this powerful cut shredder has a capacity of 16 sheets. Made to ensure a smooth shredding process, it has a 100% jam proof system that gets rid of paper jams and powers through tough jobs. It has a running time of 20 minutes before it has to cool down. Eco-friendly, it has an energy savings system that ensures optimal energy efficiency at all times when in use and out of use.
Users like how quiet the machine is while in operation and the SafeSense technology that stops shredder when hands come too close to the paper opening.
6. Bonsaii DocShred C156-D Paper Shredder
You will not have to worry about discharging papers with personal information with The Bonsaii DocShred. It can also be used to cut credit cards, clips, staples and CDs/DVDs. It is a 12-sheet capacity shredder that really micro-cut paper into small pieces of 1/5 by 1 25/32 inches (5x45mm). The shredder comes with various appreciative features ; it is quiet in operation, has an auto-start feature and manual reverse to remove paper jams and has a powerful thermal protection system for overheating.
Additionally, it includes a 55 gallons wastebasket that ensure less emptying time. It is perfect for both home and office use.
5. Fellowes Powershred 99Ci Paper Shredder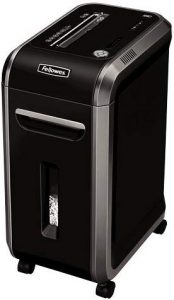 The Fellowes Powershred 99Ci has every feature you would want a shredder to have. This 100% jam-proof paper shredder has a cutting capacity of 18 sheets per pass. Micro-cut is indeed how tiny the sheets are shredded : 5/32" x 1-1/2" size. It has a security level of P-4.
Additionally, for more safety the SafeSense technology featured stops shredder when hands touch the paper opening. Very powerful, it has a running time of 30 minutes. Moreover, the 9-gallon pull-out bin gas a bin-full indicator that indicates when the bin gas to be emptied.
4. Aurora AS810SD 8-Sheet Paper Shredder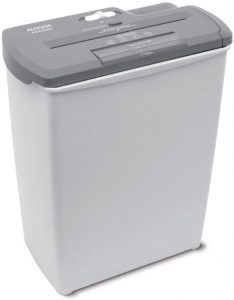 No need to worry anymore about identity theft or how to get rid of your unused papers with confidential and personal information. With the 8-sheet capacity Aurora AS810SD you can strip-cut paper, CDs/DVDS and credit cards.
It also includes a wastebasket that can hold up to 4.5 gallons. It has a manual forward feature, as well as, a reverse function to help clear paper jams. It is also environmentally-friendly and constructed to save energy : the shredder does not consume energy in standby mode. You will definitely love this compact, sturdy and reliable shredder.
3. Boxis Nanoshred 10-Sheet Nanocut Paper Shredder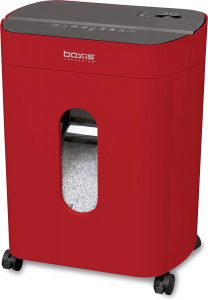 This Boxis Nanoshred 10-Sheet Nanocut Paper definitely is a quality for price deal. Relatively small, it fits for home use and it is elegantly compact in a very elegant red color. Shredding your paper will not be a tiring process as this shredder has a cutting of 10 sheets in one pass. Very practical for daily use at home or even in the office, it has a large 4.0 gallon removable bin that facilitates emptying. Moreover, it is very mobile as the machine is on casters.
When it is operating, it is very quiet. To complete this amazing shredder, it comes with a limited product warranty ; for the first 90 days, parts and labor are covered and after that, parts only are covered to one year.
2. AutoMax 600M Auto Feed Micro-Cut Paper Shredder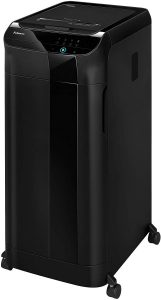 The AutoMax 600M Auto Feed Micro-Cut Paper Shredder is one of the most popular shredders. It is very well known for its power and how independent it is as a shredder. It can shred up to 600 papers automatically in about nine to ten minutes. Users do not have to lose time inserting papers and waiting. Manually, it has a capacity of 14 sheets in one pass. For superior protection of your data, this micro-cut P-5 security level shreds documents into tiny particles of 5/64″ x 35/64″.
It is adequate to be used everywhere ; at home and at the office. Even in shared offices, the shredder fits well as the SilentShred provides remarkably silent performance. The shredder includes a very spacious 22 gallon waste bin that is removable for ease of emptying. That bin can hold up to 900 shredded sheets, helping to have less time lost emptying the bin.
1. Dahle ShredMATIC 35080 Paper Shredder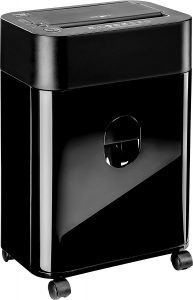 We all want a shredder that will is hassle free and gives us peace of mind while using it. This Dahle ShredMATIC 35080 has been designed for optimal satisfaction of users. It has a capacity of 80 sheet with an auto-feed system that helps save time. Maintenance will not be required to maintain performance as the shredder is oil-free. It has a built-in jam protection that helps clearing in case of paper jams. It offers a very quiet performance with minimum interruptions.
German engineered, the shredder offers great protection against identity theft or information loss by cutting sheets into small pieces of 3/16" x 3/8" size. Further to that, it includes a bin that can hold up to 5 gallons of waste.
Buying Guide
After this list of wonderful, powerful and efficient shredders, below is a buying guide that will help you choose a shredder that will best suit your needs.
Materials to be shredded
There are several shredders nowadays that can shred more than papers. If you want to get rid of paper, credit/debit cards or DVDs/CDs, many shredders can do that.
Scope of use
Another factor to consider is whether you will be shredding a lot of paper. If you work in an office where you have to get rid of hundreds of sheets per week, a shredder with a high shredding capacity will be a better option. In such cases, for convenience a shredder with auto-feed function will be very efficient. If you do not need a shredder for frequent use, a smaller one with lower capacity might be best for home use.
Size of shredded paper
While it is a legal requirement in some countries to get documents shredded, it is very highly recommended when dealing with personal/confidential data to use a shredder that micro-cut the sheets into tiny pieces for greater protection/security.