Dot Matrix Printers were previously known by many people back then. It looks like a typewriter. The noisy printer with a needle in the 70s and 80s. However, Laser printers and Ink-jet printers become popular and common to all advanced technology industries, banks, and offices. They can execute the printing job faster and more dynamically. The device supports mobile printing and wireless printing ranging from phones to personal computers as well as laptops. Moreover, you can print via cable connection through wireless connectivity.
Even though LaserJet and Ink-jet Printers are far away better than Dot Matrix Printer, it is still found to be useful to some enterprises and industries for some reasons. This older style printer is still the best choice for an industrial business looking for cost-efficiency. Moreover, this printer is a low cost per page. Thus, it optimizes your cost at best for enterprises that require low printing costs rather than high-quality printing. We hope to give the best Printers for your home and business use even at home or offices. This review will help you a lot to meet your needs and demands.
---
List of Top 10 Best Dot Matrix Printer in 2022
---
10. Star Micronics Sp742ml Dot Matrix Printer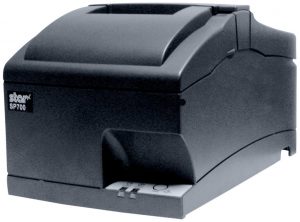 This is a reliable Kitchen printer! This device is really helpful because it is particularly designed for the heat and humidity environment. Thus, almost every restaurant owns this ideal kitchen printing solution. Sp742 dot matrix printer clamshell is designed for easy paper loading. It included a built-in power supply to support space efficiency and productivity. Part of a full restaurant and POS solution, SP742 fits the best of POS hardware, receipt and label printers, kitchen ticket printers, cash drawers, and more in the online ordering market.
The package of this product will include all full range of accessories such as an ink ribbon, Paper Guide, installation guide with cd, wall mount bracket, kitchen buzzer, sneeze guards, paper rolls, and other important supplies. But cable won't be included in the package. Talking about its key feature, Sp742 is well-known as a high-speed printer that is applicable for 13 receipts and tickets per minute. Moreover, it is the drop-in and print paper loading type. With advanced technology embedded, this is convenient with Apple MFI certified Bluetooth to support IOS devices such as iPhone, Ipad, iPod touch, and other related APPLE devices. For setting up, this product will be equipped with an easy-installation guide which you just input the CD and click install following the instructions and done.
What we like
Quick and easy to set up with an ethernet port of the printer

Best Logo and other graphic for receipt branding

Can download online driver software in case the CD is lost.

Space and time saving for kitchen and restaurant solutions
What we don't like
Not suggested for printing paper types like A3 and A4.
9. Epson TM-T20II Direct Thermal Printer USB – Monochrome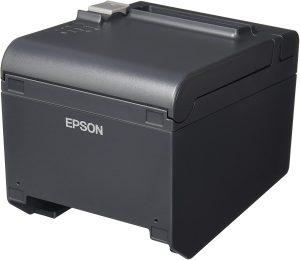 This is the thermal receipt printer of the brand EPSON. It is also known as a cost-saving printer that fits the best for all model types of mPOS-friendly. So why is it friendly? This concept refers to the Epson TM-T20II printer that is designed for all smaller retailers. It is fast and portable for smartphone and tablet devices connectivity. It supports every major mobile operating system including IOS, Android, and Windows. What is in the box? This EPSON TM-T20II thermal printer will include Setup and User Guide, CD-ROM, Roll Paper, rubber feet and switch panel for vertical installation, and AC adapter as well as AC Cables.
EPSON designed this reliable printer with 2 color options such as Dark Grey and White. Its dimension is 5.51″ x 7.83″ x 5.75″ (140 x 199 x 146 mm) (W x D x H) and weighs 1.7Kg. Talking about its feature, this printer can speed up to 200mm per second with a high standard of multi ease-of-use functionality. It is designed with paper-saving options up to 30% reductions. Setting up a guide, this product package will include an all-in-one box with accessories and CD to set up. Don't worry! User manual, Technical Manual, and drivers will give you handy to deal with your concerns.
What we like
Available for easy tablet and smartphone connectivity

All-in-one-box accessories and software

Print speed up to 200mm/sec

Paper-saving modes reduce paper usage by up to 30%
What we don't like
This product won't support image and graphic digital printing and A4 or A4 paper type document printing.
8. Epson FX-890 Dot Matrix Printer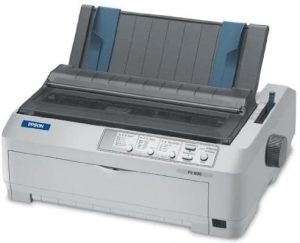 Let this EPSON FX-890 help your enterprise do more. This device is the 9-pin printer which will give you an essential feature to control your medium to the large volume of printing. It is so responsive that you can execute 680 characters per second on any platform of document feed. On top of that, it supports every single sheet of paper both front and back with continuous printing performance. Almost all of the paper is supported including Continuous Paper, Envelopes, Cardboard, Labels and Sheet Paper, and Roll Paper. It fits best for all single and multi-layer.
This Epson FX-890 dot matrix printer is designed to offer the best printing in speed and the finest quality in flexible paper handling. These are what customers are looking for! Regarding its feature, the device is produced with a stylish and unique design with the color of light gray. Moreover, it supports 16 fonts, 8 barcode fonts, and 4 sheet paper paths with USB and parallel I/F. It is the best suitable product for every office, laboratory, car dealers, warehouses, freight forwarders, and finance and trade department who want to execute high performance at a budget cost.
What we like
Class-leading speed – up to 680cps

Compact, robust, and Long-lasting ribbon

Flexible paper handling from all corner of paper margin format

Handles media up to 80 columns wide
What we don't like
The optional wireless feature is not available in all countries and wired network interfaces
7. Epson LQ-590II Dot Matrix Printer – Monochrome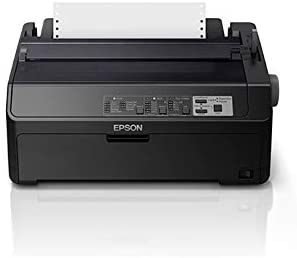 This is another brand of EPSON Printing device. EPSON LQ-590II Dot Matrix Printer. This is an extremely powerful impact printer built for any office and remote environment. It has many key features that satisfy our consumers. First, Low cost of ownership is the point that offers customers with concepts of both financial and functionality. Ribbon cartridge executed up to 5 million characters with a low cost per page. It reduces the frequency of user usages. Also, in terms of advanced paper handling, this printer offers convenient cut-sheet paper and continuous forms up to 8 pages of thick paper. In addition to this, the LQ-590II dot matrix is designed with 23-pin that can speed up through multipart forms and reports at 584 cps. Significantly, this device is user-friendly and easy-setup because its control panel and configuration are instructive with technical information. It takes the user 15 minutes only to figure out.
This is the manufacture of EPSON Corporation. The product dimension is 2x4x8 inches. The item's weight is 15.84 pounds. The print color capability is Monochrome with a maximum of Monoprint speed feature. It supports a parallel port as its interface port and USB port. It works best with continuous paper, label, and roll paper.
What we like
The User Guide and Technical guide is easy to understand.

User-friendly with the control panel to set up and configure features.

Low cost of paper printing and low power consumption

Support almost all media types and paper types.
What we don't like
Not recommended to use with thermal and POS environments.
6. Epson LQ-590 Impact Printer (C11C558001)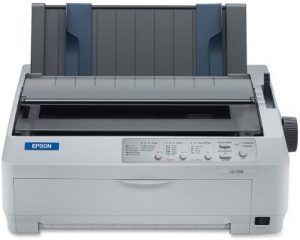 This is the brother of LQ-590II but it's an impact printer while LQ-590II is a dot matrix printer. You may find its appearance outlook similar to its printing ribbon and control panel button. But this powerful 24-pin LQ-590 is the point that delivers the best quality of text and graphic for the critical print requirement. Also, the impact printer can speed up to 529 cps and support the most printing format. It helps the user to boost up productivity because of its robust performer.
This device fit for enterprise business, huge manufacturing, point-of-sale, and various production environments. Users can change the print setting with its user-friendly control panel, while easy-setup can be facilitated by a laptop computer. It works well with its parallel port, USB port, and Interface cards for Ethernet port. This impact printer is believed to handle all critical business applications with ease of use. 
What we like
Powerful performance in speed of printing with 24-pin equipped technology.

Low operational expense compared to other printing technology.

Three-year warranty includes Epson's Superior Service and support
What we don't like
Not recommended to use with thermal and POS environments.
5. Epson LQ-590 24-Pin Dot Matrix Impact Printer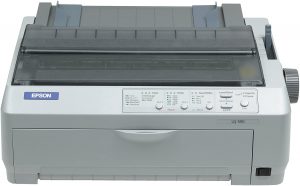 This is the best-recommended impact printer to boost your business productivity in terms of performance and reliability. Due to its high quality and multi-part forms printing, LQ-590 Printer is ideal for solutions such as point-of-sale, mass production environment, and manufacturing factory. 
With advanced technology, this powerful EPSON LQ-590 is the printing device equipped with 24-pin. The more pins printers have the more speed they run! Its robust performer can boost the speed up to 529 cps and ensure the lowest cost per page. Moreover, this printer is packaged with a clear user guide and configuration manual. Thus, convenient configuration software helps users a lot to set up from the laptop computer. These manage enterprise business applications with value and ease. 
What we like
Delivers best-quality text and images for standard applications with low cost expense

Speeds up to 529 cps through multipart forms, reports, labels

Remote Configuration Manager help easy setup via a PC including USB and Parallel connections, plus another slot for optional Type B interface cards
What we don't like
This product is not recommended to use with thermal POS printing and please consider the environment.
4. Oki 62418701 MICROLINE 420 Dot Matrix Printers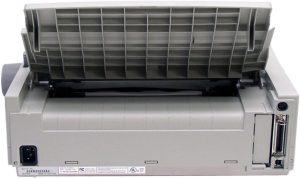 This has its 4 important elements which consist of speedy results, high-volume documents, versatile application, and ease of use. With the speedy result, this printer can perform a super-fast with a high volume of data listing and multipart forms support. It can handle heavy paper and labels. Also, this device is the most demanding environment which can be applicable at wholesale or retail sales counters, warehouse sites, automation department, and utility applications. 
This printer is designed with a strong edge over their predecessors as well as the competition. Moreover, feed rollers provide standard forms of handling and printed-character placement correction. It fit best with media handlings such as plain paper, continuous forms, cards, and envelopes.
What we like
400-million-character print-head life.

Print speeds up to 570 cps and Rated at 20,000 hours MTBF.

Designed with USB and IEEE Parallel connectivity standards.
What we don't like
It supports only black and white color printing.
3. Epson C11CC24001 LX-350 
A very reasonable printer to own, the Lx-350 helps users to save budget with its high ribbon yield of 5 million characters. It is low power consumption. Also, this device is fast and durable. It can print up to 400 characters per second which gives a handy to office application. 
The product Dimensions is 10.83 x 13.7 x 6.06 inches and 9.04 Pounds. It supports many paper formats such as Continuous paper, Label paper, roll paper, sheet paper, and envelopes. It works well with both single and multi-layer. Moreover, this impact dot matrix printer consisted of 9 pins and 9 needles which provide a very high-speed printing feature. 
What we like
Driver and utilities, Setup guide, Software (CD), User manual (CD) are in the box.

It supports most of the document feed and paper formats

Parallel USB and serial port support
What we don't like
No Bluetooth and wireless printing
2. Oki MICROLINE 320 Turbo Mono Dot Matrix Printer (62411601)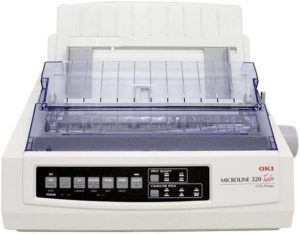 Oki MICROLINE 320 is the best-selling dot matrix printer over the globe. This printer is reliable because its performance supports all demanding environments with a tough engineered concept. It is also effective in the product due to it can print up to 5-6 copies with dedicated form printing. 
This 9-pin printer works effectively with high-speed data listing and multi-part forms application. It is endurance and dependability from the print head design that allows you to print images sharply for a 300-million character. This compatible printer meets your needs today and in the future. It is packaged with a clear user manual and CD-ROM to install its software on a laptop computer.
What we like
Reliable performance and engineer designed to work in a variety of environments

Efficient in workload production- Prints up to five copies at the same time

Best performance with high-speed data listing and multi-part forms applications support
What we don't like
No Bluetooth and wireless printing
1. Oki Data 2X Microline 320T

This Microline 320 Turbo/D 9-pin dot matrix printer is the best-selling product. It is an engineered printing device. It fits most demanding industries such as Point-of-Sale, automation, and utility applications. This device is economical enough to help your data on spot.
This product is manufactured by OKI DATA. Its dimensions are 21 x 20.5 x 9.25 inches and 33 pounds weight. 320T is the 9-pin printer. It is a high-speed draft that will print at 390cps. Its unit comes with 64KB of Ram and a received buffer of 128KB. It supports many paper types including Card Stock, Continuous of single and multi-part, Cut Sheet, Label, and Envelopes.
What we like
Max Resolution:216 dpi(B/W)

Its

Turbo can easily run twice as long as most printers in its class

Specifically designed to offer enhanced paper-handling capabilities
What we don't like
No Bluetooth and wireless printing
---
Related Articles: Top 10 Best Thermal Label Printers in 2022,  Top 10 Best Handheld Inkjet Printers in 2022 , Top 10 Best Mini Photo Printers in 2022 , Top 10 Best Photon 3D Printers in 2022 ,
---
Buying Guide to Choosing the Best Dot Matrix Printers in 2022
Here are some important factors to consider when you choose the best dot matrix printers for yourself.
Cost
Even though the Lasers and the Inkjets took over the printer market, the dot matrix printer is also useful in terms of cost optimization. It helps you reduce the cost of printing and maintenance services. As we have explained in detail of each product that a single ribbon can execute up to 8 million characters of text printing. You can just check the ribbon whether or not it is drying up for ink replacement.
Valuable on Certain Applications
As we have mentioned from the begging that Dot Matrix Printers are still essential for some business enterprises. These devices give you handy to Cash register machines, mini POS terminals, and Auto teller machines. The ability to print 2 sheets of paper at the same time is the most significant feature. Advantageously, you didn't have to change the paper manually in carbonless forms. 
Printing Speed Delivery
The printing speed of the Dot Matrix printer can be defined by the number of pins that vary between 9 and 24.
---
Frequently Asked Questions (FAQs) –Top 10 Best Dot Matrix Printers in 2022
I would like to use the printer later also in South America. My question, does it work for 220 volts?
Yes, it works with 120v and 220v
Can this printer print a label with both horizontal AND vertical text?
Yes, the printer can do this, but it isn't the printer that makes the decision, it is the label program you use that has that ability or not ie: Avery Labels, or the word processor program you use ie: MSWord 2003 or 2007.
---
Conclusion
There are several key features to consider for this traditional impact as well as a dot matrix printer. Modern printers like LaserJet and Inkjet have taken over the market already nowadays. However, These EPSON and OKI Printers brands that we have reviewed so far are significantly longer lifespan and reasonable prices.
It may come to be challenging to select the best dot matrix printer when you have no experience at all. Buyers may end up buying a very cheap price printer that can't handle the workload and it may be energy-consuming. After reading this review, you will know the best features of each Impact and Dot Matrix Printers.