If you're a collector of CDs and DVDs looking for a cabinet to get organized with your collection, then you have come to the right place. While there are so many types of multimedia storage cabinets out there, we're here with a list of the top products to help you choose which cabinet is perfect for your needs. At the end of this article, you will also find a buying guide section that will help you ease your selection of which multimedia storage cabinet you should get based on your needs and preferences.
List of the 10 Best Multimedia Storage Cabinets in 2022
Product Reviews
10. Sauder Orchard Hills Multimedia Storage Cabinet, Carolina Oak finish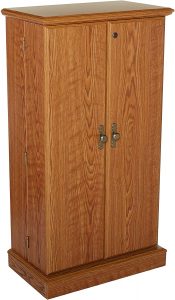 Sauder Woodworking Co. is one of the top American companies that produces ready-to-assemble furniture. This cabinet has two front doors that open 180 degrees and has a lock for safe storage. There are six shelves inside which of the two are adjustable for a better fit of all your multimedia stuff. It can store up to 352 CDs and 272 DVDs. Its material is made of wood and finishes with Carolina Oak to give a simple and classic look that easily goes well with your room style.
The cabinet can be assembled easily with the instruction guide that comes in the box available in many languages. If you have difficulty getting through the instructions, you can always contact the customer service of Sauder for help, they would be more than helpful to guide you through the assembling.
9. Sauder Multimedia Storage Tower, Cinnamon Cherry finish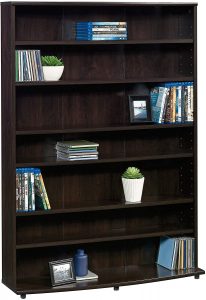 Another one from the Sauder is making it on the list. This one has a minimalist look with cherry cinnamon finish. It has no doors making it a perfect furniture piece for those who want to just display their collection on the cabinet.
The storage cabinet comes with six well-built and sturdy shelves, all of which can be adjusted to a different height, that holds up to 280 DVDs or 426 CDs. The minimal design and brownish color are perfect for any room you have, whether it's the living room or an office.
8. Prepac Triple Width Wall Storage Cabinet, Black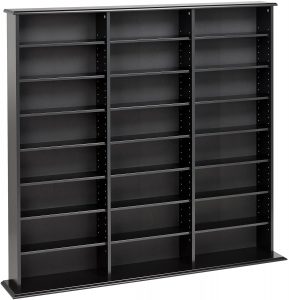 If you are looking for a bigger cabinet for your large and growing collection, check out this three-compartment wall storage cabinet. This library-style wall storage cabinet has a very stylish design and could be a really cool piece of furniture to have for your media storage. A solid and minimalistic design means it's easy to assemble.
The shelves are completely adjustable so you have the freedom to get creative with your assembling and place the shelves to better suit your preference and the size of your collection. The top and base shelves are made out of MDF giving it a very smooth texture and surface. The wide base is also designed to provide sturdy support.
7. Leslie Dame Solid Oak Multimedia Storage Cabinet with Classic Mission Style Doors, Black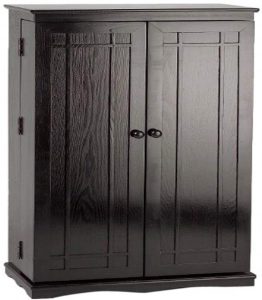 If you're someone who's not very keen on putting stuff together, this cabinet storage might be a good choice for you as it comes fully installed. This classic-designed has a deluxe style black finish suitable as a decorative piece of furniture or multimedia storage for any of your rooms.
Although it comes fully assembled, you can still freely adjust the shelves to fit your stuff as you prefer. Depending on your adjustment of the shelves, this cabinet can store up to 612 CDs or 298 DVDs.
6. Leslie Dame Solid Oak Multimedia Storage Cabinet with Classic Mission Style Doors, Walnut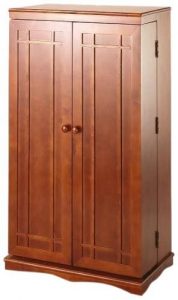 We have another model from the Leslie Dame on the list for those who do not wish to assemble the cabinet themselves. Well, we got your back because this one also comes fully assembled.
This one is perfect for anyone who has a small space but needs a cabinet to store a large collection of their CDs, DVDs or games cartridge or even just decorative items. The cabinet has two open doors with a shelf on each side that can store more of your collection.
5. Atlantic Oskar Adjustable Media Wall-Unit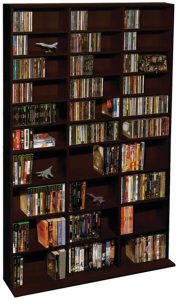 This wall-unit media cabinet has high capacity storage that holds up to 504 DVDs or 576 Blu-Rays/Games or 1080 pieces for CDs. It's built with 6 fixed shelves and another 30 shelves which are completely adjustable allowing versatile and unique customization for your collection organization. The cabinet base is wide which provides sturdy stability for all of your storage.
It is available in two colors; espresso or maple. You get to choose whichever color suits your style the most. This one needs a little bit of assembly, but you need not worry as you can easily find the installation manual online or in the box itself.
4. SEI Furniture Window Pane Media Cabinet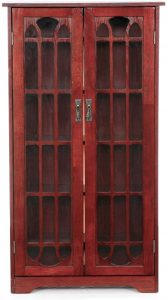 A truly vintage-looking cabinet for an old school person. Made with Asian hardwood and veneer, with tempered glass magnetic door and finish with traditional cherry color for a classic look.
It comes with one fixed shelf in the middle and four additional adjustable shelves to better suit your collection. It's a versatile classic designed cabinet that holds up to 166 DVDs or 330 CDs units. The cabinet can be easily assembled which takes just about an hour and a half to 2 hours to finish.
3. Prepac Locking Media Storage Cabinet, Black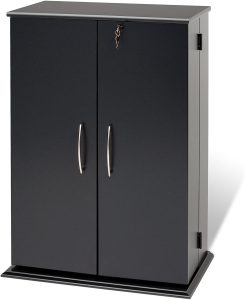 This one is a modern and stylishly designed cabinet from PREPAC. It's built with laminated composite wood and comes in black color that is suitable for any room. The doors and lock keep all your collection secure inside. The shelves are also adjustable and can fit more than 200 DVDs, depending on your adjustment of the shelves.
It's shipped ready-to-assemble with an instruction booklet to guide you through the whole assembly process. PREPAC also provides a 5-year manufacturer warranty on the parts.
2. Espresso Triple Width Barrister Tower by PREPAC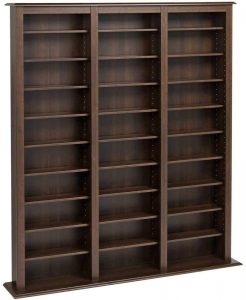 This is another piece from the PREPAC making it on our list. A classic-looking media storage for your collection to help you stay organized with its 3-width compartment and fully adjustable shelves. The material is CARB-compliant and laminated composite wood while the base is made with MDF for sturdy back support. It is then laminated with a rich espresso finish for a classic look. This wall cabinet is perfect for anyone who wants to save space yet stay organized with their growing collection. It is easy to put together as it comes ready to assemble with a clear instruction guide book in the box.
The shelves can hold up to 500 units of DVDs and can be adjusted to hold more of your CDs or books, depending on your customization and organization. The cabinet has no doors so the shelves are completely open making it a perfect one for anyone who likes to display their attractive collection.
1. Atlantic Windowpane Adjustable Media Cabinet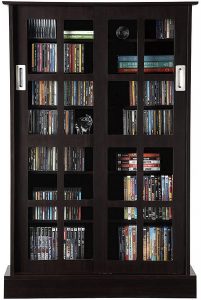 If you're keen on the windowpane style cabinet, do consider this one. With its tempered glass sliding door, it can save you even more space than the swing open door type of cabinet and provide you convenient access to your collection. On top of that, as it comes with a glass door, you can still have your beautiful collection displayed without having completely exposed openly.
This traditional yet elegant looking cabinet is available in three colors; espresso, maple and Driffield textured. Shelves are fully adjustable to your needs and preferences and have a storage capacity of more than 500 CDs, up to 190 DVDs or 215 BluRays.
Buying Guide
Dimension: This is the most important thing to consider when you purchase a multimedia storage cabinet because you wouldn't want to find out later that there's not enough space in the room to put your cabinet. So, decide the space where you want to place your cabinet, take a measurement and start hunting for your perfect cabinet. If you have a small space but need a cabinet for your large collection, look for the wall storage type with a taller height. If you have decent space in your room, consider going for the classic swing-open door cabinet as they are shorter and easier to access.
Types of Material: Most of the furniture is constructed with MDF for a smooth surface and low-cost manufacturing. However, as they are basically confined wood particles, they don't hold screws well. If you consider wall-mounting the back of the cabinet, especially for the wall-unit type, you may want to look for the one that is made with a different material other than MDF. Cabinets made with composite wood are stronger and more durable in this case.
Types of Cabinet: The style, design, and color are purely based on your preferences, however, this part is a suggestion of which type you should get to help you choose the perfect cabinet for your collection. Think of how you want to store your cabinet. Do you want to display your whole collection or store them in a locked cabinet to prevent them from any damage or dust? There is the wall-mounted open shelves cabinet which is perfect for a small space room and collection display, while the door lock cabinet will save your collection from dust, light and unwanted touch; a full protection of your precious treasure. For a semi-protection, do consider the glass window or glass sliding door cabinet. You can protect your collection from the dust and air while still able to exhibit your charming collection.
Conclusion
If you need to get organized with your collection, while also want to get your room decorated with a piece of beautiful furniture, why not consider one of these functional storage cabinets?
We hope the list is helpful for you in choosing the storage cabinet that is perfectly suited to your needs. If you're still not sure of which one to get, read on and find our buying guide down below to help you with the selection.