If you are looking for a waterproof clock to hang in your bathroom, consider one of the below shower clocks. Our team has spent quite amount of time and effort to look into various models of showering clock products in the market and have done a detailed assessment on the top selection for you to pick from. We have looked into the clock's functionality and quality as well as users' feedbacks on the products before identifying which ones are best to buy. With this selection, we hope it will help you to choose the right waterproof clock for your showering room. We also have a short buying advice at the end in case you need further advices before making your purchase. Let's get start with the best selling ones.
Most Buying Shower Clocks on Amazon
List of the Best Waterproof Shower Clocks in 2023
10.

KADAMS Digital Bathroom Shower Wall Clock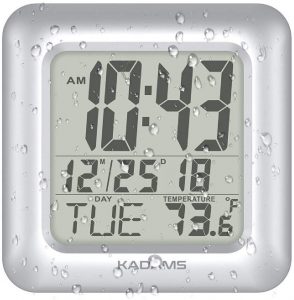 KADAMS shower clock is a square, electronic and waterproofed timing device. There are two ways this shower clock could tell the time. One way is a 12 hours system. Therefore, it can tells you the time whether it is AM or PM. Another way is a 24 hours system which literally tells the time as a period of 24-hour time setting of a day. This waterproof clock tells days of the week, date as well as temperature in either Fahrenheit or Celsius. Coming in seven choices of languages including the Danish, Spanish, Dutch, French, Italian, German and English languages, it is suitable for almost anyone who speaks these languages.
This clock also tells the time in big numerals, and you could easily read the time from a distance. Moreover, there are 3 ways that you could hang this bathroom watch such as sitting on a shelf/table, wall mounting as well as using suction cups. Lastly, KADAMS clock is powered by one piece of AA battery which is not a part of the package.
Video: How to Set up Kadams Shower Clock
9.

KADAMS Digital Bathroom Shower Wall Clock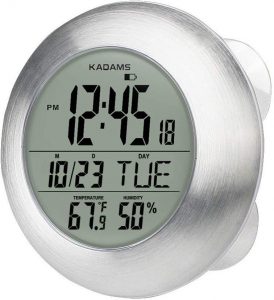 This showering alarm clock from KADAMs comes in a circle shape. Like other peers, this DIGITAL shower clock model tells the time, date, days of the week, temperature as well as humidity levels electronically. It comes with IP24 protection which is safe from water spray. Moreover, the clock itself had been manufactured to be proofed against very high/low moisture and humidity levels. Besides, there are two ways the this digital model clock could tell the time including the 12-hour and 24-hour systems.
Moreover, this digital clock could be switched between Fahrenheit and Celsius degrees. There are seven language choices potential customers could choose including German, Danish, Spanish, Dutch, French, Italian as well as English. Like shower clock models from KADAMS, this one could be hung in exactly the same three ways. Anyway, this clock's glass is unbreakable, yet it is not recommended to place it in a steam and sauna areas. It's not built for that.
8.

BALDR Bathroom LCD Waterproof Shower Clock, Black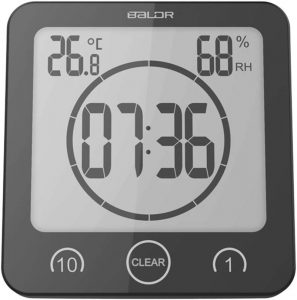 BALDR clock is a square shape bathroom clock. It comes with three colors which you can choose such as black, white and green. Furthermore, BALDR clock's manufacturer offers two choices of packages; either you choose one BALDR shower clock ONLY or a pair one. While this brand tell the time and other info like the two previously mentioned showering clocks, the BALDR could be set for a countdown. Consequently, this waterproof timing device is highly recommended for business people or senior executives who could not just waste their time for showering. BALDR shower clock had been equipped with LP24 waterproof technology which protects it from water splashes.
Additionally, this compact clock could stand on the shelf or desk, be mounted on a wall as well as held by suction cups on a mirror or glass platform. The clock is powered by two pieces of AAA batteries. Yet you need to buy the battery separately.
7.

White Bathroom Shower Rope Clock with a Clear Easy to Read Clock face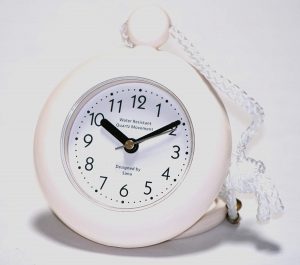 This bathroom clock comes in a white color and circle fancy shape and look. It is not resistant to water soaking but against water splashes. Therefore, you better hang it on wall overhead. White Bathroom clock, nonetheless, is more special than the previously mentioned for its feature with a small rope. You can can just tie the rope with something stable and that's it. Moreover, there is a ring attached under the bottom of the circle-shaped for you to hang your towels as well.
6. Zmucen Shower Wall Clock Waterproof Digital Clock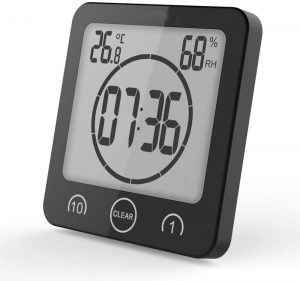 ZMUCEN is a square-shaped clock for bathroom. You can choose one among five different colors including black, blue, green, red and white. Like others, this showering clock model could tell either the 12-hour or 24-hour system. Besides, ZMUCEN clock could be set for a countdown either 10 minutes countdown or 1 minute countdown for you.
Besides the use bathroom, you can use this watch in the kitchen, too. ZMUCEN is easy to install while there are three ways the shower clock could be hung. Lastly, ZMUCEN shower clock's manufacturer offers excellent customer service as well.
5.

BALDR Digital Bathroom Shower Clock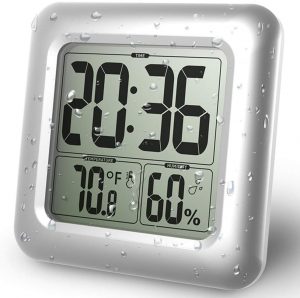 This is another waterproof clock from BALDR Digital which is made in square shape. As expected in other clocks, this Digital one could tell the time, temperature as well as humidity levels too. Moreover, this clock could tell the time in two different styles including the 12-hour system and 24-hour system.
Besides telling you time, you can either choose the clock to tell you the temperature temperatures in Celsius or Fahrenheit degrees. Inbuilt IP24 splash-proofed piece of technology, you can hang in below your shower head without worry.
This clock also has an LCD screen with PET glass. The glass is incredibly stiff and durable relative to normal one. While BALDR Digital clock's LCD screen could hardly be broken, the glass is never going to be broken in small and sharp pieces which result in injuries. The clock is easy to install or hanging in your showering room.
4.

Cirbic Large Digital Shower Clock Timer with one Strong Suction Cup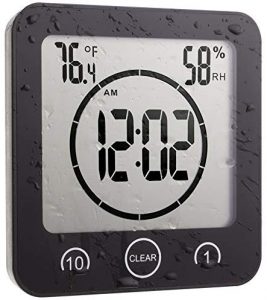 CIRBIC LARGE clock is a square-shaped showering watch with rounded edges. CIRBIC LARGE offers in only one black color. Its product is splash and water resistant. Furthermore, the clock tells different pieces of information including time, temperature and humidity levels. Timer could easily be set with this CIRBIC LARGE device by one single touch.
Besides, the clock could be installed by suction cups. Because it comes with a stand, the clock could be used at places besides bathrooms including kitchens and more.
3.

OCEST Digital Bathroom Shower Kitchen Clock Timer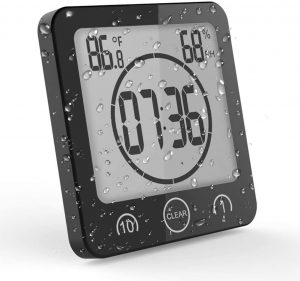 OCEST bathroom alarm clock is also a square-shaped with rounded edges. It comes in three colors such as black, white and blue. As a basic, the alarm clock can tells the time, temperature as well as humidity levels in your room. Moreover, the OCEST device is featured with IP24 waterproof piece of technology. Therefore, could easily resist water splashes. Beside bathrooms, this alarm clock device could be installed at walls near swimming pools as well.
OCEST has 3 options for mountings such as the standing, the wall-mounted and the showering suction cups. The clock is powered by two pieces of AA batteries, yet are not parts of the package. You need to buy the batteries separately.
2.

Cirbic Large Shower Clock with Suction Cups, Date and Temperature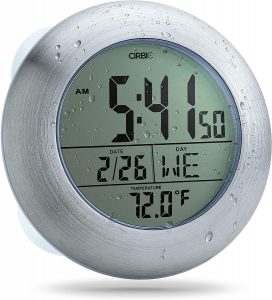 CIBRIC LARGE rounded clock is made with a silver color. For the basic function, it tells the time, date, days of a week as well as temperature just like other. Yet, this device does not tell about humidity levels, unlike some previously mentioned. Nonetheless, this time telling device tells the days of week which some aforementioned portable clocks do not feature. As expected in all the basic and above-basic clocks, CIBRIC LARGE clock tells the time in either 12-hour system or 24-hour system.
You can not only install this watch in the bathrooms but also spa rooms. Consequently, CIBRIC LARGE shower clock is more advantageous than some showering clocks which could not be installed in the spa and/or sauna rooms.
1. MOOAS LOOP Bathroom Clock & Showering Clock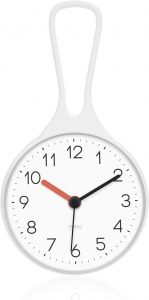 MOOAS LOOP hanging clock comes in a circle shape. However, it is covered with a rubber layer. It can also be hung inside kitchens and bathrooms where there is a high level of humidity. The MOOAS LOOP clock features modern numerals. The package includes an instruction manual as well for your setting up.
Buying Guide
Types of Info: While the clock is expected to tell the time, there are other important pieces of info such as dates, days of a week, temperature levels, humidity levels and more. The mentioned pieces of info are essential for your days to go. Nevertheless, customers are not recommended to choose the device with too much info because it could make the time reading complex and energy-consuming.
Hanging Options: Most of the shower clocks mentioned in the review have three hanging options including suction cups, screwing holes in walls and standing on desks/tables. You are not required to choose the clocks with many options of hangings. In fact, you should choose the clocks with hanging options that you already have in mind for your homes.
Conclusion
We hope you have an idea of which clock is the right tool for yourself. We are happy to hear your feedback on this review if you think it is helpful or if we miss any crucial part. Thank you.