Regardless of your gender, the ability to cook will always add some points to your credit. It not only makes you even more attractive, but it is also associated with your life satisfaction and improves wellbeing by maximizing your happiness. To be able to cook or bake, you need to have enough cooking utensils. One of the necessity utensils in the kitchen is an electric hand mixer as cooking has a lot to do with mixing and blending together the ingredients.
If you are planning on getting one for your recreational cooking or to replace the old one, here is the list of top 10 recommended electric hand mixers that we trust would benefit any professional or home chef.
Here are the Top 10 Best Electric Hand Mixers in 2022
10. Hamilton Beach 6-Speed Electric Hand Mixer
Hamilton Beach 6268RZ is an excellent minimalist hand mixer. No matter what your recipe is, this machine was designed with 6 speeds and a quick burst button to accommodate all your requirements. This reasonably priced 250-watt mixer is also attached with a built-in bowl to allow a place for you to rest your mixer down as you are adding more ingredients, this will prevent your mixed ingredients from dripping all over the place.
The package comes with traditional beaters and whisk with quite simple cleaning instruction. It also includes a Snap-On case to keep the beater and whiskers together, so you will never lose them.
9. KitchenAid KHM512IC 5-Speed Ultra Power Hand Mixer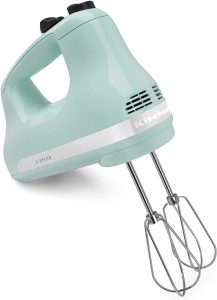 All the cooking lovers will be rejoiced by this electric hand mixer KHM512IC from KitchenAid. It is incredibly lightweight which is great for daily use. Its 5 speed features with 2 stainless steel beaters allows you to adjust the speed accordingly to your recipes ranging from stirring your chocolate chips dough to whipping eggs or cream. It was designed for convenience as the round swivel cord allows you to reach your ingredients from all directions, so you do not have to move or rotate your heavy mixing bowl as you are whisking.
Additionally, if you wish to wash the accessory after use you can simply remove its dishwasher-safe beaters with ease at just one press on the ejector button. This hand mixer comes with many available colors to broaden your option.
8. Cuisinart HM-90S Power Advantage Plus 9-Speed Handheld Mixer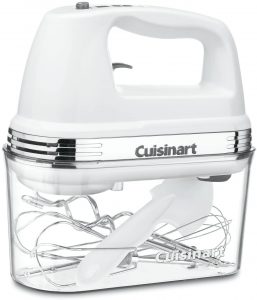 Cuisinart offers you a 220-watt electric hand mixer that can perform up to 9 speeds options. The options start from 3 low starting speeds known as the smooth start for slow stirring to prevent the splashing of ingredients as we know the liquid has the tendency to splatter when it is not yet blended into a specific density. This one also comes with a Snap-On case to store its dishwasher-friendly accessories, this way you do not have to waste time looking for the accessories when you need to use them.
What the customers love about this mixer is its package has all the accessories you need for your cooking and baking such as a whisk, dough hooks, spatula and a recipe book.
Also check: Top 10 Best Kitchen Pantry Cabinets for Your Pick in 2022
7. BLACK+DECKER Lightweight Hand Mixer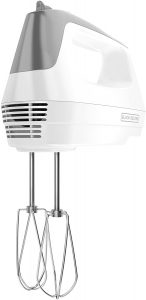 Black+Decker would love to present you this chef-preferred 175W electric hand mixer. This affordable mixer is designed for the professional. Regardless of the price, this 5-speeds with 2 pro beaters is very durable and sturdy suitable for many kinds of application ranging from simple stirring to the toughest blending tasks allowing you to get your work done pretty quickly by its turbo boost button.
The grip was designed for easy handling along with its lightweight, the chef would not experience wrist cramp after long hour use of the mixer. Moreover, the beaters are designed for dishwasher-safe purposes to reduce the need to wash manually.
6. Hamilton Beach 6-Speed Electric Hand Mixer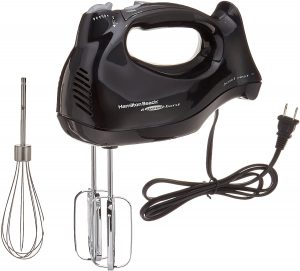 This is another 6 speed electric hand mixer from Hamilton Beach. its function will initiate by slower speed to prevent liquid ingredients from splashing then finish off by the quick burst button. This budget 275-watt mixer is very powerful and versatile, it will make sure your ingredients are well mixed. Same as the previous model from Hamilton Beach, this one also comes with easy-access Snap-On box to store the attached accessories such as the beaters, whisk, dough hook and milkshake mixer.
To prevent your counter from getting messy, this machine also includes a bowl rest to let your mixer sit as you pause to add more ingredients.
5. Mueller Austria Ultra-Stick 500 Watt 9-Speed Immersion Multi-Purpose Hand Blend
Mueller is a well-recognized brand when it comes to kitchen utensils. This 500-watt copper motor 9-speeds blender comes with a very sleek design in form of a portable non-slip stick. This is a superior quality electric hand mixer that promised to last 3 times longer than other brands. Its accessories include a stainless-steel blending arm, milk frother and a whisk allow you to whip anything out of this blender whether its eggs, cream, peanut butter or smoothie.
To suit the modern household, this blender was also designed to be machine washable. Additionally, the brand provides a 2 years warranty to make you feel secure when buying their product.
4. BLACK+DECKER MX600B Helix Performance Premium 5-Speed Hand Mixer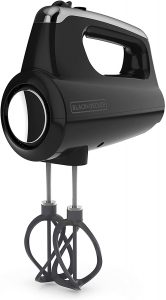 The next product that we are introducing is another 250-watt electric hand mixer from Black+Decker. This electric hand mixer comes along with 2 Helix style beaters providing even more efficient and thorough blending performance. What's more? The package includes a wire whisk for whipping purposes and 2 dough hooks for chunky mixing purposes.
You can choose among the 5 speeds offered by the machine for your mixing task. There is also a Storage case attached with the mixer easy for you to neatly keep the accessories where they belong.
Also check: Why These 10 Best Electric Soup Warmers Should Be Your Choice in 2022
3. KitchenAid KHM7210CU 7-Speed Electric Hand Mixer with Turbo Beater II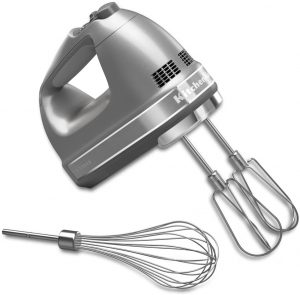 We have come across another great product and it is known as KHM7210CU from KitchenAid. Its 7 speeds are adjustable to your mixing tasks. Slower speeds are for stirring and mashing, while faster speeds are for whipping cream or white egg. Their strong beaters were designed using durable stainless-steel materials which is highly recommended for beating the heavy and chunky ingredients. The accessories are removable for washing, it can be inserted and ejected easily at one press on its button.
2. BLACK+DECKER 6-Speed Hand Mixer | MX3200B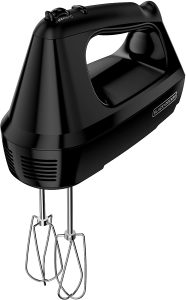 Here we have another powerful electric hand mixer from Black + Decker. Just like the aforementioned product, this set comes with 2 professional wire beaters, one whisk and 2 dough hooks. This is definitely a budget electric hand mixerunder 20$ that promises to perform multiple tasks like what expensive mixers can do.
This one has 6 adjustable speeds and you can reach its maximum speed by simply pressing the power boost button. For cleaning purposes, you only need to remove the accessories and toss it in the dishwasher then you are good to go.
1. VonShef Electric Hand Mixer Whisk With Stainless Steel Attachments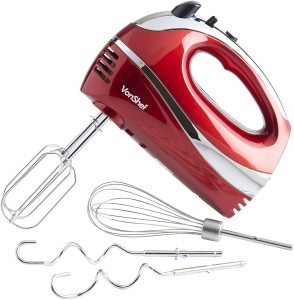 If you are looking for a stylish electric hand mixer because you want to cook in style, here is a red elegant-looking hand mixer from VonShef. This 250W robust silver machine comes with 2 beaters, 2 dough hooks and a balloon whisk. It has 5 different speeds for you to adjust.
The material is lightweight but very sturdy, it is highly recommended for continuous use with chunky ingredients making it an ideal tool for those who own a bakery or a cake shop.
Buying Guide:
After browsing through our top picks electric hand mixer here arrives the most important part which is the buying guide. Our buying guide is going to simplify your mixer buying process by giving all key information that you should look for. Before we start, please get your note ready.
Accessories: the set usually comes with accessories such as the beaters, whisker, milk frother. When it comes to this, the more attached accessories the better as we will need them for various purposes.
Weight: no matter how light the electric hand mixer is, it will get heavier as you use it continuously for a long time therefore it is important to consider the weight to the mixer you are buying the appropriate weight should be 650g without the accessories. Choose wisely and your hands will thank you.
Speed setting: the turbo function is in fact not the essential function that you should look for in a hand mixer. What's important is the speed options that really deliver what it promises. The slow speeds are very important and most of the time it is not slow enough for your purpose.
Conclusion:
When it comes to cooking or baking, it is so traditional and tiring to do the stirring and whisking manually. For a more convenient lifestyle, allow the electric hand mixer to become your helper in the kitchen. After having read our recommended hand mixers and the buying guide we hope you are able to narrow down the various options and find the perfect hand mixer to store in your kitchen.