Buying the perfect scanners that meet your demand in functionality can be challenging. Occasionally, people use scanners for scanning family photos, business cards, and office documents. But it is better to ask yourself what kind of media and jobs will you scan. Knowing what and how often you use it will give you hints regarding features, resolutions, system support, scanning size, DPI, and OCR languages. There are four common scanner types such as Flatbed Scanner, Sheet-fed Scanner, Handheld Scanner, and Drum scanners. You may see the most popular Flatbed Scanner at home and office.
However, Portable and mobile document scanners are becoming the most modern types of scanners. They are designed to execute with text, image, and other important data at business enterprise and home. With technology embedded in a portable scanner, transferring images and text between computer and scanner can be done by using a cable or a wireless connection. To take care of your business, we are here to help you round up all 10 best portable and mobile business document scanners. Each option and feature of the product we are going to describe is believed to be useful in your decision making and buying choices.
List of Top 10 Best Business Document Scanners in 2022
---
10. CZUR Shine500 Pro Portable A4 Business Document Scanner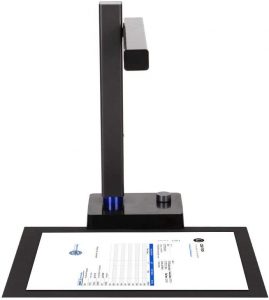 This is CZUR scanning product which is a fast and portable scanner that supports both Windows and MAC OS. This device is designed in speed with ultra-fast scanning speed. It is used for the A4 document and any paper or materials that are smaller than A4 format. This device can scan as quick as flash for pages.
Significantly, CZUR Shine500 Pro is equipped with advanced optical character recognition. It can be recognized up to more than hundreds of languages. Also, it works well with a USB 2.0 play-and-plug connection with user-friendly driver installation. In terms of a professional technician, two lights on top can be adjusted by knob steepled to ensure sufficient brightness is good enough while scanning. This scanner is designed with lightweight and portable to move around. CZUR sensor and pixel consisted of 270 DPI and CMOS 8 megapixel that supports all the scanning job within ID Card, Envelope, Diploma, and Documents. This product is suitable for the healthcare industry, Law Firm, Government Agency, Consulting company, and Bank.
What We Like
Cool design and ultra-speed scanning speed

Powerful OCR support many languages

High Resolution and AI Tech

Affordable and portable
What We Don't Like
Support only and smaller than A4 paper format.
9. Canon ImageFORMULA R40 Office/Business Document Scanners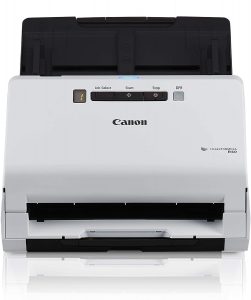 Are you looking for a friendly scanner that can convert your paper documents into searchable digital formats? This Canon ImageFORMULA R40 is the best choice for office and home document scanner device. Not only it allows you to convert your document into searchable digital formats but also it works best with a scanning function that transfers directly to your cloud platform. 
This scanner is fast and efficient. Consumers can scan both sides of a paper document at the same time. It supports color duplex scanning. With its ultra-speed scanning, this scanner can speed up to 40 pages per minute. Many receipts, photos, reports, long documents even it is thick or thin can be scanned with a 60-sheet automatic feeder under one-touch operation. This device is designed for simple use. It is productive for desktop use in both office and home. All you need to do I just plug in the USB cable and run it.
What We Like
Color Duplex and ultra-speed scanning speed

simple to set up and friendly to use

Many types of paper support

searchable digital files and cloud-based support.

High-quality image with OCR function.
What We Don't Like
No wireless and Bluetooth connectivity
8. Canon Image FORMULA DR-C225 II Office/Business Document Scanners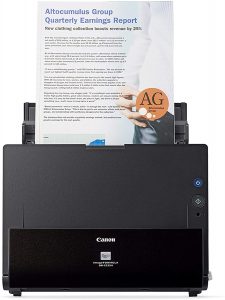 Canon just made a sleek and slim scanner that fits the best for tight working space at both office and home. This is made to ensure that it fit the space you have on your desk. The unique concept of the canon scanner is fast and efficient. It can support many document types such as business cards, photos, ID cards, reports, thick and thin of long documents, and receipts. Also, it keeps you organized with the conversion of paper documents into searchable digital formats such as PDF, JPG, and more. More importantly, you can scan your document and send it to the cloud such as Dropbox, Google Drive, QuickBooks, Evernote, SharePoint, and OneDrive which are the most-used cloud in the world.
Although it is fast and supported with all document types, this scanner device also consisted of CMOS CIS 1 line as its scanning sensor unit and RGB LED light source with 600 DPI optical resolution. In addition to this, DR-C225 II support 4 scanning side such as Simplex, Duplex, Folio, and Skip Blank Page. These features are the element that everyone is looking for. This device can be used with both operating systems of Windows and MAC OS. 
What We Like
Space Saving and organized

Fast and efficient with one-touch operation

Reliably handles many document types

Window and MAC OS Support

High-quality image with OCR function.
What We Don't Like
No wireless and Bluetooth connectivity
7. Brother ADS-2200 Scanner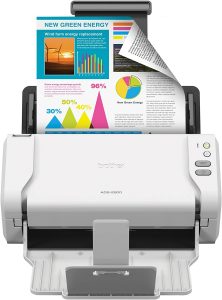 This is another space-saving with a small footprint scanner device. With its single and double-sided materials, it can scan up to 35 pages per minute. Not only it supports Black and White scanning but it also works best with color duplex. This scanner is also high-Precision scanning as It can scan up to 600×600 of DPI optical resolution and 1200×1200 DPI interpolated. 
ADS-2200 Scanner is productive for document scans, receipts, business cards, plastic ID cards, and envelopes. Also, the scanner will be executed automatically up to a 50-page capacity of the document feeder. It includes background removal and blank page removal while scanning objects. It works with all operating systems such as MAC, Windows, and Linux.
What We Like
Space Saving and organized for small business

Versatile Media Handling

Integrated Image Optimization featured

Windows, MAC, and LINUX OS Support

High-Precision Scanning with OCR function.
What We Don't Like
No wireless and Bluetooth connectivity
6. Epson workforce ES-400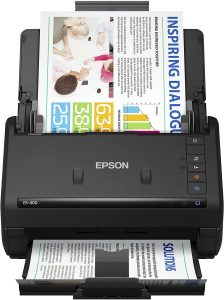 This is a color duplex document scanner under the brand name of Epson. This device support two scanner type which is Sheet-fed and one-pass duplex color scanner. The paper capacity can stack up to 50 pages with auto document feeder function. It can scan business cards, plastic ID cards, and more. With the Epson ScanSmart software, users can preview, email, upload, and rename files.
Regarding the specification of this Epson scanner, 600 DPI is the optical resolution and 1200 as its maximum DPI interpolated. It is equipped with 16-bit input and 8-bit output as Grayscale Bit Depth. It is also designed with 3-color RGB LED for the light source. This device can scan up to 35 ppm/70 ipm and support all Black and White, Gray, and Color Mode.
What We Like
Automatic two-sided Scanning

Reliable paper feed and automatic document feeder

Superspeed USB 3.0 connectivity

Windows and MAC OS Support

intelligent color and image adjustment with auto-crop
What We Don't Like
Not support with Linux OS.
5. Epson DS-575W Business Document Scanners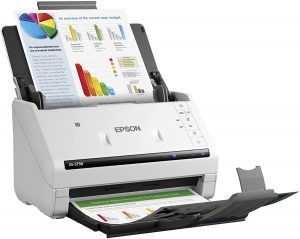 This is a fast and wireless business document scanners. It can deliver the premium-quality with one-pass duplex scanning. The fastest speed it can scan is up to 35 ppm/70 ipm. Welcome to industry 4.0. Everyone is talking about technology. Wireless is technology within this Epson scanner device. You can scan any crucial document to your smart devices such as iPhone, Android phones, Pc or laptop, and Mac via wireless connectivity. Also, this is a 50-sheet auto document feed that can be stacked and scanned as a flash.
Epson is the leading scanner manufacturer. Not only it supports scan wirelessly, but also it allows users to transfer document and image file in JPF or PDF into the cloud server such as Evernote, SharePoint, Google Drive, and Dropbox. 600 DPI is its optical resolution and 1200 DPI is its maximum interpolated Resolution. TWAIN and ISIS drivers are included to ensure easy set up for users.
What We Like
Easily scan stacks of documents feeder

Fast scan speed

Industry-leading scanning device and support

Windows and MAC OS Support

IOS and Android OS support

Wireless and USB connectivity
What We Don't Like
Not support with Linux OS.
4. Fujitsu ScanSnap iX1500 Scanner
Under the manufacturer of Fujitsu, ScanSnap iX1500 is the latest model series scanner that has a touch screen as a monitor control in execution and configurations. It is a double-sided scanner that can scan all types of documents such as business cards, photos, receipts, and plastic ID cards. With one-touch scanning with Quick Menu, you can just process and organize your document scanning with just one touch on your computer. 
This wireless scanner is clean and elegant with a design concept. Users can scan the document and upload it to Google Drive and Dropbox. You can also optimize the scanning workflow with a simplistic icon to check scanning statuses and file destinations. Moreover, 50-sheets Automatic Document Feeder and 30 ppm color scanning wide support for this device. The scanning speed support four modes such as normal mode, better mode, best mode, and excellent mode. You can check each model specification in the product detail. Three colors of RGB LED is the light source and the front and back color CIS is the image sensor. This is the perfect fit for both personal and sharing use scanner devices that enable you to work more smartly.
What We Like
Wireless Scanning

Flexible file destination scanning

Automatic Image Cleanup

OCR Function

Friendly Icon on the control panel
What We Don't Like
Not support with Linux OS.
3. Canon ImageFORMULA DR-M160II Office Document Scanners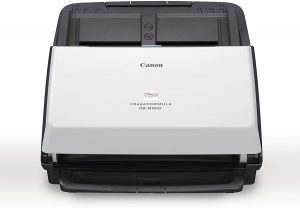 With a magnificent combination of performance and functionality, the Canon DR-M160II scanner is the most well-designed compact document problem-solving for the office environment. This device is widely used for workgroups and departments in any industry. Not only it helps to reduce the paperwork, but it also provides efficient record management to all financial, healthcare, school, legal, and government sectors.
This scanner device is best with its overall performance. It can execute the scanning jobs up to 60 pages per minute with both sides of the sheet in one pass. Moreover, it can perform a quick capture and conversion of paper into searchable and digital information. With one-touch access, this device had an LED control panel that enhances user with easy interior access for customization, configuration, and maintenance. In addition to this, users can scan to cloud applications such as Microsoft SharePoint, Evernote, Google Docs, and more. With the support of ISIS and TWAIN drivers, this device can be applicable for both Windows and MAC operating systems. PDF encryption and password protection are here to help the user with privacy.
What We Like
Fast and efficient scanner

Wide Variety of Uses

Powerful in capacity and overall performance

OCR Function with flexible and reliable feeding

Friendly Icon on the control panel
What We Don't Like
Not support with Linux OS. No wireless and Bluetooth connectivity.
2. Fujitsu fi-7160 Business Document Scanners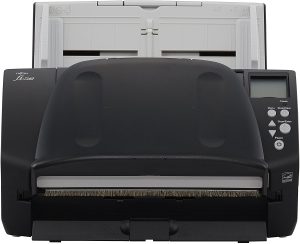 This is a Workgroup-class professional duplex Scanner. Even it is a compact-size scanner, Fi-7160 is the market-leading scanner due to its capability and great overall performances. This scanner offers a fast and efficient scanning task with A4 landscape documents at 60 ppm/120 ipm (200/300 dpi). It can also load the paper document up to 80 sheets at a time while scanning up to approximately 9000 per day.
Regardless of speed, accuracy, and reliability, Fi-7160 is equipped with 600 DPI optical resolution with backlit LCD attached for efficient operation. Paper protection function to prevent damage in documents as well as images. TWAIN and ISI drivers will be included so that this scanner is compatible with any software of your laptop and computer devices. In addition to this, PaperStream software gives a handy of integrating cutting edge image processing in applications. Users don't need to change or modify the configuration. You will spend less time to rearrange your paperwork due to its essential function of Blank Page Removal, auto-rotation, and auto-cropping is ready for your work. Importantly, Bar code and Patch code work best with these scanning devices.
What We Like
Safe and reliable with streamline workflow and automatic functions

PaperStream capture with advance optional software utilization

Powerful in capacity and overall performance

Easy to use with a user-friendly design

Prevent the risk of damage document and paper protection function

Support with Windows, MAC OS, and window server 

Support with USB 3.0/2.0 as USB port and hub
What We Don't Like
No wireless and Bluetooth connectivity.
1. Raven Pro Business Document Scanners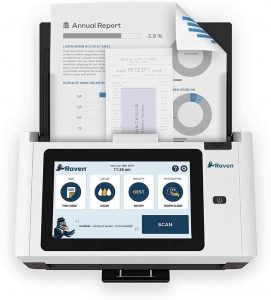 This is the most super-cool scanner device that consisted of a huge LCD touch screen and high-speed color duplex functions. You don't a laptop or computer. 8″ Touchscreen will give you effortless scanning. This scanner will turn your paper into a searchable and digital document such as JPG, PDF, and more. Raven Pro Scanner can scan up to 60ppm. Also, you can scan up to 60 pages per minute. Moreover, your searchable document with OCR will be able to transfer to cloud services such as Raven Cloud, Dropbox, Google Drive, SharePoint, OneDrive, QuickBooks, and Evernote. Importantly, USB Drive, Email, FTP, and Fax are built-in for a fast and efficient workflow.
With wireless scanning, you don't need to plug in the laptop and computer to scan and send the documents. You can also edit the document without using a computer due to a Large 8″ LED screen is provided for adding and removing pages, reordering pages, cropping and rotating, and saving combined or separated files. Regarding scanning quality, 200DPI, 300DPI, 400DPI, and 600 DPI are supported.
What We Like
LCD touchscreen replace laptop and computer

Easy scanning, editing, and sharing

Handwritten and text detection support with AI and OCR functions

Two-sided color duplex scanning supported

Varieties of the quality setting mode

Sleep mode consumes less energy

Free Raven Cloud with unlimited document storage
What We Don't Like
Only A4 Paper Size support.
---
Also Check: Top 10 Best Dot Matrix Printers in 2022 , Top 10 Best Thermal Label Printers in 2022 , Top 10 Best Handheld Inkjet Printers in 2022 , Top 10 Best Photon 3D Printers in 2022 , Top 10 Best Mini Photo Printers in 2022
---
Buying Guides to Choosing the Top 10 Best Business Document Scanners in 2022
Regarding digital data and image manipulation, this scanner is most commonly used for photo printing and document copying. Before you start looking for the right printer, you need to think of some factors which can be useful for your daily use as well as your business practice.
Affordability and Portability
The price of the scanner can be a major consideration. Ask yourself how often do you scanner and consider your office or desk space size is a must also. Since nowadays there are many reasonable price scanners produced with considerable functions. The space-saving mode that enables the user to move around the scanner with foldable and lightweight mode.
Resolution
This is also another part of the important specification that buyers are looking for. The number of pixels a scanner can scan and capture will provide the best quality in output. Normally, the resolution is measured in DPI so-called dot per inch. The greater DPI the better quality. Optical and interpolated resolution plays an important role in most image editing programs. Most of the manufacturers provide these two objects.
Speed
You ask consider how often you plan to use it before you purchase. The speed is not much important issue for your selection of printers if you just used it a few times per day. Typically, for personal and office usage, scanning settings, color depth, the color duplex is a crucial influence on the scanning speed. The scanning speed can be defined by many different measurements such as ppm so-called pages per minute, ipm images per minute, and more.
---
Frequently Asked Questions (FAQs) – Top 10 Best Business Document Scanners in 2022
When scanning 2 sided documents, are the pages properly collated into a document are they generated as an individual file per page?
One Batch of documents scanned (as a full batch) comes out as a "One" scanned item. Supposed you scanned 15 two-sided docs. it will appear in one icon and the file can be read/stored for your review.
How do we scan to windows pc or mac wirelessly without any cloud or dropbox, etc….?
If the destination is on your LAN, all you need to know is the IP or domain name and any UN/PW to scan to it. But scanning to a cloud service makes the most sense, particularly if you use Win10, in which case OneDrive is omnipresent, so you can just scan to your OneDrive account. You also can scan using TWAIN either over USB, or TWAIN over your LAN. Or you can scan to email. You can also scan to a USB thumb drive that you plug into the scanner
---
Conclusion
To enhance your life easier for you to select the best varieties of most-recommended scanners that suit your environments. It is better to study the technical terms related to product features and specifications such as scanner image file format, duplex scanning, scanner resolution, scanner sensors, and scanner Bit Depth. Luckily, our best review had provided a clear guide and purpose through many different types of scanner. We have listed the best well-known product as the top 10 and each feature of the product may familiar to suit your need and demand.