Are you a golfer and in need of one good golf cart bag now? Whether you are looking to purchase a cart bag for professional uses or personal casual uses, we got you. Below, our team has researched day in and day out for the best golf cart bags suited for a variety of needs. Above that, we have also provided a short buying guide for you to have an extra guidance for your purchase. Don't miss it at the end of the article.
List of the 15 Best Golf Cart Bags in 2023
Other Golf Accessories: Best Golf Cart Tires | Golf Cart Covers | Golf Push Carts | Disc Golf Bags
Golf Cart Bag Reviews
15. Sun Mountain Sync Golf Cart Bag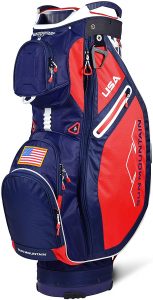 This is the newly added golf cart bag on our list which is from the Sun Mountain. This golf bag has 15 individual club dividers. Each divider helps protect the clubs and prevent the club shafts from migrating around. There are a total of 9 pockets such as cooler pockets, velour-lines pockets, rangefinder pockets and pockets for other accessories. The non stock bags are protected by the zipper system to keep your equipment safe. If you look for a quality American made cart golf bag, this Sun Mountain is the best choice for you.
14. Hot-Z Golf 4.5 Cart Bag: Best cart golf bag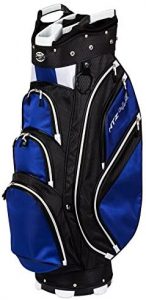 Hot-Z Golf 4.5 is a 14 full-length club and shaft dividing bag for golf cart. It has eight pockets protected with zipper system. Hot-Z is good for not only using with the golf cart but for carrying on your shoulder as well. The complete set in the bag include: carry strap, sleeve, towel ring, glove attachment, tee and umbrella holder, and rain hood cover. It is also available in various colors for you to pick.
13. Mizuno Pro Staff Golf Bag Blue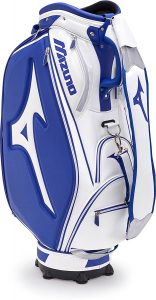 Mizuno is a Pro golf cart bag which is stylish. The bag is only 12 pounds in weight but very tough and durable. It has a 13 pocket storages to keep your golf handles, pads and balls. The insulated pouches are best for chilling your drinks while playing your game on the field. The cart bag has two full apparel pockets which are enough for you to store your game equipments. If you want a fancy and modern look golf cart bag, Mizuno is the best choice for you.
12. Ogio golf cart bag: OGIO 2023 Convoy SE Cart Bag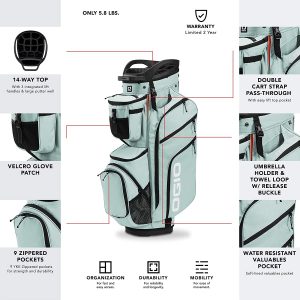 Ogio is among the top brand for cart golf bag. Made of premium quality materials and intuitive organizational design, the bag is serving best for every golf player. It is light in weight, durable and last for long time. The bag has 14 way top, 3 handles, XL size putter, drainage and insulated pockets and quick strap for accessing and more. It is well recognized by many golf experts and players for its sustainability, quality and usage. Ogio golf cart bag is available in various models and versions in case you want to check out more.
11. Cobra golf cart bag: The cobra golf ultralight cart bag 2023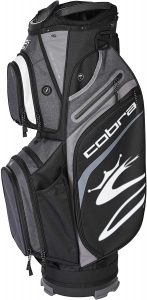 Cobra golf cart bag is an ultralight weight bag but durable. It is made of high quality Polyester. The bag has an insulated cooler pocket which is large enough for keeping up to 12-ounce cans for chilling. It is also designed to have a pass-through strap to let you easily access each pocket while the bag is on the cart. Cobra is among the best golf bags you can depend on. The Cobra ultralight cart bag is available in various year versions, and this one is the latest one for 2023.
10. AmazonBasics Soft-Sided Golf Club Travel Bag Case With Wheels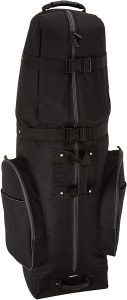 First up on our list of the best golf cart bag is from AmazonBasics. This black canvas golf bag has many compartments, soft sides and padded top section. The soft-sided element of it allows a more versatile space to store a set of golf clubs when you are on the go. While as, the heavily padded top sections help keeps you're clubs safely tucked in. This bag is made from strong nylon material and can stand on its own as well. And when you're moving it along with you, you can trust its smooth wheels to keep you moving.
9. Best cart golf bag: Founders Club Premium Cart Bag with 14 Way Organizer Divider Top

Next, we have the cart golf bag from Founders Club. A noticeable difference between this brand and AmazonBasics, since Founders Club is a golf equipment company, is that Founders Club has products for different demands when it comes to golfing equipment. Their price range is a bit higher.
For our list, we chose the "Founders Club Premium Cart Bag with 14 Way Organizer Divider Top." This bag has a mold for 14 golf clubs. This allows you to arrange your clubs however you want while also keeping them protected from damages from rattling and collision. On top of that, the base is able to fully support the entire weight of all golf clubs.
This golf bag also has many storage spaces, all with strong zippers, and as well as 2 mesh pockets for simple storage. Plus, on the bottom and front, there is also an integrated cooler bag.
8. TaylorMade Golf Select Cart Bag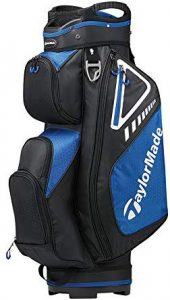 TaylorMade is an American company, who specializes in manufacturing quality golf clubs, bags and accessories. The golf bags are being sold at a standard price; with different prices for different types and models. The bag, which we have chosen to recommend, is made from multiple materials. Overall, it is black in color, but it has different color highlights to choose from.
It is manufactured with a built-in 14 slots divider. However, these dividers do not reach the bottom part of the bag. To the front of the bag there are two large pockets, with the bottom one being waterproof, but not insulated and side pockets for extra storage. Moreover, it also comes with a strap, in case you want to carry it around.
7. PROSiMMON Tour 14 Way Cart Golf Bag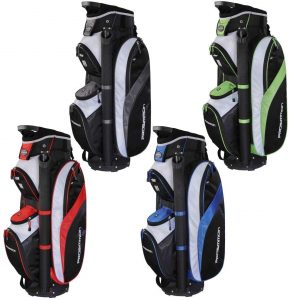 Next, we have a bag with 14 way dividers, from PROSiMMON. This bag is also integrated with many zippered pockets; one for storing golf balls, one for smaller accessories, one for storing small valuables, two full length side pockets for clothing and as well as an insulated drinks pocket.
Furthermore, this bag also comes with a Velcro glove holder, an external umbrella strap, a golf towel ring and also an external putter tube, in case you prefer to store your putter on the outside of your bag. Despite being a cart bag, this bag also comes with a strap for a more convenient transportation. Plus, it also comes with a rainhood to protect your possessions from any unsuspected rainfall.
6. Datrek Cart Bag – best cart golf bag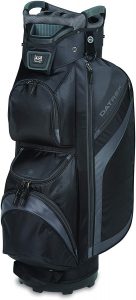 Datrek is a producer of premium golf bags, which means if you are looking for a more expensive, stylish, but still functional golf bags, maybe their bags might be for you. The bag, which we recommend is the "Datrek DG Lite II" cart bag. It has many chic color schemes, including overall black body with bright highlights, urban camo prints and navy with highlights.
This bag is designed to be as light as possible while also delivering the functions that you need. There are a total of seven zippered pockets on this bag, allowing you to store as much as you want for a comfortable game; including balls pocket, fleece lined valuable pocket, two large pockets for storing clothes and more. Plus, it also has an oversized insulated pocket for storing drinks.
It has an integrated 15 way full length dividers, which keeps your clubs protected all the way to the tip of their handle. Additionally, it also has a deep putter well, an umbrella holder, a rain hood, a towel ring with glove holder, and a soft-grip handles on top of the bag.
5.

EG EAGOLE Eagole Super Light Golf Cart Bag,14 Way Top and Full Length Divider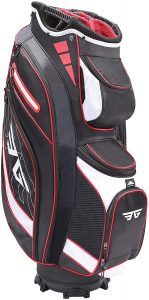 Further up our list of recommendations, we have a red themed cart bag from EG EAGOLE. This bag comes with 14-way full length dividers, allowing your clubs to be protected from any damaging collision and such. It is made from durable Nylon and comes with a strap on the back and a large convenient rain hood.
In addition, it comes with 9 pockets; including two apparel pockets on each side on the bag, 2 pockets with velour-lined for storing valuables and an insulated drinks pocket. The mold handle on top of the bag allows easy lifting during transportation, while as the E-Trolley base system helps the bag to be pushed or pulled smoothly.
4. Wilson 2018 NFL Golf Cart Bag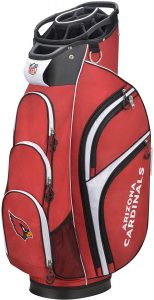 Wilson has been manufacturing, designing and distributing top-quality golf equipment for over 100 years. Their equipment has been used by professionals; and even bringing them to victories. The "Wilson 2018 NFL Gold Cart Bag" is an iconic 14-way cart bag with full length dividers and an external putter well on the front. It has an overall red color scheme with the "Arizona Cardinals" text logo on the side and their bird head logo on the front.
In addition, it is made from Rip Stop polyester construction and metal chrome finished hardware; designed to be very durable and lightweight. It comes with a total of 11 zippered pockets; including 4 large externals accessories pockets, 3 velour pockets for valuables, 2 full-length clothes pockets, 2 side mesh and a large base insulated pocket. On top of that, it also comes with an umbrella holder, towel ring or glove holder, a padded carry strap, a cart strap and a large rain hood.
3.

Callaway Golf 2019 Org 14 Cart Bag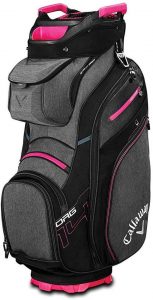 Next we have the "Callaway Golf 2019 Org" cart bag. This bag comes in many color scheme; from black-pink, black-red, black-green and more. It has a unique integrated mesh 14-way dividers that keep your clubs protected all the way to the bottom, and a separate putter well in the front of the bag.
Moreover, the "Callaway Golf 2019 Org" has a new non stadium top, which allows wedges to sit close to each while also eliminating hang. It comes with many pockets for storage; including a front facing molder magnetic range-finder pocket, a large pockets below the finder pocket, large side pockets and more. Plus, it also has a towel hook with glove attachment.
2.

TaylorMade Golf TM Cart Golf Bag 5.0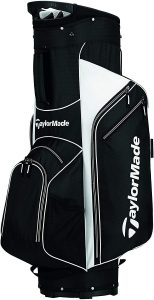 Compared to the previous TaylorMade we mentioned on our list, we believe that this model of cart bag is a bit more chic and stylish. It's made from durable nylon material and has a monochromatic color scheme and a more long bamboo-like appearance than the usual bumpy cart bag appearance.
It comes with 14-way dividers, with 3 of which are full length dividers and total of 7 pockets; including apparel pockets, balls pockets, velour-lined valuable pocket and more. Its base is a cart optimized base, which allows the bag to securely sits through cart rides. Additionally, it comes with a cart lock strap and a single shoulder carry strap; securing your bag in place during cart and feet transportations, and a matching rain hood.
1. Hot-Z Golf  Cart Bag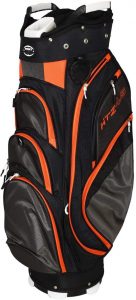 Last but not least, we have the "Hot-Z Golf 4.5" golf bag. This bag has a large capacity, with 8 zippered pockets, very suitable for those people who love to pack a lot on a casual golf match. The 8 pockets include a velour-lined valuable pockets and a bottle compartment. However, since it was designed to fit a lot of accessories and equipments, it is not lightweight. This bag weighs 10lbs or 4.5kg alone, with nothing packed in.
It is made with nylon materials and has a top14-way full-length dividers and a putter pit in the front, next to the opening. This bag also comes with a carry strap with an elastic band for securing the strap, a pen sleeve, a towel ring or a Velcro glove attachment, an umbrella and tee holder, a scorecard sleeve and a rain hood.
Buying Guides
Dividers: most golf cart bags come with 14-way dividers because a usual set of golf clubs consists 12 clubs, and producers love to provide extra space for extra clubs or equipment. However, some bags do not come with full length dividers, this can allow your clubs to tangle or collide with one another's handle.
Weight: most "lightweight" bags weigh around 4.5lb to 5lb, while the big ones with lots of capacity weigh around 8lb, 10lb or more. It does not affect the quality of the bag, whether it is lightweight or not. We recommend choosing a suitable weight for yourself, a weight that seems to be comfortable enough to be carried.
Warranty: we have noticed that cart bags do not usually come with a definite warranty, so we suggest contacting the respective company regarding this matter.
Conclusion
In conclusion, when it comes to choosing which golf cart bag to purchase, we believe that it is mostly depends on the functions that it offers or you prefer. If you are looking for something that both look good and work great, you would obviously have to look for a bag whose price point is a bit higher than average.
However, if you are a person who focuses on the function only, we recommend getting a bag that is lightweight, so that you do not have to worry about not being able to carry it around. All in all, we hope our list is of any help to you and we wish you the best.