If you have ever had an aggressive dog attacking you randomly while walking in a public park or in your neighborhood, it could have traumatized you. If that is the case for you, it could be helpful to have an ultrasonic bark control with you while you are out walking in the park, where there would likely be dogs, to keep yourself safe. An ultrasonic dog repeller is a device that emits a sound, at a certain level, to irritate a dog to keep its distance from you or calm them from barking loudly.
The ultrasonic dog repeller device can also be used to train dogs. The device works by releasing a kind of sound that irritates the dog so you can use it to discourage aggressive behavior of your dog. The sound from the repeller device, however, does no harm to the animal. There are many types of them and they work differently. In this article, we have prepared a list of the best ultrasonic anti-barking devices for you. We also include the buying guide in the last section so you can choose from the best deal which one suits your needs.
List of the 10 Best Ultrasonic Dog Repellers in 2023
Dog Repeller Reviews
10. Frienda LED Ultrasonic Dog Repeller and Trainer Device 3 in 1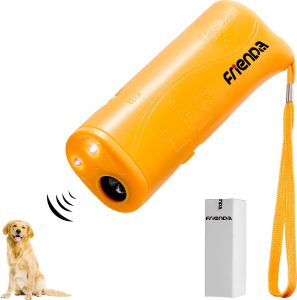 This ultrasonic repeller comes in a handheld compact size, convenient for your carrying anywhere as it fits perfectly in your hand or pocket. It is designed for anti-barking and training your dog to stop unwanted disobedient behavior. The device has 3 functions, LED Light, LED + Training, LED + Anti-barking, and they can be switched easily at the button on the side. It uses 1 piece of 9V battery (rechargeable batteries are recommended).
The repeller device comes in a package with a user manual, an ultrasonic dog trainer booklet to help you train your pet. The battery is not included in the package. The Friendatech recommends that this device is most suitable for family pet dogs such as the Poodle, the Siberian Husky or Pomeranian but will less likely work on bigger breeds.
9. Dazer II Ultrasonic Dog Deterrent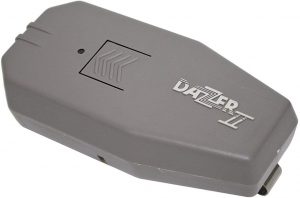 This Dazer II ultrasonic device is guaranteed harmless to dogs. It is equipped with the latest technology of ultrasonic that releases irritating sound to dogs up to twenty feet away but the sound is not audible to a human. It is harmless to both humans and dogs.
It is recommended for joggers or cyclists as the device comes with a built-in belt clip that you can just easily clip it to your clothes during your activities. The Dazer II uses a 9V battery that is included in the box.
8. Nest 9 Anti Barking Control Device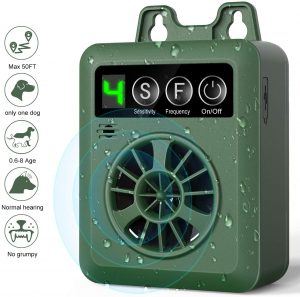 The NEST 9 offers an automatic ultrasonic sound device that helps stop barking from up to 50 feet away. It is used to place on a tree, outdoor or indoor wall, or on the fence. The device works by detecting barking from 50 feet away and releasing a discomforting sound that is only audible to the dog to help stop barking. The device automatically stops the sound once the barking has stopped. A 9V battery is needed but not included in the package.
It has an LED light that indicates its functional status; if the red light flickers, the battery is low, stable red light means it's working normally, blue is standby mode. You can also turn it off to save the battery too. The barking control device can work on most dogs and the frequency level can be adjusted. NEST 9 suggests setting the frequency level of 15-20KHZ for smaller dog breeds, and 20-30KHZ for bigger dogs.
Also check: Top 10 Best Dog Water Fountains in 2023
7. Quenta Handheld Dog Repellent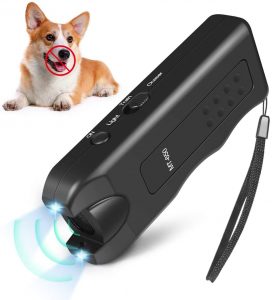 This handheld device from the QUENTA is specifically designed for your dog training to discourage any unwanted aggressive behavior. It can also be used for jogging or walking to chase away unfriendly dogs and keep them from attacking you. It has a frequency of 35-45KHZ which the sound is completely inaudible to humans and is only effective on dogs or cats. It works at a distance of approximately 20 feet.
If you use it specifically for your dog training, please pay careful attention to the instruction included in the package to enhance its effectiveness and achieve a good result. The device uses a 9V alkaline battery which is not included with the repelled.
6. Clever sprouts Dog Repellent, Outdoor Solar Powered & Weatherproof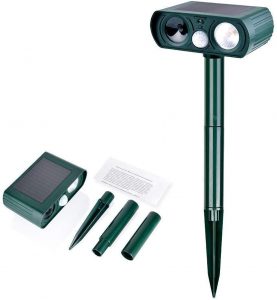 If you own a garden and are always concerned about other animals disrupting your area, you should consider getting one of these devices. This animal repeller device emits an intense ultrasonic sound to chase away animals such as dogs, cats, mice, birds, and other animals that are harmful to your garden. The device is equipped with a PIR sensor which detects animals in range and releases the sound to keep them away.
It uses solar energy to radiate energy to function so you need not worry about your device running out of battery or having to regularly charge it. It is designed with a spike bottom so you can easily mount it to the ground in your garden area, or you can hang it on the wall with the slot in the back. It is also waterproof, perfect for outdoor use.
5. Humutan Ultrasonic Dog Repellent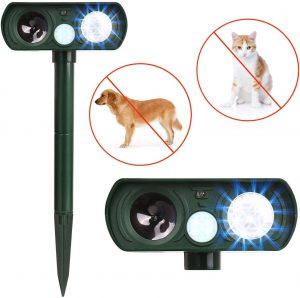 This barking control device from HUMUTAN is built with a motion sensor that allows automatic detection of movements within a range of 110-degree arc and at the distance of approximately 26 feet. With the motion sensor, if the device detects an animal nearby in range, it releases the sound at a frequency of 13,500 – 23,000Hz for 5 seconds to keep the animal away.
The device has 4 modes; T for verifying whether the device is functioning normally, 1 for low-range detection within 15-feet, 2 for a medium range of up to 30-feet, and 3 for a high range of 50-feet.
Also check: Top 10 Best Deshedding Tools for Dogs in 2023
4. DOPQIEG Ultrasonic Repeller | Electronic Anti Barking Stop Bark Handheld 3 in 1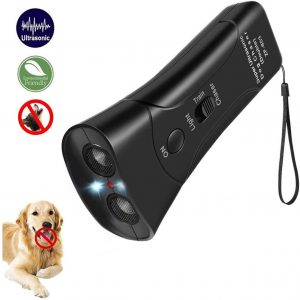 This ultrasonic device can be used to protect yourself from dog attacks during your outdoor activities and also perfect for your dog training. The LED light function is suitable for a night patrol or just to signal the dog to stay away, as the flashlight can be activated at the same time as the ultrasonic mode. It is operated by a 9V battery, which is included in the box.
It's one click away from activation so whenever you encounter an unfriendly dog, you can use this device to protect yourself. The sound pressure of this device is 130dB so always remember to keep it at an arm's length when you use it to prevent any hearing damage.
3. MCAIOX Ultrasonic Repeller | Solar Powered Waterproof Outdoor Animal Repeller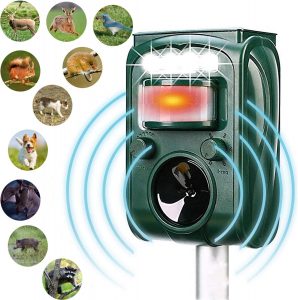 MCAIOX repeller device is designed to keep animals from invading your personal property and protect your space such as the lawn, garden, or courtyard. It is waterproof and perfect for outdoor installation. It also has a built-in flashlight for night time use. The motion sensors detect the animal movement within a range of 120 square meters, about 110 degrees left-right and about 55 degrees up and down.
You can also adjust the intensity sensitivity too. It is solar-powered and solar charging and can standby up to 4 or 5 days when fully charged.
2. MODUS Bark Control Device – Ultrasonic Dog Bark Deterrent, 2 in 1

MODUS aims to offer its customers an effective and harmless ultrasonic device to help dog owners control their dogs' behavior and unwanted barking that could be irritating to everyday life. The device emits sound at the frequency of 25KHZ to your dogs but does no harm to you nor your pet.
The size is compact and portable, perfect for indoor or outdoor activities, training or walking with your dog. It also has an adjustable wrist strap and 4 AAA batteries for replacement.
Also check: Top 10 Best Dog Hair Dryer Reviews in 2023
1. MODUS Anti Barking Device with 4 Adjustable Ultrasonic Volume Levels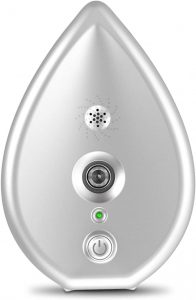 This anti-barking device from the MODUS is an automatic repeller. It works like the handheld type but you only have to turn it on and it will automatically detect dog barking sound. It's effective within 50 feet so you can easily hang this in your room or anywhere in your home; however, make sure it is far away from the other devices such as TV, radio, doorbell, speakers and so on. The device has 4 modes from low to high to control the ultrasonic level.
The test mode is for regular check if your device is still working fine. The device comes with 1 9V battery included. You can turn off the device when not in use to save its battery life.
Buying Guide:
If one of the points above is your concern, grab one of these ultrasonic repeller devices now and clear your worries. Here are some points to guide you through the buying process.
Types of the device
There are two main types of this kind of ultrasonic repeller devices; handheld type and stationary type. Most handheld devices use a battery to function. They are portable and great for outdoor activities such as dog training or it can be used as a protection device to avoid being attacked by an aggressive dog in public.
The stationary type is most suitable for placing in the garden or outdoor home area, to protect your property from being intruded by the unwanted animals. They are mostly solar-powered and waterproof.
Range
This is an important consideration if you want to use the device mainly to protect yourself from bad dogs. If that's the case look for something that has a wide range of effects to be able to keep the dog away at a safe distance.
Conclusion
The ultrasonic sound device can be useful in many ways. It keeps you safe from bad dogs in the public, or the neighbor dogs that are always barking at you for no reason. If you're a dog owner who wants to build a better relationship with your dog, this device can assist you with the training.
It is also helpful in controlling your dog barking if your neighbors complain about it. On the other hand, if your concern is that squirrels are disrupting your garden, there is no hesitation that you should be getting one of these devices.